Welcome, everyone, to the [unofficial] Falcons end-of-the-season awards! What an event we have in store. I'm your virtual host, Scott Bair, ready to give out some [metaphorical] hardware to some of the best Falcons performers this season.
This made-for-cyberspace event doesn't have the pomp or circumstance of other big-time award shows. There's no glitz or glam. But it does recognize some folks who stood out in big ways and small during the 2021 campaign.
Some of these awards are expected, like MVP and rookie of the year. Other categories are completely off the wall, as these things should be, in one of our final looks back at the 2021 season.
With no further adieu, may I present our end-of-the-season awards. Don't worry boring name of them. We'll come up with a catchy/corny name in time for next year's event.
MVP: Cordarrelle Patterson
These MVP awards, on a league-wide level, always go to quarterbacks. It's the way of this era, with top billing awarded to the best player at the game's most important position. We could apply that logic here, too, and give the team MVP award to Matt Ryan. He helped the Falcons win more games than they should've and orchestrated game-winning drives with clutch play in important moments.
We're going to zag where others zig and go with Cordarrelle Patterson, who was integral to most everything the Falcons did offensively. A receiver by trade and a running by position in the Falcons offense, Patterson was always involved. He made the Falcons go and scored a ton, totaling 1,166 yards total offense and 11 touchdowns on 205 touches.
Primarily known as a return man entering his age 30 season, Arthur Smith and the Falcons staff succeed where others tried and struggled, unlocking Patterson's true offensive potential. He was a tough runner between the tackles, explosive in space and a real weapon in the pattern.
He also kept the Falcons afloat with Calvin Ridley and Russell Gage unavailable for sections of the season. He also took some pressure off rookie Kyle Pitts, the team's primary receiving threat.
"He's a warrior," head coach Arthur Smith said. "He's a big physical presence that can do a lot for us."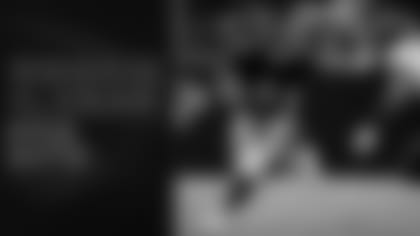 Rookie of the Year: Kyle Pitts
Well, duh. The No. 4 overall NFL Draft pick was nothing short of awesome in his first year, recording 1,026 yards and a touchdown 68 catches. While he didn't break the NFL record for receiving yards by a rookie tight end, he broke Julio Jones' franchise mark for receiving yards by a rookie.
He made the initial Pro Bowl roster in his first year, drawing national attention for a series of spectacular plays in big Falcons moments.
While Arthur Smith said Pitts was "just scratching the surface," fellow tight end Lee Smith has even stronger praise for the Florida product.
"If the good Lord keeps him healthy," Smith said, "he'll put on a gold jacket one day."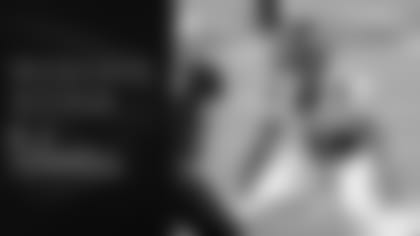 Rising (super)-star: AJ Terrell
A.J. Terrell was named a fourth alternate to the NFC's Pro Bowl roster. That's in no way a reflection of his breakout season. Second-team All-Pro honors received a few weeks later may also be a little low considering he led the league in several statistical categories. Per Pro Football Focus, he allowed the lowest completion percentage and passer rating against.
He also allowed the fewest yards of any regular cornerback this season and finished the year with three interceptions and 11 passes defensed. The Falcons 2020 first-round pick is a star on the rise who should be recognized among the NFL's best cornerbacks.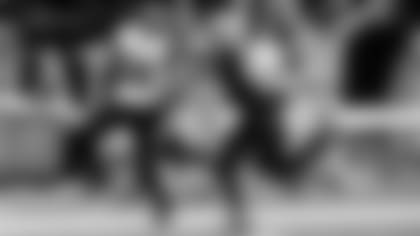 Offensive play of the year: Matt Ryan connects with Cordarrelle Patterson in New Orleans
This was one of the more jaw-dropping, don't-believe-what-I-just saw moments of the entire NFL this season. The Falcons had given up a three-score, second-half lead with a minute left against the rival Saints.
They had to get into field goal range to get back on top and did so with one strike, a perfect volley from Matt Ryan to Patterson that is better seen than described.
Younghoe Koo sealed the victory with a game-winning field goal as time expired, completing a shocking comeback over a hated rival that stands as the highlight of the season.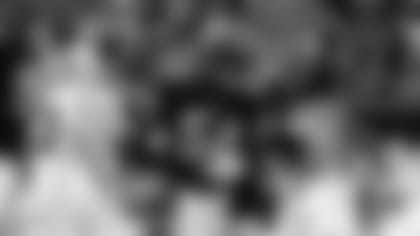 Defensive play of the year: Foye's clutch pick against Detroit
There was some competition for this award, including Marlon Davidson's pick six off Tom Brady and Mykal Walker's interception returned for a touchdown the same week his first child was born.
No defensive play, however, was as well-timed as Foye Oluokun's interception versus Detroit. The Falcons were in danger of giving up a late lead, with the Lions down four points and nine yards from pay dirt with 39 seconds remaining. A Lions touchdown would've sealed a heartbreaking defeat. Oluokun secured victory instead, picking Tim Boyle off to end the threat. A loss would've knocked the Falcons out of playoff contention. Foye's pick kept them in it another week.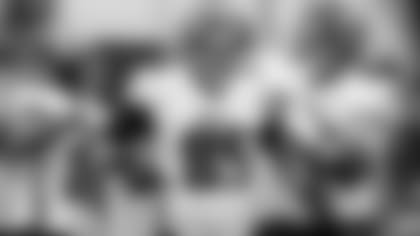 Glue award (locker room presence): Lee Smith
Lee Smith is a "throwback dinosaur," by his own admission, an old-school blocking tight end who would've fit right into the 1970s NFL. He found a way to stay relevant for 11 seasons as both an on-field presence and locker-room leader.
He became a mentor to Kyle Pitts, accelerating the rookie's acclimation to the NFL. He was also valued and respected across all position groups as someone who knows when to keep it light and when to treat football as serious business. There are few able to bond with so many, helping the team stay focused throughout the season while having fun at the same time.
"As he's gone through his career, you can see and understand how he's affected locker rooms, brought guys together, regardless of background," offensive coordinator Dave Ragone said. "I think the reason why he's been playing as long as he has is not just the physical ability, he's got the ability off the field that you look for in a teammate and you look for to bring to your team."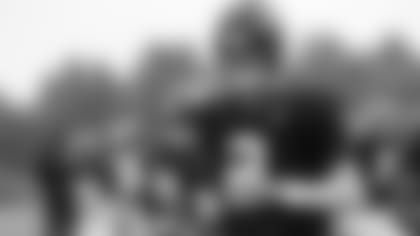 Oh captain, my captain award: Matt Ryan
The Falcons went through a ton during the 2021 season. They adjusted to new coaches and new schemes. They lost vital cogs along the way. They suffered lopsided losses, sometimes a few in a row, yet never stopped fighting in games and between them. They maintained a professional practice approach trying to rebound from adversity, as they did time and again this season.
Significant credit for that goes to quarterback Matt Ryan. His leadership was clear and present at all points this season, evident with some occasional harsh words, consistent encouragement, confidence and an unwavering ability to lead by example. Ryan's the ultimate pro, something a new team needed while going through an often-difficult campaign.
Beyond the box score award: Grady Jarrett
Grady Jarrett had 59 tackles – three for a loss – one sack, one pass defensed and 12 quarterback hits in 2021. Analyzing stats alone, that ranks among the worst numbers of his decorated career.
Now go turn on the tape. You can see clearly how impactful Jarrett was this season. He was regularly double-teamed, even triple-teamed on occasion, with no other established threats along the Falcons defensive line. He fought through all that and continued to have his presence felt, earning regular praise from Falcons coaches and the opposition for his work in the defensive interior.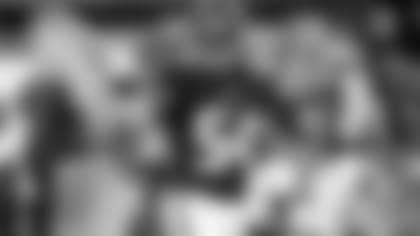 Jackpot award (earned a raise): Foye Oluokun
Foye Oluokun was a sixth-round NFL draft pick back in 2018, signing a rookie deal commiserate of his draft slot, per the rookie wage scale. After a career year and in the final year of his contract, a raise is coming his way.
Oluokun proved his worth during an excellent campaign where he led the league with 192 tackles. He had a game-sealing interception that was one of three this season. He also had two sacks, seven hits, a forced fumble and six passes defensed during his first year playing middle linebacker and calling defensive signals.
His combination of power and quickness, as a downhill tackler and off-the-ball cover man is coveted in today's NFL and could draw significant interest if he hits the open market. That's a big if, because the Falcons could also sign him before he ever hits free agency. Time will tell on that front.
Russell Gage gets an honorable mention here, even through he was hurt and had to regain his rhythm during the season. He finished really strong, with 45 catches for 562 yards and three touchdowns in his final seven games of his contract year.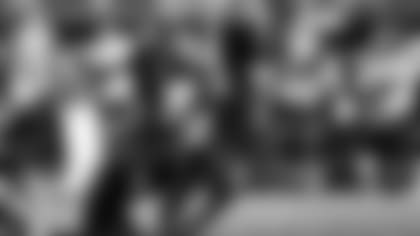 Steady hand/leg award: Younghoe Koo
Younghoe Koo has been as clutch as any NFL kicker for a while, yet he had never converted a game-winning field goal attempt entering this season. Now he has three. Koo secured as many victories with his leg in 2021, with decisive field goals against the Giants, Dolphins and Saints.
Having such a steady kicker is invaluable, and surely keeps blood pressure low even in Koo's biggest moments.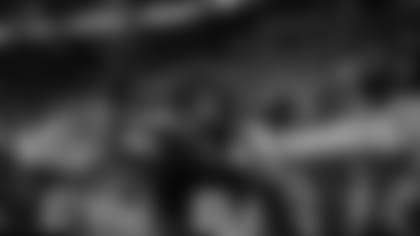 Unsung hero: Anthony Rush
Arthur Smith regularly singled out players that often get overlooked, and Anthony Rush's name came up more than once. The Falcons signed him off the street, got him ready to play and eventually made him a permanent part of the rotation along the defensive front. The 350-pound defensive tackle fit Dean Pees' scheme well and he was able to make an impact inside and play above some who had been around all season.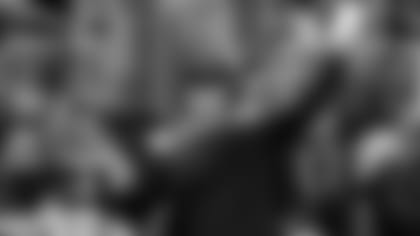 Assistant coach of the year: Justin Peelle
Arthur Smith assembled a quality coaching staff with several who made a positive impact on this season. That obviously included defensive coordinator Dean Pees. We're eliminating coordinators from contention here (sorry Dean, Dave and Marquice), and ultimately chose tight ends coach Justin Peelle as the assistant coach of the year. While others went through hardship getting new guys constantly ready – receivers coach Dave Brock and defensive line coach Gary Emmanuel come to mind – Peelle was able to get a solid group of diverse talents ready for versatile roles.
Kyle Pitts was asked to do so much, playing from so many different positions in a unique role for his position. Hayden Hurst also moved around a ton, and Lee Smith was more of a traditional blocker, yet was always ready and impactful. His ability to get backups ready was also clear when Parker Hesse didn't miss a beat as the last tight end standing in Buffalo despite having not played in a month.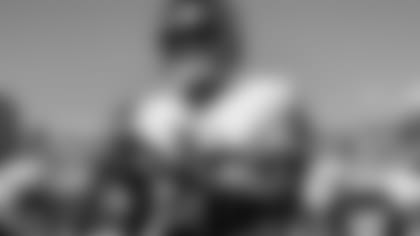 Truly missed award: Isaiah Oliver/ Calvin Ridley
It was impossible to pick just one here.
It was obvious the Falcons missed Calvin Ridley, one of the NFL's best route runners, while he was away dealing with a personal matter. The Falcons receivers were thin to begin with and losing him was a big blow. The Falcons would've been downright threatening if Ridley was playing at his peak. He was set to have a big season in 2021, but was away most of the year while, as he put it in a statement, was working on his mental wellbeing.
Losing Isaiah Oliver in Week 3 to a torn ACL was also a significant setback, considering how vital the slot cornerback is to Dean Pees' defense. Oliver excelled in a role that had to cover well, blitz often and play stout in run defense. The Falcons never really replaced the three-down presence, mixing and matching young players inside the rest of the season.
The Falcons missed both Ridley and Oliver dearly over the course of the season, which may have ended with more wins had those two been available.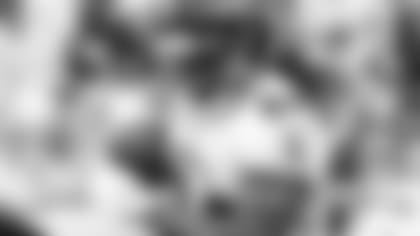 Quote of the year: Cordarrelle Patterson
Social media, national outlets, the fine folks devoted to Reddit and Falcons fans everywhere went nuts for this quote, which Patterson said to our Kris Rhim in an exclusive one-on-one for this feature profile. While there were several other excellent utterings during the course of the year – Arthur Smith's no "soft souls" rant and Dean Pees' response to a Falcons win being called ugly rank right up there – Patterson's thoughts on playing several positions reigns supreme.
"If my mom could go out there and work three jobs, I can go out there and play three positions. Why can't I do what she did for us? It's like a big motivation, and every time I'm on the field, I don't care where they put me; I'm gonna make a play. You can put me at safety; I'm getting an interception. You put me at D-End Ima get a sack. That's just the mindset that I have, and nobody can take that confidence away from me." Falcons Final Whistle | A Postgame Podcast
Break down the hottest topics surrounding the Atlanta Falcons and how they can impact the team's success with Falcons Insiders Scott Bair, Tori McElhaney and Terrin Waack. Like and subscribe to join us for the lively debate on Falcons Final Whistle.
Welcome to Falcons Final Whistle – an Atlanta Falcons football postgame podcast during the season that shifts gears in the offseason to answer a pressing question about the team's future each week through free agency, the NFL Draft and the offseason program.