In his first full season as the Falcons No.1 receiver, Ridley is relying on the elite route-running that has made him one of the league's best.
Ridley sat down with Kris Rhim for 30-minutes at the Falcons headquarters in Flowery Branch to explain the origins of his route running and break down some of the best routes of his career.
---
---
"I know, I know I can shake 'em!" Calvin Ridley said while mic'd up during a Monday night game against the New York Giants in his 2018 rookie season.
Ridley let out a contagious, high-pitched laugh earlier this month as we watched the video together. "Was feeling good that day, that's all that is," he tells me. "I feel like I can beat anybody. I gotta feel like that. I mean, that's how I was raised, you know? That's how I've always been."
Watching Ridley run a route is an experience. When executed to perfection, the 26-year old makes defenders look foolish, leaving them wobbly or facing the opposite direction. It is the kind of thing that provokes a visible facial expression, like the one you might make when you eat something sour.
And, at just 6-foot-1 and 190 pounds, Ridley's elite route running, speed, and finesse has made him one of the best wide receivers in the NFL. His quick feet and precise cuts have come from years of studying NFL receivers like Amari Cooper in high school; then perfecting his technique at Sabal Pines Park in Coconut Creek, Fla., for more hours than he can remember and learning from coaches at each level who have shown him ways to improve.
Fresh off a career-best 1,374 yards and 90 receptions last year, for the first time in his pro career, Ridley entered the season as the Falcons No. 1 receiver. And to replicate his campaign in 2021, Ridley will rely on the elite route running and separation that has taken him this far.
---
---
"Man, I promise you, bro, like you see that play right there?" Ridley says as we watch a highlight of him catching a touchdown in high school for the Florida Fire 7-on-7 team. "We would run that play [on the] first play of every game in 7-on-7, and we were scoring right just like that."
Ridley was around eight years old when he began playing football for the Fort Lauderdale Jaguars. In a league laden with future pros including Lamar Jackson, and Marquise "Hollywood" Brown, Ridley was not yet a dominant route runner, but he still shined – as a running back.
"I was a fast kid," he says, "they just gave me the ball, and I ran."
The speed – and all of his athletic abilities, for that matter – Ridley credits to his mother, Kay Daniels, who was a star in the 100m and 200m dash at Fort Lauderdale High School. He remembers how Daniels would push Ridley and his brothers at their track meets and other competitions, almost even embarrassing at times for them.
It was not until he began at Monarch High School in Coconut Creek, Florida, that Ridley began developing into the route runner he is today. He would watch YouTube videos of Amari Cooper, Julio Jones, and Antonio Brown, then head straight to Sabal Pines and try to recreate their moves with his own flavor.
Ridley spent most of his days training at Sabal Pines with many of the best players in the area. Some of his favorite memories at the field were during the summers, when college players would join them. They would form teams of five to seven and play tournament-style games until dark.
"If you can make plays there, you can make plays anywhere, for sure," Ridley says about the park, "We had a lot of talent out there."
Ridley was the kind of player that most athletes dream of being in high school. He was the nation's No.1 recruit, per 24/7Sports composite rankings, with offers from Power Five programs across the country. During his senior season, Ridley had 41 catches for 1,131 yards and 12 touchdowns, per the Sun-Sentinel, so getting open was not much of a problem.
"It was pretty easy in high school," he tells me with a shrug.
That quickly changed when he got to Alabama.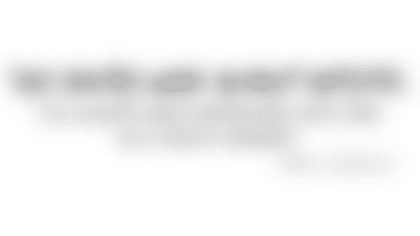 ---
---
Ridley is wearing an Alabama white long sleeve dri-fit with black shorts and slides during our film session at Falcons headquarters, but it is as if he has his helmet, gloves, and cleats on and is back at Alabama as he takes me through some of his best college routes. He's at the edge of his seat. Moving his hands, his head, even making grunting noises with each of his cuts on the screen. His favorite route of the 52-second montage comes from a game against Mississippi State in 2017. Ridley says he was running what Alabama called a "spin" route. The purpose of the route against Mississippi State's zone coverage is to get the linebacker to over-commit to Ridley's route.
"The corner actually takes it!" a surprised Ridley says, laughing as he watches himself confuse the Bulldog defense. "I ran this play earlier, and I didn't get it, and I felt the safety driving on me, so I told myself the next time I get it, Ima cut back on them."
Ridley caught the ball at the 45-yard line, planted his left foot, cut in the opposite direction, and left the Bulldog safety behind him. He took the pass 65-yards before being forced out of bounds.
"Yeah, that's exactly what Slide Rid is right there," Ridley says. "That's exactly what that mean. I made I made a guy miss and took it up the sideline. That's slide."
Ridley earned the nickname V8 in high school – like the eight-cylinder engine – because he wore the number 8 and his explosiveness after the catch. Soon though, he outgrew the moniker. Friends began screaming "Slide Rid" when he broke away from defenses to score touchdowns, and the new nickname stuck. Today Ridley even has a gold chain that reads "Slidee Riddd."
When he got to Alabama, it became more challenging for Ridley to create space and "slide" as easily as he did in high school. Ridley learned to study film more as he faced top cornerbacks of the SEC and around the nation. He began looking for different things in defensive backs, from their leverage to how they used their hands and feet. Still, his biggest challenge came each day at practice, facing teammates Marlon Humphrey, Cyrus Jones, and other future NFL defensive backs.
"I had to really bring it every day," Ridley said. "Practice helped the game be really easy in college. I'm getting jammed up going against hard press corners every down, man it was just tough."
Ridley grew close with Keary Colbert, then-assistant wide receivers coach at Alabama. Each week they would watch film together on cornerbacks across the country. Colbert, who played six seasons in the NFL, calls Ridley a "route technician" and one of the most gifted receivers he has ever seen.
"To this day, I still show his routes to my receivers that I'm coaching," said Colbert, now wide receivers coach at the University of Southern California. "For young receivers, he's a dude you definitely want to watch and study. He had an ability to really sell his route, then all of a sudden stick his foot in the ground and make a defensive back go in the opposite direction."
Colbert wasn't the only coach that Ridley made a lasting impact on.
Mike Locksley, who was offensive coordinator and wide receivers coach at Alabama during Ridley's time, still remembers a play Ridley made against Florida State in 2017.
"He beat the guy so bad that it was such a wide-open throw," said Locksley, now head coach at the University of Maryland. "His ability to get in and out of breaks at full speed — most guys have to slow down — but he just had this ability to drop his weight, not waste motion and get in and out of cuts really clean."
To this day, Locksley uses Ridley as the standard of a great college receiver, and he holds his receivers to that level.
"His routes were almost artistic," Locksley said. "He has this innate ability to, if he's running a post, make you believe he's going to run a corner route. I've always been impressed with him as a route runner."