A.J. Terrell has had an excellent season worthy of individual accolades. That's an inarguable point this late in a breakout campaign where he established himself a true shutdown cornerback.
At least that's what I thought before seeing Wednesday night he was left off the initial Pro Bowl roster. While that seems inappropriate, there are some excellent cornerbacks in the NFC. That includes Jalen Ramsey, Darius Slay, Trevon Diggs and Marcus Lattimore, who made the initial roster. Those guys have name recognition, tons of interceptions or both, while playing in big markets or on successful teams. That can influence a fan vote. Terrell's relative youth and his soft-spoken demeanor may also have kept him out of mind when players and coaches had their say.
All that makes some sense if we're trying to look at this oversight rationally.
Here's where it falls apart: A.J. Terrell was a fourth alternate for the NFC.
A fourth alternate. You've got to be kidding me.
The guy could arguably be a second-team All-Pro, and he's that far away from making the Pro Bowl? That doesn't make any sense.
I took a lap before writing this column, trying to think of ways I thought he was a lock and this vote went a different way. Maybe I'm too close to it while covering the 2021 Falcons. Maybe the Falcons aren't in the national consciousness much, with a poor showing in their only primetime game. Maybe folks outside Atlanta don't have a chance to see what I've seen watching all his snaps this season, that's he's physical and confident, smart and technically precise, and seemingly always in the right place when the ball comes his way.
Also, players often get honored the year after a breakout campaign, when their performance has had a chance to spread across the league. Oh, and the voting's a little screwy.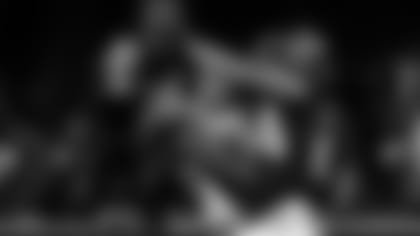 Even after all that, leaving Terrell off the roster still doesn't seem right.
Also, some may shrug shoulders and say the Pro Bowl doesn't mean as much anymore. The player we're discussing disagrees.
Terrell said a Pro Bowl honor "[would] mean a lot. It's part of your personal goals. ...If I don't get it, it will be motivation for next year, something to keep working toward." That was Wednesday afternoon, before this season's all-stars were announced.
It will mean a ton when he's named to an initial roster. That day is coming.
It didn't arrive on Wednesday, which seems unjust.
Even if it's not about the game, which has lost some luster, it's about getting the respect he deserves.
Here's a naysayer's counterpoint to this column: Of course that's what you're going to say, writer for a team site, Falcons employee.
My response: Then just look at Terrell's numbers. They're objectively incredible.
Terrell has allowed 23 receptions for 150 yards (6.5 yards per reception) and three touchdowns on 52 targets over the first 14 games, per Pro Football Focus stats. He has two interceptions and 11 pass breakups. Opposing quarterbacks have a 54.6 passer rating against him. The maximum passer rating, in case you forgot, is 158.3.
If you're still unconvinced because all numbers are relative: Terrell is first in completion percentage allowed at 44.2 percent, among cornerbacks with at least 300 coverage snaps. He's first in yards per reception allowed. He's second in yards allowed. He's fourth in passes defensed despite ranking 62nd in total targets. He's third in passer rating against. Nobody is better, per PFF numbers, in zone coverage.
Compare all that to this ranking: he's the fourth alternate for the Pro Bowl. For the NFC.
Try and wrap your brain around that. It's going to be tough.
Holiday Pack
Come out to see your Atlanta Falcons host the Indianapolis Colts on December 24 with your loved ones during this holiday season! Each ticket purchased includes a Falcons knit scarf.