It's not just about making good choices and accurate throws. It's also about projecting confidence, getting those around him to believe they can execute the plan to perfect. It's about knowing when to fire people up and when to exude calm.
Those are dramatic examples of leadership under fire, with results coming in a matter of minutes.
There's a slower burn that's just as meaningful, even if it doesn't play out in the spotlight. Ryan's leadership is also critical in those moments on practice fields and meeting rooms, especially when trying to help a reeling team rebound.
That has been the quarterback's job this week, and a few others this season, getting the Falcons back on track after disappointment. The Falcons fell off the pace and below .500 following disappointing losses to Dallas and New England.
They simply cannot afford a third on Sunday against Jacksonville. Head coach Arthur Smith and staff have done their part with game plans and messaging. Smith has talked at length this week about playing smarter, more physical football.
His standard bearers have to help the roster go execute in another critical moment. This isn't one drive at the end of a game. This is about a practice week leading into four quarters of football, where the Falcons will continue their quest for a thus-far elusive complete game.
This is a spot where Ryan's leadership comes into play.
"He understands the moment," offensive coordinator Dave Ragone said Thursday. "His game-winning drives show that he understands how to operate in critical, highly stressful situations. When I say [that he's] consistent, he knows how he needs to be for him and his teammates to be successful. Seeing it in day in and day out, to see his actions and not just his words has been great to see."
Ryan isn't a one-man leadership core. They have several veteran captains, including Grady Jarrett, Deion Jones and Jake Matthews, to aid this effort.
They have to be unified in what's being said and the standard being set. That's always true, but their role and responsibility is heightened on a team trying to get out of a funk.
"The veterans really set the tempo for that," Jones said. "We want to make sure the young guys get the same message from everywhere. We're still in the fight and we still have a lot of room to grow."
Ryan, however, is the tone setter. He has been around the longest and seen the most, both good and bad. That's why it's so key to be consistent, because so many take their cues from him.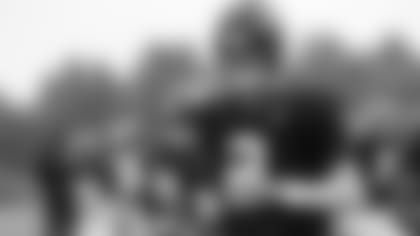 "I think you have to stay the course, and I think experience helps you with that," Ryan said. "You got to try and pass that on to some of the younger guys. We still got seven games to go. There's a lot of football to be played, and a lot of things we can clean up and do better. We have to correct them now, but you can stay the course you never know what's going to happen.
"You have to have the belief that it just takes one or two plays, one or two series to kind of get you into that rhythm and get you rolling. I think if we can do that like we've shown at different times throughout the year, we can be explosive and score points and get the job done."
Motivating talent to restore that good rhythm isn't one-size-fits-all. It isn't about screaming at everyone or acting totally chill. It's about reaching individuals and knowing them well enough to understand what makes them tick.
"I think leadership, you have to constantly be evolving," Ryan said. "I've always believed that in the servant leadership type. Like, where, you have the principles and beliefs and fundamentals that you hang your hat on, but how you get those across has to be different to each individual that you're around. Everybody's needs are different, and everybody operates in their own way. I think you're always evolving and trying to find the best ways to connect with teammates."
No matter how a connection is made, inspiring confidence in execution and trust in the process is vital to performing better.
"Regardless of the outcome before or after, Matt approaches each play as a new play," Ragone said. "He approaches teammates the same way. He knows when to speak up and knows when not to. He knows the tone in which he needs to talk to the coaches and players. That comes with playing a lot of years in this league. But, above all else, Matt is a model of consistency as a person. I admire and appreciate that about him." Falcons Final Whistle | A Postgame Podcast
Break down the hottest topics surrounding the Atlanta Falcons and how they can impact the team's success with Atlanta Falcons Insiders Scott Bair, Tori McElhaney and Kris Rhim. Like and subscribe to join us for the lively debate on Falcons Final Whistle.
Welcome to Falcons Final Whistle – an Atlanta Falcons football postgame podcast during the season that shifts gears in the offseason to answer a pressing question about the team's future each week through free agency, the NFL Draft and the offseason program.