Editor's note:This story is a part of the Falcons Breakdown series, which evaluates each position group and how it will it look for next season.
We discussed it in the previous Falcons Breakdown installment focusing on the defensive interior, but we're going to go into the topic further as we take a look at the Falcons outside linebacker corp. The topic? Perhaps it's obvious. We're about to talk about pass rush.
There are two areas in which defensive coordinator Dean Pees said the Falcons defense must improve: Pass rush and man coverage. We'll talk more about man coverage when we break down the needs of the secondary. Now, we're talking about pass rush.
It's really easy to say the Falcons need to develop a better pass rush. The eye test and the statistics can tell you that much. But how do they do it? That may be a little more complicated just considering the sheer amount of work, talent and bodies that will have to go into fixing this pass rush deficiency the Falcons have had not just in 2021, but for years.
"The thing is that we just need more," Pees said before the 2021 season ended.
The question now is: How do the Falcons acquire "more?"
Primary 2021 production
Dante Fowler: 14 games | three forced fumbles | 4.5 sacks | eight QB hits | 36 combined tackles (six for a loss) | overall defensive PFF grade 55.9
Steven Means: 14 games | one fumble recovery | no sacks | two QB hits | 43 combined tackles (two for a loss) | overall defensive PFF grade 47.5
Brandon Copeland: 16 games | no sacks | two QB hits | 39 combined tackles (four for a loss) | overall defensive PFF grade 47.0
Ade Ogundeji: 16 games | one sack | one fumble recovery | two QB hits | 33 combined tackles (five for a loss) | overall defensive PFF grade 54.2
James Vaughters: 10 games | one sack | one forced fumble | four QB hits | eight combined tackles (none for a loss) | overall defensive PFF grade 57.1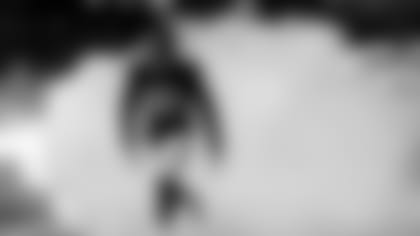 Who stays
That's it as Ogundeji is the only name on this list who we can say with near 100 percent certainty will be back in 2022. He was drafted in 2021 and did well in his rookie year. He's obviously coming back. As for anyone else? Well...
Who's on the chopping block
Perhaps an argument could be made to keep Vaughters around, but he's a free agent in 2022, as is Fowler, Means and Copeland. When it comes to how different this position group could look in 2022, let's just say "very different" may not even begin to cut it.
Biggest offseason question
How do the Falcons start to rebuild this position?
Because it has to be rebuilt. There are no ifs, ands or buts about it. It's been reported and written before but it bears repeating: There were individual players with more sacks in the 2021 regular season than the entire Falcons defense accumulated in the same time frame. For the Falcons to be the team it wants to be, it has to develop a pass rush.
For Pees, he said it can be accomplished through two avenues: Developing the talent you already have (Ogundeji) and acquiring new talent. Is that to be done through the draft or through free agency? Honestly, it should be done through both. There is a long road ahead to fix the issues of 2021's pass rush, but plugging new bodies in may at least give fans a semblance of hope that this pass rush flight can even get up off the ground.