Editor's Note: This story is a part of the Rookie Review series, which evaluates each individual of the Falcons 2021 rookie class, how they performed in Year 1 and what's ahead for them in Year 2.
Ask Richie Grant and he'll tell you: The player he is at the end of the 2021 season is not the player he was at the beginning. For many rookies, Year 1 is a year in which growth happens at an exponential rate accompanied by moments of hits and misses. For Grant, that's a dead-on way to describe it.
"Beginning of the year? Pfft," Grant said. "I've been learning a lot, let's just say that."
After being drafted in the second round of the 2021 Draft out of Central Florida, Grant fell into a safeties position group that was in the process of being overhauled. With only Jaylinn Hawkins returning from the previous year, the Falcons were in full rebuild mode at safety. In the months prior to the Draft and in the months ahead, the Falcons would fill out the room with veterans Erik Harris and Duron Harmon. With both on one-year deals, it seemed the Falcons were trying to buy time for their two young safeties in Grant and Hawkins. Looking back, it was the right decision because it was time Grant needed.
"I'm a completely different ball player than I was when I first got here," Grant said. "It was just raw talent, but now I am finally putting the pieces together."
What's interesting, though, is that Grant evolved most not as a true safety, but as a nickel in 2021. With Harmon, Harris and Hawkins all taking the primary game reps at safety, Grant began the year on special teams.
"He's going to be a good football player," Falcons secondary coach Jon Hoke said early in the season. "But he's young. He's learning."
Defensive coordinator Dean Pees said around that time that Grant still had a lot to learn in his defense. So, for the time being, special teams would be where Grant hung his hat. That is, until Isaiah Oliver suffered a season-ending knee injury that changed the course of what the Falcons were doing at the nickel position. Pees had to find a new nickel, and through trial and error, he eventually landed - partially - on Grant. There was still a rotation for much of the season at nickel, but with a month left in the season, Pees said Grant had "kind of taken over that nickel spot." So much so that Pees had Grant only drilling the nickel position at practice.
"He is still a safety," Pees said, "but he's primarily the nickel first."
As the season went on, Grant became more comfortable in Pees scheme.
"I am real proud about how I am under control now," Grant said. "My mind has slowed down. I am able to see it through."
This bodes well for Grant heading into his second year with the Falcons in 2022. There shouldn't be as significant of a learning curve in Year 2, and if the Falcons can figure out the nickel position this offseason, perhaps we'll see more of Grant playing the position the Falcons drafted him to play. Until then, let's take a deeper look back at Grant's rookie year.
A look back
16 games | 35 total tackles | two tackles for a loss | one forced fumble and fumble recovery | 192 snaps at slot corner | gave up 19 catches on 24 targets (79.2 reception percentage) for a total of 202 yards | overall PFF defensive grade of 56.8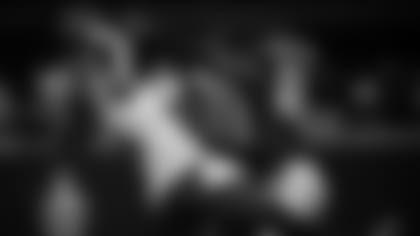 What Grant learned in Year 1: Communication
The nickel position is a pretty important one in Pees scheme, with the defensive coordinator saying it's the position that ultimately controls everything.
"He doesn't necessarily always have to make the calls but his alignment dictates everything to us," Pees explained.
What this meant for Grant was that he had to learn the proper ways to communicate his location and alignment. According to Pees, this isn't an easy role for a rookie to take on, particularly when they're in a new position in a new scheme.
"He kind of felt like, 'Oh well, I have to give way to Duron and Erik because those guys are older guys who have established themselves. As a rookie I have to know my place and let them take charge,'" Pees said. "I told him early on, 'That's not why we drafted you. We drafted you because when you were at Central Florida you were a take-charge guy. We need that.'"
And by the end of the year, Grant became more comfortable speaking up. There was a level on confidence he had to acquire when finding his voice. It's something he said he's proud of.
"I thank my coaches for that, for putting me in that position because it just helped me grow as a leader," Grant said. "... Just getting comfortable making the call, that I am not wrong in this call."
Area of improvement from Year 1 to Year 2: Consistency
This is one of the most common areas of improvement for rookies, so it makes a lot of sense that this would be the area in which Grant can make the biggest jump from Year 1 to Year 2 in. This consistency, though, may greatly depend on just where Grant finds himself in 2022.
Playing in the slot in 2021 wasn't necessarily Grant playing out of position, but it wasn't the original plan for the rookie at all. Pees said as much late in the year. So, what will the plan be for Grant moving forward? Would Pees like to keep him at nickel, or was that just a move dictated by need in 2021? With no guarantee that Harris and Harmon will be back in 2022, is Grant destined to move back to safety with Hawkins? Are they the future of the position group? Those are the big questions surrounding Grant's second season in the league.
Regardless of what the final decision is, though, finding a level of consistency in play in Year 2 will be important for Grant's overall development. It doesn't take a rocket scientist to look at Grant's PFF breakdown in 2021 and see a color wheel, weeks in the red followed by scores in the green. Limiting the peaks and valleys of a season is how Grant could trend in the right direction.