Editor's Note: This story is a part of the Rookie Review series, which evaluates each individual of the Falcons 2021 rookie class, how they performed in Year 1 and what's ahead for them in Year 2.
Arthur Smith was always right when he called Jalen Mayfield's rookie year a baptism by fire. He said so at the beginning of the season, and by the year's end it continued to ring true.
Drafted in the third round of the 2021 Draft, Mayfield's journey to starting left guard was an interesting one. The hope was that he would have time to develop. The Falcons brought Josh Andrews in during free agency. Signing the veteran guard to a one-year deal, the Falcons could buy Mayfield a little time to adjust to a new position (as he was primarily a tackle in college).
As training camp got under way, the plan seemed to be working well. Andrews took majority of the first team reps at left guard, and Mayfield filled in for an injured Kaleb McGary for a time. Once McGary returned to the active lineup, he worked back in at right tackle. And that seemed to be it. The offensive line felt relatively set with Jake Matthews at left tackle, Andrews at left guard, Matt Hennessy at center, Chris Lindstrom at right guard and McGary at right tackle.
All was going according to plan. That is, until Andrews got hurt right before the start of the season. It was an injury that thrust Mayfield into the starting left guard role, and for the next 16 games, Mayfield got the start.
It was a season of trial and error for Mayfield, in more ways than one. Thinking back on it, Mayfield said he came into every single practice trying not to get overwhelmed in the preparation and adjustments that needed to be made week-in and week-out.
"Every day I come out here and I pick one thing to just get better at each day," Mayfield explained. "I don't try to fix everything all at once. I know that is basically impossible to do."
For Mayfield, every day he had to make the decision to break down one part of his game to work on, whether that be footwork, hand placement, etc. In a way, this approach shows just how much of a learn-as-you-go process Year 1 was. Every day was a new day to learn one new thing. That's how it had to be because all of the corrections couldn't come at once.
With that though in mind, let's take a look back at Mayfield's rookie year, and everything that came with it.
A look back
16 starts | 989 total snaps at left guard | allowed 11 sacks, 21 quarterback hits and 25 quarterback hurries per PFF | overall offensive grade of 49.3 (ranked 79th out of 84 offensive guards league-wide)
What Mayfield learned in 2021: Longevity
Many forget that Mayfield only started 15 games in college. It wasn't like Mayfield was even a seasoned college veteran coming into his first full season in the NFL. So, if there's one thing that can be said about Mayfield, it's that he was there when called upon. It wasn't an easy task, and one that - in the end - showed how much more development there needs to be. However, there is something to be said that - even on the bad days - Mayfield showed up to put in the work.
In 2021, the rookie offensive lineman went from starting just 15 college games at right tackle through three seasons with Michigan to starting 16 games at left guard in a single NFL season. If a back injury hadn't kept him unavailable in the final week of the season, Mayfield would have no doubt finished the 18-week season with 17 starts.
It's this work in his rookie year that he hopes benefits him down the road, even if it's not work that many can see.
"Whatever people want to say, or see, I know - and everybody in the building knows - I'm giving it my all," Mayfield said. "I see the improvement."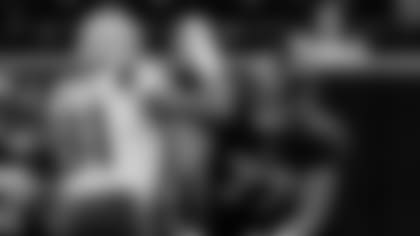 Area of improvements from Year 1 to Year 2: Pass blocking
Speaking of improvement, the eye test and the numbers prove that the major step Mayfield has to take from Year 1 to Year 2 is in pass protection.
In his rookie year, Mayfield's overall pass blocking PFF grade was 27.6. He had three individual games that graded out to less than a 15.0 score (Week 1 against the Eagles: 1.4, Week 4 against the Washington Football Team: 14.6 and Week 17 in Buffalo: 8.0)
Mayfield was better in run blocking, by a significant margin. So, bringing more consistent pass protection success into his second year in the league is of the upmost importance for Mayfield's continued development.