Editor's note: This story is a part of the Falcons Breakdown series, which evaluates each position group and how it will it look for next season.
The Falcons inside linebacker position is in a different situation than many other position groups this offseason. Instead of having to rebuild it, the Falcons could be looking to keep it together.
Between Deion Jones, Foye Oluokun and Mykal Walker, it feels like the Falcons already have a core group established. But establishments can be shaken, and it seems this foundation could be restructured if the Falcons front office chooses to do so. Many felt Jones wasn't the Jones we've known him to be in 2021. Oluokun was more in the last two seasons than what many people on the outside thought he could be, but he's a free agent in 2022. And Walker's defensive playing time was limited in 2021, particularly early in the season.
So, despite this position group feeling established, feelings can be deceiving and the future of this position group rides on this offseason and how the new Falcons regime wants to move forward with the trio of Jones, Oluokun and Walker.
Primary 2021 production
Foye Oluokun: 17 games | three interceptions | two sacks | one forced fumble | seven QB hits | 192 combined tackles (most in the league) | overall defensive PFF grade 43.7
Deion Jones: 16 games | two sacks | one forced fumble | four QB hits | 137 combined tackles | overall defensive PFF grade 34.0
Mykal Walker: 17 games | one interception | one fumble recovery | one QB hit | 35 combined tackles | overall defensive PFF grade 71.2 (note: this grade is based on a defensive snap count of 194 compared to Oluokun and Jones' 1,000-plus defensive snaps)
Who stays
Even though there was a certain sense of disappointment in Jones' 2021 production and 16.9 percent missed tackle rate, it looks like the Falcons simply cannot afford to part ways with him. Jones carries a cap hit of $20 million in 2022, plus a dead cap of $24.8 per Spotrac. There's also the argument that this was just a down year for Jones in a new system. Based on previous years, there's no reason to believe that Jones wouldn't be able to bounce back in 2022.
As for Walker, he's still on his rookie deal after being drafted last year. He wouldn't be going anywhere.
Who's on the chopping block
Here's the thing about Oluokun: The Falcons should want to bring him back, and it seems like the Falcons do want to bring him back. So, this isn't necessarily the same "chopping block" that others have found themselves on. Oluokun is a free agent in 2022, and really, that's it. That's why he's in this section and not with Jones and Walker. But Oluokun's situation is different than most other Falcons free agents because of what he did in 2021, and even in the season before, too.
It's because of the production of the last two years that Oluokun could be priority No. 1 for the Falcons to resign this offseason.
If that's the case, it would seem like a no-brainer to sign Oluokun to a long-term deal. But the reality is that the Falcons are still in the position where they have to be salary cap conscious. And that brings us to the final section...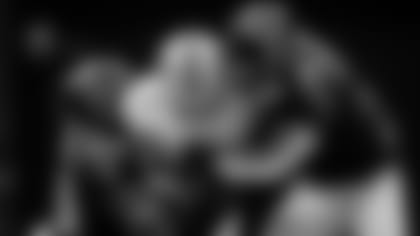 Biggest offseason question
Will the Falcons be able to keep Oluokun in Atlanta?
Oluokun's market value is going to be higher, a lot higher, because of his 2021 performance. He's going to get paid. By who, is the question.
There are a lot of teams in the league looking for young, emerging inside linebackers like Oluokun. He'll have suitors. Is Atlanta one of them?
One would assume that yes, they are. But with Jones already taking up almost 10 percent of the Falcons 2022 salary cap, are the Falcons willing to invest even more money into the inside linebacker position in order to keep Oluokun when they have so many needs elsewhere? This is the reality of the situation.
It's one thing to want Oluokun back, it's another thing to have the means to give him a competitive offer to keep him in Atlanta. This will be one of the most important storylines to keep an eye on as free agency opens up in the next couple months.