FLOWERY BRANCH, Ga. -- It's one of the biggest questions surrounding the Falcons as they head into the 2022 offseason: Which free agents will they look to bring back?
The scope of these players are wide ranging. There are players on the final year of their contract, like Foye Oluokun and Russell Gage. There are players on one-year contracts, like Cordarrelle Patterson and Duron Harmon. Regardless of their situation, there are a number of players the Falcons have within the confines of their own building that present an argument - a very compelling argument - to potentially bring back.
Let's discuss three examples.
There's Oluokun, the Falcons MIKE linebacker who the Falcons drafted in 2018 and who develop into someone Dean Pees said was one of the best young and ascending linebackers in the league. He was the league's leader in tackles in 2021, by the way. And because of his production and the significant role he plays in Pees defense, he could be the Falcons top priority of players to resign.
There's Patterson to discuss, too.
As important as Oluokun was to the defense, that's what Patterson was to the offense. He was the Falcons most intriguing offensive weapon. His all-purpose yards tell that story.
He signed a one-year deal with Atlanta last offseason. And even though Patterson has stated on multiple occasions that he loves Atlanta and is grateful that this Falcons coaching staff tapped into his potential as more than just a special teams player, his market value has increased significantly from where it was last offseason.
For Patterson - and Oluokun, too - has their price become too high for the Falcons because of their 2021 seasons?
Finally, there's a guy like Isaiah Oliver to think about, as well.
Though in a very different situation than other players listed above, Oliver is an intriguing candidate for a potential resign as he is also on a contract year. Oliver suffered a season-ending knee injury in Week 4. Prior to the injury, though, Oliver had found his niche as a nickel in Pees' scheme. So much so, the Falcons had a difficult time replacing him. Pees even said in the final weeks of the season that if Oliver wasn't hurt there's no doubt in his mind he'd be the Falcons nickel. Is there value in signing a player coming off a significant injury if he was everything the team needed at the position?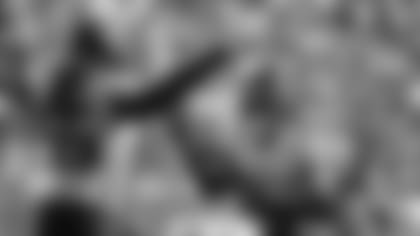 That's just scratching the surface, too. That's not even going into the storylines of Gage or Harmon or Erik Harris or any of the other Falcons 2022 free agents.
So, what are the Falcons plans for guys like those listed throughout this story?
Well, general manager Terry Fontenot wouldn't go into the specifics of just who he and head coach Arthur Smith would prioritize in free agency. What he did say, though, was very interesting and it may plant a small seed of hope in you that the Falcons could bring back any number of these free agents.
Getting into the nitty-gritty of the process, Fontenot said the front office will meet with coaches in the next week to two weeks to begin determining who they want to proceed with. They'll look at their market value, of course, but Fontenot said almost immediately that it does make a difference when you're discussing signing a player that's already in your organization.
Fontenot even went as far as to say the best form of free agency is "developing and signing your own players."
"You're not guessing. We know exactly who they are in the building. That's important," Fontenot explained. "Ideally, when it's players in your building, those are the players you want to invest in."
Before you get too excited, though, (and start cashing in on any CP84 merchandise) Fontenot did add a "but."
"There are a lot of variables," Fontenot said, "and you want to look at that market value, making sure you're making the right decisions."
Those variables? Money. The player in question's price tag.
Though the Falcons are in a better position regarding the salary cap because the cap went up in 2022, Fontenot said Atlanta still has a number of constraints to consider. This makes it difficult to sign these players if their price is too high.
Of course, the Falcons would like to have some of these players back. They were impactful. Some could be building blocks for the future. But there is a difference between wanting to bring these players back and having the capabilities to bring these players back.
It's worth taking note, though, that it seems like the Falcons would like to try.
"When you can do that, when you can reward your players in your building," Fontenot said, "that's something that we want to do."