ATLANTA – Now that the Falcons have been eliminated from the 2022 postseason with their 30-20 loss to the New Orleans Saints, the focus shifts to the offseason and the players they will have in 2022.
And the team will look very different next season.
The Falcons have 28 players set to become free agents, per over the cap, including impact players in Cordarrelle Patterson and Foye Oluokun, to name a few. The NFL salary cap is expected to increase from 182.5 million to 208.2 million, giving the Falcons more to work with than the 11.8 million they had this season.
Following the loss to the Saints, a few of the Falcons players set to hit the market addressed free agency.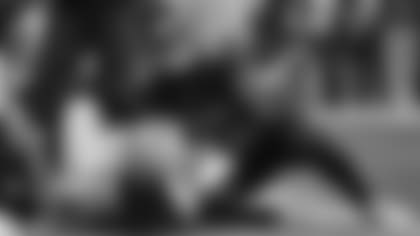 In his first season playing in the Mike linebacker role – the player that calls defensive plays, direct shifts, and changes – Oluokon thrived. He has been one of the best linebackers in the NFL, securing a league-leading 192 tackles this season, seventh-best in NFL history, along with three interceptions and two sacks.
Oluokun admitted that if his four-year-old basketball player self knew that he would eventually accumulate the seventh most tackles of all time, his mind would be blown.
And coming into the season, he was unsure if he was even prepared to accept the new role.
"I got a lot of respect for Dean Pees. He had a vision for me that I didn't even have for myself," Oluokun said. "That said, I could've kept getting better at it, and I did get better at it as the season went on, commanding the defense, calling out alerts."
Now Oluokun, 26, will hit free agency as one of the most attractive linebackers available. And this summer, Oluokun says he is not necessarily looking for the highest paying suitor, but the best situation.
"Just a good plan. One for me where I feel like I could be successful," Oluokon said on what he is looking for in free agency. "I don't wanna just go where they offer me money, and I'm not gonna be successful in the system. I wanna go where I can be successful, and we can go win games.
"At the end of the day, I'm still a football player and a competitor, so hopefully, people respect me on that level where I can get the money to where I'm playing in the right scheme and stuff."
Gage says he doesn't know much about free agency.
Growing up, when he played the franchise model of the Madden video game series, the free agency portion of the offseason was always his least favorite; most of the time, he skipped it.
As the offseason quickly approaches, Gage is unsure where he will end up or really how the free agency process works but knows he would love to return to the Falcons.
"I love Atlanta. I love it here. In my mind, they have first priority as far I'm concerned," Gage said. "Those guys start talking. I'm gonna talk back because they have a special place in my heart here, and I'm hoping the same on their end."
And Gage will likely command a bevy of teams interested in signing him this offseason. Gage finished the year with 66 receptions for 770 yards and four touchdowns through fourteen games, including an eleven-catch 130-yard performance against the Tampa Bay Buccaneers.
Against the Saints Sunday, he had one of his best games of the season finishing with nine catches for 126 yards and a touchdown.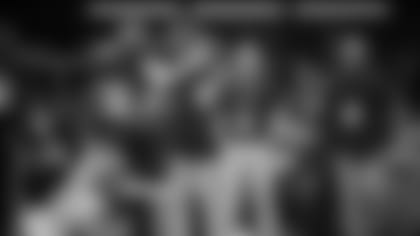 When the Falcons did not pick up Hurst's fifth-year option on his rookie contract before the season, Hurst knew this year would need to be a big one for him. Unfortunately, as he has admitted many times throughout the season, it has not been the season he hoped for.
Hurst missed four games this season between the injured reserve and the reserve/Covid-19 list. He finished with 221 yards and three touchdowns this year, down from 533 and six touchdowns last season. His receiving yards in 2021 were his lowest since his rookie season of 163.
"Not exactly what I dreamed up in April," Hurst admitted of his performance this season. "All I can do is make the best of my opportunities whenever they come, and I think I showed that this year, flashes, especially today, but all I have to do is control the controllables."
As Hurst heads into the offseason, he is unsure what lies ahead for him. He would be happy to return to Atlanta but ultimately would be happy to be anywhere where he is given chances to make plays.
"I know the type of player I am and what I can bring to the table and what I can bring to a team," Hurst said. "All I ask for is opportunities." Falcons Final Whistle | A Postgame Podcast
Break down the hottest topics surrounding the Atlanta Falcons and how they can impact the team's success with Atlanta Falcons Insiders Scott Bair, Tori McElhaney and Kris Rhim. Like and subscribe to join us for the lively debate on Falcons Final Whistle.
Welcome to Falcons Final Whistle – an Atlanta Falcons football postgame podcast during the season that shifts gears in the offseason to answer a pressing question about the team's future each week through free agency, the NFL Draft and the offseason program.