FLOWERY BRANCH, Ga. -- If the season ended today, the league's leader in tackles would potentially hit the free agency market. With one game remaining, the Falcons have decisions to make in the offseason regarding Foye Oluokun, who is arguably the Falcons most dynamic defender and one of the fastest ascending linebackers in the league.
Drafted in 2018 with the 200th pick in the draft, Oluokun transformed himself from college safety to starting league linebacker. Even playing alongside Deion Jones, who the Falcons have invested heavily in, Oluokun emerged in his own right. He's valuable, immensely so. And his market value only climbs because of the 2021 season he's had as a MIKE linebacker in Dean Pees' scheme.
Statistically, his numbers jump off the page. He's had three interceptions in 2021 (two coming in the last two weeks). As mentioned previously, he leads the league in tackles. As of now, that number sits at 179 total tackles in 2021. With four quarters remaining for the Falcons in 2021, that number is only expected to rise.
Mentally, the argument could be made that there are very few who know the intricacies of Pees' defensive scheme better than Oluokun does. As the MIKE, he's the one running the defense. Whereas that used to be Jones' role, the new defensive staff felt confident they could give that added responsibility to Oluokun in 2021. With the season winding down, no one has a single regret about doing so, and a lot of that is due to who Oluokun is and the work he put in.
"I really feel good about him," Pees said early on about Oluokun, "and I've had some really good MIKE linebackers in my day. I really feel like, as a young linebacker, this guy's got a really, really bright future."
But where will that future be exactly? Could it be in Atlanta? That process starts soon with the 2021 season coming to a close for the Falcons on Sunday and the free agency market opening up in a couple months.
When asked about that unknown future on Friday, Oluokun noted that'll all come in the offseason. For the time being, he's worried about the Saints.
"I'm just here trying to play as good as I can so they can think highly of me coming into this offseason," Oluokun said.
It's hard not to already think pretty highly of Oluokun. And it seems obvious just from talking to Pees, linebackers coach Frank Bush and head coach Arthur Smith that the Falcons do - indeed - think very highly of Oluokun. The problem wouldn't be whether or not they would want to bring Oluokun back. Of course they would. The problem would be in the business side of it all. Because of the year he's had, did Oluokun price himself out of the Falcons offseason budget?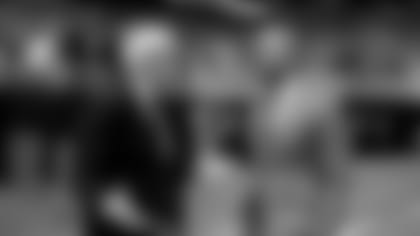 For what it's worth, Oluokun said he'd wouldn't at all mind staying in Atlanta.
"I like being comfortable," he explained. "I like knowing what I was doing from the previous year before. I like seeing similar faces."
And if the Falcons could get a deal done to bring him back?
"I'd like that," Oluokun concluded.
Prioritizing potentially resigning the league's leader in tackles seems like a no-brainer this offseason. With the salary cap increasing in 2022, it's possible the Falcons could find a way to keep Oluokun around.
The MIKE linebacker position is so crucial to Pees' scheme and Oluokun has performed so well in it that it could lead to the Falcons putting up a good fight to keep Oluokun in Atlanta. But is his price tag too high and the Falcons salary cap margin too thin to do so? We'll know more in the coming months. Falcons Final Whistle | A Postgame Podcast
Break down the hottest topics surrounding the Atlanta Falcons and how they can impact the team's success with Atlanta Falcons Insiders Scott Bair, Tori McElhaney and Kris Rhim. Like and subscribe to join us for the lively debate on Falcons Final Whistle.
Welcome to Falcons Final Whistle – an Atlanta Falcons football postgame podcast during the season that shifts gears in the offseason to answer a pressing question about the team's future each week through free agency, the NFL Draft and the offseason program.