FLOWERY BRANCH, Ga. -- Cordarrelle Patterson has made it clear - crystal clear - that he'd like to stay in Atlanta if he can. Wearing cleats on Sunday with the phrase, "Why not retire in Atlanta?" written on the side, Patterson hasn't shied away from questions regarding his future.
Now that the 2021 season has ended for the Falcons, Patterson reflected on the year he had and the unknown future that now looms ahead.
Patterson finished the season with 618 rushing yards, averaging four yards a carry. He caught 52 passes for 548 yards. He scored 11 touchdowns. Patterson was - by all intents and purposes - the biggest surprise of 2021 not just for the Falcons but for the league, too.
"I don't think anybody thought I would have the season I had," Patterson said on Monday.
When Patterson was signed back in the 2021 offseason, no one knew what he would become. The Falcons listed him as a running back and for months speculation circulated about what exactly their plan for Patterson was. Of course, Patterson saw the swirling speculation, too.
"Everybody looked at me as a special teams player," Patterson said. "That's probably what a lot of people thought when I signed here."
Training camp came and went and the questions still loomed. Then came the preseason, and Patterson - like many starters - never took a snap. Patterson's role was kept heavily under wraps. That is, until the vision for Patterson started to materialize. As the season went on, it become more and more apparent that Patterson was the spark of this Falcons offensive unit.
At times when it seemed like nothing could work offensively, the Falcons put the ball in Patterson's hands, and he made something happen.
Even without a Pro Bowl selection, the league took notice of Patterson's emergence and the Falcons coaching staff's ability to crack the Patterson code no other team had been able to throughout Patterson's long career.
So, where does that leave Patterson? With a market value that will skyrocket from where it was when the Falcons acquired him last season.
Where does that leave the Falcons? At this point, there's only speculation.
"I'll let my agent and the GM handle the business side," Patterson said.
From Patterson's perspective, yes, he'd like to stay in Atlanta. That much seems obvious. But this is a business, and he'll stay in Atlanta if the price is right, and who knows if the Falcons have the means to even bring him back with the needs they have elsewhere.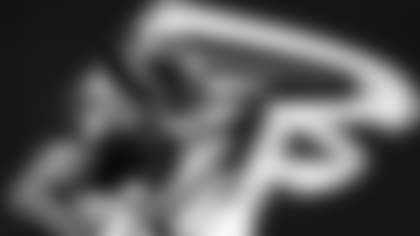 Patterson did leave the conversation with one more note on the future of the Falcons, saying he thought the foundation Arthur Smith way laying in the organization is something worth highlighting.
"You'd be a fool to not want to play for Art, especially this year with the foundation that he's been building and the chemistry that he's building with these guys in this locker room on and off the field," Patterson said. "For a guy like me, I'd be a fool to not want to play for Art next year."
He wants to. But is wanting to enough? Maybe not with millions of dollars on the line. Millions of dollars the Falcons organization has to think carefully about where to invest it in.
For what it's worth, though, the Patterson that emerged in 2021 is going to find a landing spot somewhere. And wherever it is, they're getting an offensive weapon with the confidence to carry a stellar 2021 performance into 2022.
"No matter what team I'm on I'm going to give it my all, if it's here or somewhere else," Pattersons said. "... I just get ready. Ready to work my ass off."