Editor's Note:This story is a part of the Rookie Review series, which evaluates each individual of the Falcons 2021 rookie class, how they performed in Year 1 and what's ahead for them in Year 2.
When looking for photos for this story, there were nearly 200 photos to choose from of Frank Darby. It would have been challenging to do an exact count, but of those, around 95 percent featured Darby's massive ear-to-ear grin.
Darby walked around the Falcons facility each day with his large smile and his loud contagious laugh that forced everyone to cheese, from Matt Ryan to Arthur Smith to A.J. Terrell. In his first season Darby brought brought a fun and kid-like energy to a game that can get too serious at times.
"There are certain names right when someone brings them to you, and something clicks right in your brain, and Frank to me is energy," offensive coordinator Dave Ragone said. "I mean, it's contagious. You see him out there in practice; he's running around, everything's full speed. He doesn't know how to make anything half speed. He's always there with a smile on his face, loves what he does, and brings a great work ethic."
Ragone thinks that energy will propel Darby forward next season.
He and Calvin Ridley are currently the only two wide receivers on contract heading into 2022, and if Darby can improve in the offseason, he could evolve from his special teams role.
"You usually see that from year one to year two, a player takes that next step," Ragone said, "and we expect nothing less from him."
A look back: 10 games | 84 kick return/coverage snaps | 42 punt return/coverage snaps | one tackle | overall PFF special teams grade 40.8
Stats as a wide receiver: Four games | One reception | 14 yards | overall offensive PFF grade 74.0
What Darby learned in 2021: Darby quickly realized that the NFL was much different from college. The players are bigger, stronger, and faster than he had ever played against. And he got to experience the physicality of the league first hand in the Falcons final preseason game against the Browns.
He called it one of his "Welcome to the NFL" moments.
"I remember my first time running down on kick return, and I'm tryna get my number. I just hear BOOM! [He] ran right through me!" Darby said with a laugh. "Oh my god, he ran right through me — and made the tackle! I get up and look at the sideline like, wow, this is treacherous. They are coming down fast, like ready to go. In college, they ain't coming like that."
"I been welcomed to the NFL a couple times."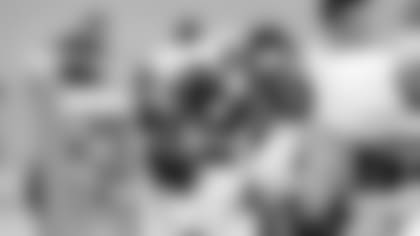 Beyond being beat up on kick returns, Darby also learned about the business aspect of the NFL. In college, there was time for joking around; he could even take plays off here and there.
"At this level, there's really no taking plays off," Darby said. "Anything can happen in an NFL game. ...Y'all know I laugh, I do this and all that I came in here thinking I was already ready to go. I'm just trying to be myself, but It's always a time and place, and that's what I learned as we were going through each week."
Areas for improvement: Darby says his biggest focus heading into next season is becoming a better pro. He does not define that as one specific thing, but everything from perfecting his route running, adding muscle, rehab, and prehabbing his body like he sees guys like Grady Jarrett, Terrell, and Ryan do.
"I'm here now, and they see something in me, so it's time for me to step up, to grow up," Darby said. "I already been through 18 weeks. Once it comes, I know i'mma be ready to go next year."