FLOWERY BRANCH, Ga – Being a first-round draft pick in the NFL comes with significant pressure. Instantly a player's life is changed. They become millionaires, sometimes move to a new city, and are expected to become a franchise cornerstone.
So if a first-round pick is not an All-Pro or one of the best players at their position immediately, many are quick to jump ship and deem that player will not live up to their selection. For Falcons cornerback A.J. Terrell, those criticisms started before he even took a snap.
He was selected 16th overall by the Falcons in the 2020 NFL draft, and many fans and pundits criticized the pick because of Terrell's forgettable performance in the 2020 BCS National Championship game.
And Terrell heard the critics.
"Short-term memory. You know, everybody got an opinion," Terrell, 23, said on not focusing on the reaction to his selection. "You know, play good they love you play bad they don't, so that's how I've been, you know, forever like just being young all the way up you never did good enough. So just gotta keep a chip on your shoulder and stack days."
Terrell had a successful rookie season, ranking first among all defensive backs by Pro Football Focus, was the only cornerback on CBS Sports NFL Rookie Power Rankings, where he ranked 13th. He had silenced his critics in his rookie season, but now twelve weeks into year two, he has proven that not only was he the right pick at 16, but the Falcons got a steal.
Terrell has been one of the best defensive backs in the league this season. His 88.2 coverage grade per Pro Football Focus is the highest in the NFL.
The difference for Terrell this season, he says, is that he is taking care of his body much better than he ever has, a technique that he calls "prehab."
"I used to not really go into the treatment room often," Terrell said. "I mean like I didn't really go in there unless something was hurting. But now, just knowing that you know, I go in there and get in the ice tub, hot tub, use the Theragun [handheld therapy device]. Just prevent injuries.
"[It's] prehabing, not rehabbing; prehab. So that's really like the main thing, even when I don't feel like doing anything, just going in and doing something to make you feel good."
Last season, Terrell went to the training room primarily to receive treatment for injuries he had already suffered. He did not know that getting treatment to prevent injuries could help him, and now he is passing that advice to other young defensive backs like Richie Grant and Darren Hall.
"I'm keying in on taking care of my body," Terrell said. "And I'm telling them going into the offseason this year the main thing they need to do is take care of their body right."
Now with six games left in the season and the Falcons in the thick of a playoff push, Terrell's "prehabbing" has him feeling fresh – and the Falcons will need him to stay that way for any chance at a playoff berth.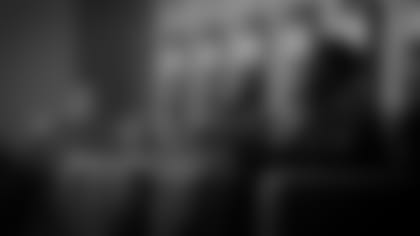 Part 3 | The Rivalry
The final chapter in the story of the 1991 Falcons explores the great rivalry between the Falcons and Saints, including the only playoff matchup between the two.