Cordarrelle Patterson has mainly made a name for himself in his career by being a dynamic weapon, but also for his style on the field. Patterson has worn socks with everything from Randy Moss' face on them to his own, and donned Atlanta Braves-designed cleats during the team's World Series run.
In Patterson's first game back after suffering an ankle injury, he used his style to amplify an important issue.
Patterson wore black, gray, and white Nike cleats with red laces that on the left read "R.I.P. Ahmaud Arbery" and "Hate cannot Drive out hate. Only 🖤 can do that." The right cleat read, "Stop systemic racism."
Last week, a Georgia jury convicted three white men, Travis McMichael, Gregory McMichael, and William Bryan, of murder after they chased and killed Arbery, 25, a Black man who was out for a jog last year. Arbery, and the extrajudicial killings of Breonna Taylor and George Floyd sparked protests across the country last summer.
"I'm pretty sure that we all seen what happened," Patterson said following the Falcons to a 21-14 win over the Jaguars on Sunday. "I just gotta show my respect to his family, man. That stuff was tragic. That could have been my son that was just jogging down the street, and people just pulled up on 'em and killed 'em."
Patterson has two sons and two daughters with his longtime girlfriend, Taylor.
Family is one of the most important things in Patterson's life. He has "Faith, Family, and Football" tattooed on his leg as a reminder of his core values. One of the reasons he loves playing in Atlanta is because it is just a few hours away from his hometown of Rock Hill S.C., which means his mother, sister, and brother are always at his house. He even wears 84 because his sister was born in 1984.
"That's something we gotta deal with every day," Patterson said. "Unfortunately, we do. That's a part of our life. This football stuff really don't mean stuff, man, because we've got so much going on outside. People don't understand. They just think we are football players; we human, too.
"We always got a target on our back, so every time you just gotta be careful man just gotta do the right thing, and always just try to get home safe, because our families depend on us."
For Patterson, the gesture was something he felt like he had to do, to pay homage to Arbery and his family. Patterson honored Arbery by having one of his best games of the season. He finished with 108 yards — the second 100-yard rushing game of his career — and two touchdowns on the ground, powering the Falcons to their fifth win of the season.
"Unfortunately, that had to happen," Patterson said, "I'm sorry to him and his family. I just had to honor him, wearing these cleats."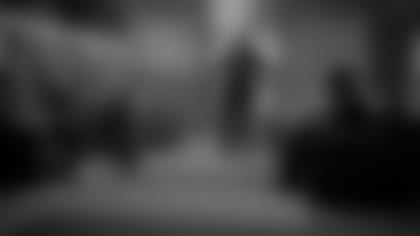 Part 1 | The Attitude
Chapter One in the story of the 1991 Falcons explores the attitude that made them the 'rudest team' in sports.