Way back in the first couple weeks of the 2021 regular season, outside linebackers coach Ted Monachino sat down for a quick chat with local media. He touched on every individual in his room. When he got to talking about his lone rookie, Ade Ogundeji, Monachino actually laid out the vision for the Falcons 2021 fifth round draft pick.
"At some point, he's going to be a guy who goes in and impacts games for us. It may take a little longer because he's a fifth round pick instead of a first round pick," Monachino said. "But we still have the same expectation."
And what's that expectation?
"With all of these players moving in and out of the building, we're going to ask - at some point - Ade to be the bell cow in the room," Monachino continued, "and we're preparing him for that right now."
What's interesting about this comment is that it may come full circle in the next couple of years as the Falcons look to rebuild its pass rush. Dante Fowler, Steven Means and Brandon Copeland are all free agents in 2022. Essentially, that leaves Ogundeji in the outside linebackers room.
The expectation is that the Falcons will rebuild this position group through the draft and free agency, but it's not going to happen overnight. To rebuild pass rush, it'll be a process. Ogundeji may be the one person who experiences the long haul from start to finish.
In his rookie year, Ogundeji likely saw the field more than what many expected the fifth rounder to in his first year in the league. It was a year in which the Falcons pass rush ranked last in the league in productivity, but this is only the beginning of Ogundeji's story. The ceiling is perhaps higher for Ogundeji than what 2021 alone foretold.
A look back
16 games | one sack | one fumble recovery | two QB hits | 33 combined tackles (five for a loss) | overall defensive PFF grade 54.2
What Ogundeji learned in 2021: Mechanics
People forget Ogundeji wasn't a stand up defensive end in college.
"My hand was always in the dirt," Ogundeji said, "and now I am standing up for the first time."
It seems like a small change, but there is quite a lot that goes into tweaking one's mechanics and muscle memory. After being drafted in the fifth round of the 2021 draft, that tweaking process began for Ogundeji. As he took a look back on his rookie year, he said the live game reps he received were invaluable to his personal growth in his first year in the league.
"You'll never know what's going on on the field unless you're actually out there playing," Ogundeji said. "So, I think for me, getting those reps, actually playing and going against great players, that's what's going to get me better. That's what's continuing to make me better."
Something that sets Ogundeji apart is his length. It's something Monachino said very early on was an attribute Ogundeji understood how to use well. So, almost reevaluating how best to use that length in the ways Monachino and defensive coordinator Dean Pees wanted was an important step in his development, too. It's something that Ogundeji really wants to hone in on in 2022, too.
"I've been blessed with some long arms so I try to use them. It's one of the reasons that got me here... but I am still learning how to use my length," Ogundeji said. "It's not like I'm a master at it but I am still learning each and every day how to get there."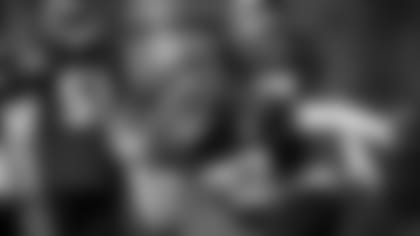 Areas for improvement: Build
When asked what area he wanted to see himself make the biggest jump in from Year 1 to Year 2, Ogundeji's answer was actually pretty interesting. He said he wanted to specifically improve in pass rush. That's a no-brainer. But something he added was that he actually really wanted to see a change in his body, too.
"I think my plan in the offseason is to get a little bit bigger, put some weight on," Ogundeji noted. "Of course, continue to work on pass rush, but just working around with my body a little bit."
There's a lot more that goes into this than just a conversation about size. For pass rushers, how a body is built in the offseason greatly dictates how it moves during the season. Being able to take on an offensive tackle requires strength. Being able to keep one's explosiveness throughout a game's entirety requires stamina. These are the types of things Ogundeji wants to enhance in 2022.