FLOWERY BRANCH, Ga. – Arthur Blank has said he hoped Julio Jones would be a Falcon for life. That didn't turn out to be the case.
The Falcons traded him to Tennessee last month for a compensation package that included a 2022 second-round NFL draft pick, ending a decade-long run with the club.
That was not in Blank's grand plan. According to Blank, it was something prompted by Jones' desire to leave, which the Falcons owner addressed for the first time during a Thursday press conference.
"Julio made it clear that he had certain aspirations and wanted to do it someplace else," Blank said. "That was not our original intent. That's the message that we got from the player and human being as well. He gave us 10 great years, which is about half of my ownership. He set all kinds of records, but the time was right for him to move on.
"I think the coach and general manager did a good job trying to get him to stay here, but he was ready to move. One thing about football is that you want a locker room where everyone does want to be here. You don't want even one of the 53 to want to be someplace else."
Blank conveyed disappointment in the fact Jones said that he wanted out of Atlanta, and that he wasn't able speak with Jones directly.
"The part that bothered me personally was the fact that he expressed that he wanted to be traded," Blank said. "We had a 10-year relationship. We had a good relationship. He was productive, a Hall-of-Fame player, and I was disappointed he felt that way. For whatever reasons, I'm not sure, I wasn't able to speak with him. I tried to, but he felt the way he felt and he wanted to make a change."
That ultimately led to the trade that sent Jones away from the team that traded up to draft him No. 6 overall back in 2011.
Blank remains optimistic about this year's team and the long-term vision of general manager Terry Fontenot and head coach Arthur Smith. That plan, obviously, does not involve Jones.
"We did the best we could, the organization did," Blank said. "A decision was made and we all move on."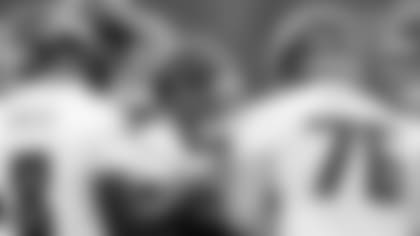 2022 Atlanta Falcons: First Look Open Practice
WHEN: July 29-30, August 1-10, 15, 24, 25
Rise Up Dirty Birds! Be the first to see your 2022 Atlanta Falcons take the field as they prepare for the upcoming season!