That's what you'd expect a stereotypical team site to say when turning the page towards training camp after trading away a star player and franchise mainstay.
Can't do that here. Dishonesty isn't what we do. The Falcons trading Julio Jones to Tennessee for a compensation package that includes a 2022 second-round NFL Draft pick doesn't help this year's receiver corps. It will aid the team overall by adding a valuable draft pick and salary-cap space now and in the future, but this is a positional camp preview.
We're only talking about this roster's receivers here.
Let's all agree on this. The Falcons receivers are not better without a top-flight receiver, despite the fact he's 32 and coming off an injury-riddled 2020 campaign.
But…while they aren't better, Falcons receivers certainly aren't bad.
Quite the opposite actually. Falcons receivers remain a team strength.
They still have Calvin Ridley, a comet still rising after an impressive 2020 campaign. Like, high above the sky. Ridley's the real freaking deal, a fact-based opinion I made clear in one of my first stories as Digital Managing Editor.
They also have Russell Gage also on the ascent after a breakout campaign, going into a contract year. He had 109 targets last year. That number could increase or hold steady at least.
Those two provide Matt Ryan excellent options in the pattern, two proven to produce even when Jones was hurt last year.
We aren't talking tight ends here, even if one of them (first name: Kyle, last name: Pitts) will be lining up a ton out wide and in the slot. Even if we call the No. 4 overall pick an honorary receiver, the group went from pretty good to legit.
Let's talk backups. We don't exactly know how head coach/offensive mastermind Arthur Smith will use Gage, but let's assume for now he rarely leaves the field, outside in two-receiver sets and inside with three-plus.
The Falcons seem a smidge thin after the top two. Olamide Zaccheus showed some flashes last season. He'll need to show more in camp and beyond to gain trust from Ryan, Smith and his staff.
Tajae Sharpe was an interesting add later this offseason Smith is familiar with him from their Tennessee days. His stats have never screamed consistent dominance, but he's an established player with some good moments on the resume even if his last two seasons were lackluster.
Frank Darby's an interesting prospect, but assuming a rookie drafted in the later rounds can make an instant impact is unfair. Playing receiver in the NFL is hard. It takes time to adjust. Let's see how the Arizona State product does this summer.
You've got to figure there are likely five receiver spots up for grabs, especially with the very real possibility of keeping four tight ends. That means one opening for several candidates – unless Sharpe or Darby struggle mightily -- including some you'll get to know from standout performances in the preseason. Sorting out those back-end spots will go a long way in determining how reliant the Falcons must be on Ridley and Gage while moving forward without Jones.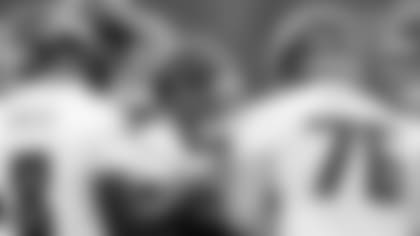 2022 Atlanta Falcons: First Look Open Practice
WHEN: July 29-30, August 1-10, 15, 24, 25
Rise Up Dirty Birds! Be the first to see your 2022 Atlanta Falcons take the field as they prepare for the upcoming season!