No more will-they or won't-they. The Julio Jones trade is done. The Falcons sent the receiver to Tennessee on Sunday for a compensation package that includes a second-round pick in next year's draft.
While the Falcons are moving forward focused on the roster as it stands, there's one more ripple effect to address in a post-Julio world.
How will the team's pass catchers fare without him?
The corps remains a team strength, loaded with both talent and depth. And, when you add the play-design creativity coming from Arthur Smith's brain, quarterback Matt Ryan will have no shortage of playmaking options and opportunities downfield.
Notice how we said pass catchers, not receivers, a few paragraphs up? We can't forget about the tight ends. We'll get to them in a bit.
Regarding receivers, we don't have to spend much time here on the headliner.
Calvin Ridley's an elite talent about to have a monster 2021 season. As Bruno Mars says, Don't believe me? Just watch.
Ridley had a breakout year in 2020 from the No. 2 spot, showing that he can be counted on as a go-to guy. The same thing could happen for Russell Gage. He finished with a career-high 72 catches for 786 yards and four touchdowns in an eyebrow-raising campaign that foreshadows more production with more targets.
Gage worked from the slot 64.9 percent of the time, per analytics site Pro Football Focus, and had 38 of his 48 catches working inside go for first downs. He was also solid bringing in contested catches, which enhances trust with a quarterback. He has played outside some and could move around, as most skill players will working in Smith's scheme.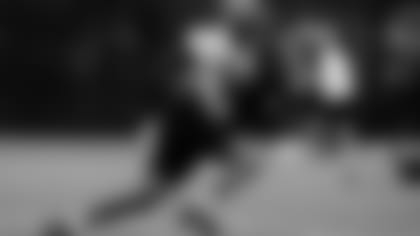 Let's go a bit deeper and address optimism surrounding returner Olamide Zaccheaus. He had 20 catches for 274 yards in 2020, including 103 in a victory over Denver where he scored a 51-yard touchdown. There's untapped potential there if he continues to work and develop.
Smith has a history with new signing Tajae Sharpe, who has played meaningful snaps in the system while with Tennessee. It's unfair to place expectations on lower-round rookie receivers – it normally takes time to develop at that position at this level – but Frank Darby could carve out a role or become injury protection. While Cordarrelle Patterson is technically a running back, the career receiver has incredible speed and will be an asset on plays designed for him in the passing game.
All those names we mentioned don't include a pair of dynamic and versatile tight ends that will be as involved as anyone in this passing game. First-round NFL draft pick Kyle Pitts and former first-rounder Hayden Hurst will line up all over the field, in traditional tight-end spots and farther out as receivers.
Pitts is a massive addition, undoubtedly the best non-quarterback available in the 2021 NFL Draft. The Falcons should take massive advantage of an extraordinary skill set. Hurst is more determined than ever to have a huge year, and excited about the prospect of Smith using his speed in the vertical game.
Smith will get inventive with how these talents are used, creating favorable matchups for them to thrive. That's why there should be no panic regarding the Falcons passing attack even after the Jones trade. There's firepower aplenty at Ryan's disposal, and the veteran knows how to use it well.
The rain clouds rolled in for the end of the first day of 2021 Atlanta Falcons Minicamp. Take a look at the best images from Day 1 here.