A steady NFL run game is a great way to hold a lead. Frontrunners can keep the chains and clocks moving by churning out tough yards on the group, gluing the opposing offense to the sideline. That'll reduce the time available for a comeback try or, even better, put a game out of reach with another score or enough first downs until time runs out.
While it wasn't the only reason why the Falcons blew so many leads last year, a lackluster rushing attack certainly didn't help. They ranked No. 27 in rushing last season, averaging just 3.7 yards per carry.
That won't cut it in any season. They'll try for better in 2021 with a new crew and new rushing scheme. Head coach Arthur Smith has imported a system that produced great results in Tennessee, and the front office brought in a mostly new collection of ball carriers to execute the plays called.
Fullback Keith Smith is a solid blocker and special teams player who can catch passes out of the backfield.
None of those guys are Derrick Henry the bruiser Smith featured in his years coordinating offense in Tennessee. But, honestly who is, these days?
Henry's best years came in Smith's scheme, creating optimism Davis can also have a step-up in production under the Falcons coach and offensive play caller. We're not suggesting he'll produce like Henry, a 2020 first-team All-Pro, but a relative production surge is a fair expectation.
We won't get a great glimpse of Davis until the regular season. It's hard to imagine him taking many (more likely any) carries during the exhibition campaign. The padded inter-squad practices with Miami might offer the best summer insight into how Davis fits, but it'll still be an incomplete look at the newest feature back.
It's hard to set expectations for Patterson, a career receiver who doesn't have tons of experience as a true running back. He has some experience there but nothing steady, though his size, elusiveness and raw speed in space suggest effectiveness in his new role. He does, however, have a track record of production on plays designed to get him the ball in open space.
Ollison's a player to watch during training camp and the preseason. He could earn a bigger role or trust as injury protection for Davis with a solid summer. He should also be active in preseason games, along with other young runners in this competition.
Backs can't run alone. Rushing is an 11-man operation, with the front five as major contributors. We'll detail the offensive line's role in all this down the line, but the Falcons need those with ball in hand to make the right reads, the right cuts and showcase proper power to help balance the Falcons offense and allow Smith's system to run as it should.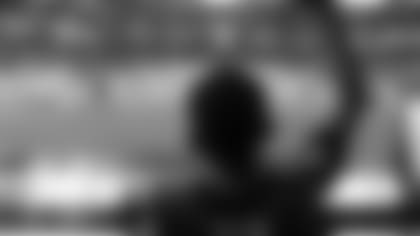 2021 AT&T Atlanta Falcons Training Camp: Dirty Birds Open Practice
WHEN: August 7th
WHERE: Mercedes-Benz Stadium
TIME: 2:00 PM ET
The 2021 AT&T Atlanta Falcons Training Camp: Dirty Birds Open Practice entertainment, including cheerleaders, drumline and Atlanta Falcons Legends, will kick-off when gates open and fans are encouraged to arrive early to enjoy Mercedes-Benz Stadium's award-winning food & beverage experience offering fan-first prices.
Tickets for the open practice at Mercedes-Benz Stadium will be $5 each and all proceeds will go to the Emory Healthcare's research and discovery programs.
Due to the current NFL protocols around COVID-19, there will not be opportunities for player autographs.
Stay tuned here for more information!