FLOWERY BRANCH, Ga. -- With final roster cuts looming, we've entered into the final countdown. With one preseason game against the Browns remaining on Sunday night, there are decisions that will have to be made soon after the game's end.
Arthur Smith said the staff feels pretty good about a third of the roster. Not to be Captain Obvious, he said, but you know Matt Ryan, Jake Matthews and Grady Jarrett are starters. Smith has previously stated that he's been very pleased with the inside linebackers, and you already know packages are set up to have Hayden Hurst and Kyle Pitts running together. There are not too many questions about who will start for the Falcons come Week 1, but there are still questions swirling around this final preseason game.
So, with that being said, here are five storylines I'll be keeping an eye on.
1. Who actually plays? And for how long?
Smith said a "majority" of this roster will see action on Sunday, meaning we will see more big names than we've seen up until this point. Smith said, yes, some veterans will play more than others. And how long said veterans play will be determined by the flow of the game. However, that's about all the information Smith was willing to share. Will these starters and veterans get a series or two? Or are we talking about veterans getting close to a full half? Will we even see Ryan? Or at long last Pitts? These are the biggest questions of the night.
The coaching staff has said it wants to give Rosen a fair shot on Sunday, and Smith has reiterated that you will see Rosen play. Rosen's first practice with Atlanta came on Wednesday, and his 11-on-11 rep count did increase in the days that followed. Smith said he isn't in the business of throwing Rosen to the wolves. He explained the Falcons have a package prepared for him. How well he plays and exactly when he plays will be something to watch.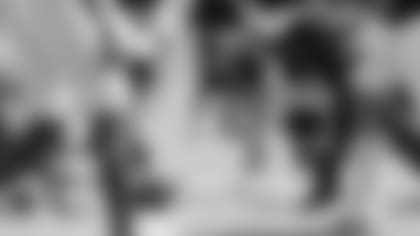 Both defensive linemen have had to miss quite a bit of combined practice time over the last two weeks. After a solid performance in the Falcons first preseason game against Tennessee, Davidson dealt with an injury that forced him out of the second preseason game in Miami. Cominsky also missed the Miami game as he was in concussion protocol after leaving the Tennessee game with a head injury. Both returned to full, live reps this week. Will the Falcons hold them back a bit, being confident in what they can provide in rotation? Or does the staff need to see them more because of time missed? We'll find out.
4. Eyes on the offensive line
Smith said that while the coaching staff "feels pretty good right now" about who will win the starting jobs at right tackle and left guard, they do want to take the competition through Sunday and into next week to really feel 100 percent about it. As of now, Kaleb McGary and Josh Andrews are the front runners, but there are a couple players who could be fighting for a roster spot as depth pieces at the same positions. Jalen Mayfield and Drew Dalman are likely locks on the 53-man roster, but Willie Beavers and Jason Spriggs are two names to keep in mind and watch against the Browns. If the Falcons decide to carry nine offensive linemen on the 53-man roster, then both could be safe. But if the Falcons drop that number down to eight, Sunday's performance for Beavers and Spriggs could be vitally important when considering that decisions.
5) Which defensive back and receiver emerges to claim final spots?
Like the offensive line, there are certain locks within both the secondary and receiver position groups. However, there are questions still to be answered. If the Falcons carry five receivers, who's No. 4 and No. 5? Christian Blake? Tajae Sharpe? Chris Rowland for the role we know he can play on special teams? And what about the secondary? Will TJ Green surpass Kendall Sheffield who's had to miss a majority of training camp because of injury? What about Chris Williamson? He flashed early in camp and has been working primarily with the second team since. Did he do enough to make the roster? You'll get to see a lot of these bubble contenders on Sunday night.