The Falcons are coming off one of the biggest wins in Week 10 – a stunning 26-9 win over the rival Saints down in New Orleans – and are back at it preparing for another NFC South foe, the Carolina Panthers. Falcons fans, still enjoying the big win, have plenty of comments and questions – so let's get to them now. Just remember that all opinions here are mine unless otherwise noted.
Anthony from Kennesaw, GA
Hey Beek, I was thinking and have a quick question. If the Falcons go 6-0 or 5-1 in the division and finish with a record of 7-9 or 6-10 and have the best divisional record, do they win and represent the NFC South? I know they will not have the best overall divisional record, but they will have the best divisional record (NFC South).
Matt: Unfortunately, it doesn't work that way. Overall record matters. To be clear, if a team lost all six division games and won the rest of their games to finish 10-6, they would still have the advantage over a team that won all of their division games and lost the rest to finish 6-10. The standings are still based on the better won-loss-tied record and, yes, there are enough games remaining (seven, to be exact) for the Falcons to make a turnaround and have a winning season. If the Falcons should finish with an identical record to the Saints, Panthers or Buccaneers, tie-breakers are based on head-to-head records and then best won-loss-tied records. There are several more tie-breakers, but those are the main two.
Charlie from Kent, England
Hi Beek, always a good read. We all know that cap is going to cause us some issues. In free agency, realistically who do you see us parting ways with?
Matt: That's a good question. Obviously, the Falcons have made a huge financial commitment to a number of players that they simply cannot afford to part ways with or they'll take a massive cap hit. And those commitments will obviously limit them as far as the amount of flexibility they'll have when it comes to signing free agents and future draft picks. As it stands right now, they're going to be forced make a lot of tough decisions just to create room. I think when it comes to any high(er)-priced veterans who are nearing the end of deals, there will be some tough calls to make. Same goes for soon-to-be free agents. They might not be able to afford to keep them. Obviously restructuring some current deals could also help, but that remains to be seen. I know that's somewhat vague when it comes to actual names, but it anyone's guess at this point as to how it all shakes out.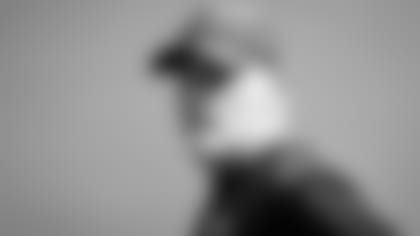 Nick from Eau Claire, WI
Hey Beek! Always love reading your responses. Love your positivity! Die-hard Falcons fan from Wisconsin. Rain or shine, I'll stick with them, that's what it means to be a fan. So, at the college level I stick with my Wisconsin Badgers. Not sure if you've seen much but I was wondering if you might have an opinion on the Badger's defensive coach James Leonhard. He shows some great insight on D. Who knows what coaching changes will be made but I believe Quinn will at least be relieved from D play calling duties. Some fresh young blood would be great. Leonhard would get my vote. Thanks!
Matt: Thanks, Nick. And Wisconsin has a tremendous football program. When it comes to the Big Ten though, I'm all-in on the Maize and Blue. I spent part of my childhood living in Ann Arbor and the first football game I ever attended was in the Big House. It changed me, that's for sure. I fell in love with football that day. Regarding James Leonhard, I think he's got a bright coaching future. I think he played for six different NFL teams (which isn't too shabby since he's only like 5-foot-8, 190 pounds) before he got into coaching in 2016. Regarding Dan Quinn and his future, let's tap the brakes. He's a phenomenal defensive coach. And as a head coach, he's still evolving, I think. His decision to make staff changes midseason like that was bold (and a lot of people questioned it), but it paid off. There's still the second half of the season to go, so let's see what Quinn and the Falcons can do. There will be plenty of time in December to debate what worked, what didn't and what the team needs to do heading into 2020.
Alex from San Jose, CA
Hi Beek, I'm nervous about the offseason. How are we gonna re-sign all our stars? What do we have to do in order to re-sign all the players in free agency? Who are all the Falcons players on the market this offseason?
Matt: Don't be nervous. Let's finish the season and see who is worth keeping first, OK? And even then, let's face it, the Falcons might not be able to keep. Players want to be paid, as they should. An NFL players only gets so many chances to cash in and who can blame them for getting as much as they can? Good teams know how to manage the cap, draft well and sign the right kind of free agents who fill specific needs. The following players will be unrestricted free agents heading into the 2020 season:
The following key players will be restricted free agents heading into the 2020 season:
The following key players will be exclusive-rights free agents heading into the 2020 season:
Matt Schaub has two more years on his deal, but the Falcons have a club option of picking up his 2020 salary. The Falcons picked up Keanu Neal's fifth-year option so as of right now, he'll become an unrestricted free agent in 2021. General manager Thomas Dimitroff has done an excellent job of drafting well, finding young players who contribute right away and then also identifying core players to secure for the long term. There will be some tough decisions to make along the way (there are for every single team), but Falcons fans should be happy with the job Dimitroff has done thus far.
Shaun from Allenhurst, GA
Beek, haven't spoken in a while. All I have to say is where has this been all season long. To dominate the line of scrimmage against the Aints, that's right Aints, was special. That was a dominant performance from both sides of the ball. Very proud how they performed for our Dan Quinn. RISE UP!!!!!!!
Matt: You're not alone in your thoughts, Shaun, in case you haven't noticed.
Gary from Virginia Beach, VA
OK Matt, heard all week the best team in the NFC was playing in New Orleans this week, so, does that make the Saints the second-best team? I called an 8-0 run in the second half, so here's my question. Who's left on our schedule that is more of a challenge to beat, than the Saints in New Orleans ... who we dominated?
Matt: Yes, you did, Gary. I don't think there will be a more hostile road environment than the Mercedes-Benz Superdome, Gary. So, I'll give you that. But just because you won one, doesn't guarantee you'll win eight. The Falcons must keep that edge this week on the road in Charlotte against the Panthers – and take it one game at a time. They've been at the bottom and I can guarantee you they want no part of that anymore. Let's see how it shakes out, but I'm not going there. Not until it happens. MAILBAG
Do you have a question about the Falcons that you want answered? Ask a question here and it could be posted on AtlantaFalcons.com.
Go ahead, ask the Beek
Do you have a question about the Atlanta Falcons (or anything football-related) you'd like to ask Matt Tabeek? If so, hit the link. Please remember to include your home state (or country if you live outside the U.S.). Thanks for reading SFTB!
Podcast: Slamming the door on the Saints
The Falcons end their six-game skid in the best way possible — by knocking off the Saints in New Orleans. Matt Tabeek, Dave Archer and DJ Shockley put the win over their NFC South rivals in perspective in the latest episode of Falcons Audible presented by AT&T.