The Falcons are heading into their bye week on a two-game win streak and have now won three of four games under interim coach Raheem Morris. Things should get considerably tougher in the coming weeks with the Saints twice, Bucs twice, Raiders, Chargers and Chiefs all coming up. In the meantime, you've got some questions and comments. So, let's get to them now. Just remember that all opinions here are mine unless noted otherwise.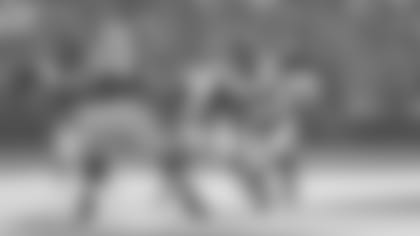 Jerry from Hinesville, GA
Hey Beek! It's been a while. Looks like Raheem Morris has things a lil' different (won't say turned around yet). So, what's different? Nothing. The difference is execution now as opposed to then. If you think about it, the same players who were blowing games are winning games now because of execution. One thing I feel that is different between Morris and Dan Quinn is the fact that Morris is a little more "put a foot in your butt" as opposed to Quinn being a "pat on your back." An example is Quinn would have never waived Takk McKinley. It was the right decision. You don't want to be here and take shots at the team, hit the road. Good luck on a big contract with the way you acted here. Yeah, Vic Beasley sucked at times, but at least he wasn't a crybaby. Heck, I'm sure we can replace Takk with Vic now. Why not.
Matt: Always great to hear from you, Jerry! I don't think Dan Quinn was soft by any means, but some would argue that the move to part ways with Takk McKinley was long overdue. Regardless, Raheem Morris acted swiftly and made the decision to move on from a guy who clearly didn't want to be here and never, quite frankly, lived up to his first-round billing. Sometimes players need a change of scenery. Maybe McKinley will turn things around down the road. Who knows, but it won't be in Atlanta. That ship has officially sailed, just Vic Beasley's did. And, no, I don't think you'll see Beasley wearing the black and red anytime soon, either, Jerry.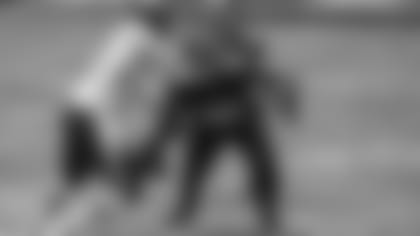 Marty from Billingham, Teesside, England
Morning, Matt! Hope you and your family are keeping well! With Takk McKinley being waived and now gone (which I find a bit disappointing as he became a little petty towards the end), do you think Marlon Davidson will be able to come and make an impact when he returns from injury? Also, is Marlon OK? He seems to be on the inactive list quite regularly. Thanks, and stay safe my friend, Marty.
Matt: I think it goes without saying that this is not the year we expected to see from Marlon Davidson when he was selected in the second round out of Auburn, Marty. From nagging injuries to being placed on the COVID/reserve list, Davidson has only appeared in three games this season and has made just four combined tackles total. How it will go for Davidson in the second half of the season is anyone's guess at this point, but it's safe to say that it's been disappointing thus far – and I'm sure he feels the same way.
Arthur from Decatur, GA
Hey Beek. Question: Why do the Falcons hold on to players too long and get no compensation for them? They just allow them to depart with nothing in return. Why didn't the Falcons trade Takk McKinley when he asked to be traded, especially for a second-rounder?
Matt: First of all, don't believe all of the rumors and reports you're reading. When the Falcons were offered a second-round pick from the New England Patriots for Mohamed Sanu last year, what did they do? They traded him, and they eventually used that pick to trade for tight end Hayden Hurst (after losing Austin Hooper in free agency). Do you really think the Falcons would have turned down a second-round pick for Takk McKinley? Sometimes teams will hold onto players because if they know they're going to part ways with them following the season (and they'll likely sign a free-agent deal with another team), the compensatory pick they'll get in return may be higher than what teams might have been offering at the trade deadline. While the Falcons did not receive any compensatory picks in 2020, they did receive two in 2019 when they lost Dontari Poe (Carolina Panthers), Adrian Clayborn (New England Patriots), and Taylor Gabriel (Chicago Bears). The Falcons would have received three, but the signing of Brandon Fusco offset that.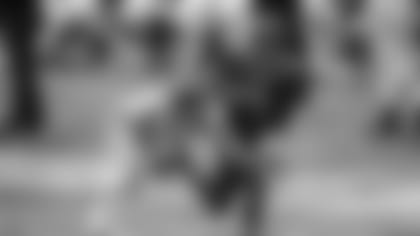 Ronald from Port Orange, FL
Well, one of my questions has already been answered. I really would like to know your thoughts on Kendall Sheffield though. Do you think the Falcons should look to replace him?
Matt: I like Kendall Sheffield, but I also think he's a work in progress. This year hasn't gone his way, mostly because of some injuries but he has some qualities – specifically, speed and solid demeanor – that are hard to find and can't be coached up. I think he'll get better if he can stay on the field and continues to work at it. Now, I'm guessing you didn't think he looked very fast at all on Sunday. Well, that's because he was covering rookie Jerry Jeudy (above), a first-round pick who makes almost everyone looks slow with his 4.27 speed. Thanks for writing in, Ronald.
Christian from Dallas, TX
Good morning, Beek. I just wanted to rant on about how good Hayden Hurst has looked in our offense. He has come in and produced even through a pandemic offseason when the team acquired him. The moment he stepped in the organization he made it known he wanted to improve and he got work in with Matt Ryan, and it's shown. I just thought I would write to rant about his game and all the AMAZING grabs he's had, and they really have made a big impact on the game. Glad to know we have a Swiss army knife in our offense that can make those small swing plays to change a game.
Matt: I couldn't agree with you more, Christian. In fact, if you were to ask me who the one player I am most excited about heading into the second half of the season and the 2021 season, it's without a doubt Hayden Hurst. There's a reason why the writers here at AtlantaFalcons.com picked him to be No. 1 on our top 10 Falcons breakout players in 2020 back in July. And when I was on with CBS Sports HQ back in early August, a lot of people thought I was nuts to suggest that Hurst would make 70 catches for 650 yards and maybe 8-10 touchdowns. See the tweet above and listen to the entire interview if you'd like. Right now, midway through the season, Hurst has 37 catches for 411 yards and three touchdowns. He's on pace to finish with 730 yards receiving and maybe 6-8 touchdowns. Not too shabby. It took Austin Hooper four seasons before he eclipsed the 700-yard mark, and then he left in free agency. MAILBAG
Do you have a question about the Falcons that you want answered? Ask a question here and it could be posted on AtlantaFalcons.com.
Go ahead, ask the Beek
Do you have a question about the Atlanta Falcons (or anything football-related) you'd like to ask Matt Tabeek? If so, hit the link. Please remember to include your home state (or country if you live outside the U.S.). Thanks for reading SFTB!