The Falcons are heading to Jacksonville for their final preseason game of 2019, which will take place on Thursday night against the Jaguars. We know at least this much about that game: one team will pick up its first preseason win of the year (not that it really matters at this point). In the meantime, there is a lot to discuss about this team as roster cutdowns loom. So, let's get to your questions. Just remember that all opinions here are mine unless otherwise noted.
John from Breckenridge, CO
Hi Beek! Love what you do. Keep it up. Thanks for finally answering one of my questions! (See what I did there.) Soooo ... based on what I read regarding today's practice, is Blair Walsh getting Matt Bryant's old locker ready for when Matt comes back? Inquiring minds ...
Matt: Hi, John. To steal an old (but legendary) line from Allen Iverson, we're talking about practice, man! In all seriousness, let's see what happens in the actual game against the Jaguars on Thursday night. While practice does matter, what happens during a game – albeit a preseason game – matters more, John. You can try to create game-like situations in practice, but it's just not the same. A kicker could be lights out and perfect during practice, but if he misses everything during a game, does that instill any confidence that he can get the job done when it matters? (That's a rhetorical question.)
And just for fun, let's have another listen to an excerpt from Iverson's unforgettable rant:
Munichia from Atlanta, GA
Do you think we will pick Matt Bryant back up since he's a free agent? Our current kicker has missed too many field goals in preseason and I'm concerned!!
Matt: Munichia, thanks for writing in. Falcons coach Dan Quinn has already stated that the Falcons worked out three different kickers before deciding to bring in Blair Walsh and open up the competition at that position as a result of Giorgio Tavecchio's recent struggles. Quinn also said that they discussed Matt Bryant, the franchise's all-time leading scorer, as well. Remember, as good as Bryant has been over the years, there was a reason they kept Tavecchio in the first place. I honestly think Tavecchio will kick his way through this and right the ship. That said, the competition is good and the Falcons will do whatever they need to do to ensure stability at that position.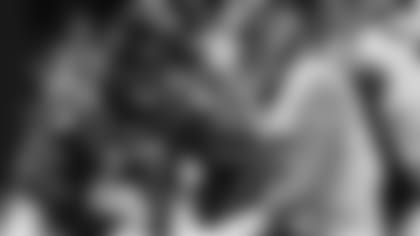 Wayne from Buford, GA
Hey Beek, really enjoy your articles. I've followed the Falcons for many years. It looked like James Carpenter may have the edge over Jamon Brown for the starting left guard position after watching the Redskins game. Matt Gono seemed to have problems with the outside speed rush. Do you think Carpenter has the edge and can Gono find a way to stop the outside speed rush?
Matt: I thought the offensive line as a whole played better against the Redskins than they did against the Jets, a week earlier. For one, Matt Ryan was not sacked once – and that was with Matt Gono playing at right tackle while James Carpenter and Jamon Brown rotated at left guard. While Gono had a decent night, he was beaten at least once by rookie Montez Sweat on a speed rush. Ryan got off the pass in time but did take a shot on the play. That's going to happen at times, but hopefully not often. I really like Gono and his story is a terrific one. Hopefully he can continue to improve and develop into the player the Falcons think he can become. Personally, I think he's got a (very) high ceiling. As for Carpenter, yes, I think he's the frontrunner for the left guard spot – for now. That battle with Jamon Brown has been a tight one all camp and preseason long. Whoever starts in Week 1 might have a short hook if things go sideways. Either way, I think both players are very capable and will get the job done. And thanks, Wayne, for the kind words and for writing in.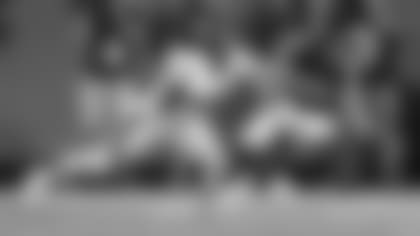 Barry from High Point, NC
I have been watching Alex Gray from day one. I would really like to see him make the team in some capacity if no other reason than to show that it can be done. I am quite sure that, with the tight ends room packed with talent, he doesn't stand a chance of making the 53-man roster but isn't he eligible for the practice squad? Is there any chance of him making the team that way?
Matt: Hey, Barry. Alex Gray has spent the previous two seasons on the Falcons' practice squad as part of the NFL's International Player Pathway program. It's worth noting because the players in that program are in addition to the 10-player practice squad; it's basically an extra spot. The idea behind it is to allow teams to develop those international players, many of whom did not play major college football or any organized football whatsoever. I have to look up the rule, but I believe a player is eligible for the practice squad for no more than three seasons as long as he hasn't played in (or accrued playing time) six games while on the active roster. Gray is no longer eligible for the International Player Pathway program, but I believe he's still eligible for the Falcons' practice squad (or another team's). It'll be interesting to see what the Falcons do there, especially with Gray and Jaeden Graham.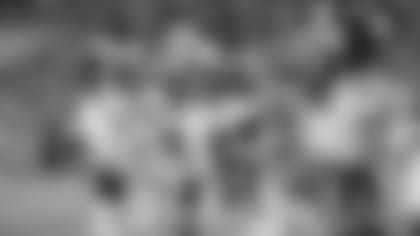 Winston from Richmond, VA
What's going on, Beek? Thanks for your effort in keeping us inform on all Falcons news, truly appreciate it. I'm a fan of Austin Larkin. I see true potential if he gets the opportunities, as in game time. I saw that you have him on the bubble, why is that? I feel if we try to stash him on the practice squad some other team will definitely try their hand to get him.
Matt: That's always a risk teams take when placing players on the practice squad, but it's also something the Falcons can take advantage of as well, Winston. I think Austin Larkin has played well during this preseason but, as you know, every roster spot is valuable. I'll be honest and he was a guy that I was a little torn over – and I'll throw Durrant Miles into that conversation as well. I like him a lot, too. It wouldn't surprise if either of those guys ended up on the 53 just because I know how much Dan Quinn covets playmakers and pass rushers. I'm rooting for them. We talked about some of those guys, in fact, on the latest Falcons Audible podcast. Give it a listen. And in case you're trying to find Falcons Audible on different platforms, here you go (and feel free to give us 5-star rating):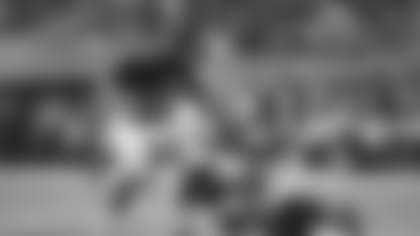 DiMaggio from Stockbridge, GA
Great predictions, Beek. My question to you is: Does acquiring new O-Linemen make you nervous a little? My fear is due to the lack of continuity and quick learning curving required? I've always used the analogy that the OL is like a chorus line routine in Vegas. One kicking leg off rhythm throws the entire routine off que. Matt Ryan, the backs and the receiving corps all feed-off the OL rhythm.
Matt: Thanks, DiMaggio. And great name, by the way. I grew up in New York surrounded by Yankees fans. Look, it takes time to develop offensive linemen, DiMaggio. So when a rookie steps in and dominates – much like the Colts' Quenton Nelson did a year ago with the Indianapolis Colts, it's rare and special, quite frankly. That group, as you noted, must be on the same page and cohesive. Every guy has strengths and weaknesses, and it also takes time to develop chemistry. So, yes, whenever there are changes up front, there's an adjustment period. And when you're working in two or three new offensive linemen, the changes take time while players get up to speed or, in some cases, learn the pro game. Pass rushers are so good these days, too. There is a reason why dominant defensive ends and edge rushers are almost as coveted as quarterbacks now. That all said, the Falcons invested heavily into the offensive line this offseason, including two first-round picks. They must get better up front and have reliable depth in case a man (or two, like last season) goes down. When you have weapons like Matt Ryan, Julio Jones, Devonta Freeman, Calvin Ridley and so on, you must be able to utilize them – and you can't if your offensive line can't protect the quarterback or open holes for the running backs. It's coming together, but it takes time. I think they're on the right track.
In case you haven't read any of my Falcons roster predictions, here you go:
Three more will roll out today – safeties, linebackers and receivers. Hit me with your comments at the bottom of the page.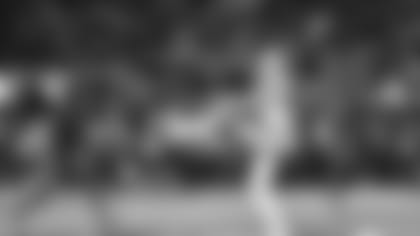 Joy from Powder Springs, GA
Hi Matt! Where can I find a red color rush Deion Jones jersey? This particular jersey would be special because it would mark the day Deion made his famous interception of a Drew Brees pass at the home game against the Saints two years ago when my husband and I came to the game. (The sweet part is my husband is a SAINTS fan!) Please let me know where to find one. Thank you.
Stories behind the comeback and ... manscaping?!?
The latest episode of Falcons Audible podcast it out and it's a must-listen for Falcons fans. Keanu Neal and Ricardo Allen joined me to talk about their comeback stories, the 2019 season, what's different playing defense with Dan Quinn as the defensive coordinator – and we had a little fun playing some word association (I finally got Keanu to crack!). Check it out. MAILBAG
Do you have a question about the Falcons that you want answered? Ask a question here and it could be posted on AtlantaFalcons.com.
Do you have a question about the Atlanta Falcons (or anything football-related) you'd like to ask Matthew Tabeek? If so, submit it here. Please remember to include your home state (or country if you live outside the U.S.). Thanks for reading SFTB!