The Falcons are off to Louisiana to take on their long-time rivals, the New Orleans Saints, on Sunday. The Saints are rolling right now at 7-1, and I'm sure that dome will be rocking and loud. No one, and I do mean NO ONE, is giving the Falcons a chance in this one. And I get it; they're 1-7 and not a lot has gone right in the first half of the season. But I think this one is going to be a fight … and it wouldn't surprise me at all to see the Falcons win this one late if they can force a turnover or two and cash in with some points (more on that below).
Meanwhile, you've got plenty of comments and questions, so let's get to them now. Just remember that all opinions here are mine unless otherwise noted.
As Dan Quinn likes to say, let's rock.
Kevin from Smyrna, GA
Hey Beek, what do you think it will take for us to become a consistently strong team? I thought going into this year that we were a "win now" roster construction, but we are under-performing and over-paying at the same time. How are we supposed to break out of that? It seems to me that we need a significant leadership change that will kickstart the restructuring process.
Matt: There is a price to pay when you take an all-in approach. You shoot your shot because you believe in your team, your guys. All-in could also be code for "Super Bowl or bust," right? And I think, generally speaking, fans love it when their teams go for it. And if you say no, you're probably being a tad dishonest. No one likes to think or talk about the "bust" part though … you know, if it doesn't work out. If you shoot your shot and miss. The Falcons made it a point to keep their core players secured for the long-term future. These are players – Matt Ryan, Julio Jones, Deion Jones, Grady Jarrett – who have proven to be among the best at their positions. If the Falcons let them walk, fans aren't happy. Now that they re-signed them and the team has underperformed, fans aren't happy. Now they're saying, "Why did they spend all this money?" The bottom line is, no one is happy unless the team wins – and wins big. There's only one winner at the end of the NFL season. One. And, generally speaking, unless teams are showing progress toward winning that last game, there are always changes. The Falcons will have their work cut for them in the offseason and they will likely have to make some very tough decisions personnel-wise, too. Until then, there are eight games to go and, for a lot of players, lots to prove.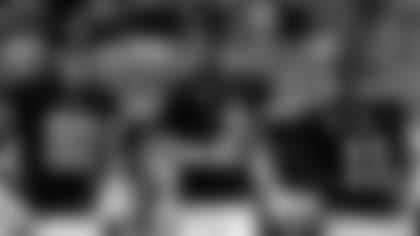 Joshua from Kettering, England
Hi Beek, me again! Currently a lovely 7* (44 Fahrenheit) here in England. First, don't understand the flak you are generating! While I do think you are perhaps glass half full, you work with the guys so you will always be slightly more defensive, weird that fans are so abusive! Second, I personally feel MR is one of the best QBs this league has seen, he has a decent chance of going 9th in all-time passing yards this season, if he goes around 30 TDs a season for say 5 more (your prediction on his playing time left) he will have 460 minimum. Not shabby!
Anyways onto a question. How do you read into the revelation from The Atlantic that Vic Beasley was supposedly re-signed to keep JJ and GJ agents happy? And what's the three keys to winning in Louisiana this weekend? Cheers.
Matt: I sort of get why a story like that had some legs but I honestly don't put a whole lot of stock into it or waste a lot of my time thinking about it, Joshua. Falcons coach Dan Quinn said that he believed he would get everything he could out of edge rushers Vic Beasley and Takk McKinley – and that he thought they'd be productive. The production and the numbers aren't there right now (and that's putting it nicely), so when a story like that comes out it totally feels like people are piling on. And if you've ever been on Twitter or visited a message board where people can hide behind anonymous account names, the mob loves to pile on. And I'll leave that right there. As far as three keys to beating the Saints, here you go. 1) Pressure and get to Drew Brees – early, often and for four quarters. 2) Force some turnovers – and then cash in with the extra possessions by scoring points. 3) Control the trenches – protect Matt Ryan and open some running lanes for Devonta Freeman. If the Falcons can do that, they'll win.
Chris from Macon, GA
Why. Is. Danny. not. With the. Falcons?
Matt: Oh. Boy. He. Is. On. The. Practice. Squad. Thanks. For. Writing. In. Please. Lose. The. Periods. Next. Time.
Rick from Eatonton, GA
Hi Beek, first let me say if I hear "get rid of" or "trade" Matty Ice one more time I'm just going start laughing 'cause the ones saying this just don't have a clue what all that involves and it's the worst thing the Falcons could do. And all the current talk about next draft, come on man … season isn't over "yet." Let's see how we do after the bye week and a couple divisional games before we write this season off and start looking to next year's draft. Are there college players (defense) I'd love to see us draft? You betcha but I'll hold the talk on that until the correct time, not now. Thanks Beek, for giving us a place to vent or just talk about "our" team.
Matt: Anytime, Rick. Hopefully the Falcons can give fans something to think about (and enjoy) this weekend other than focusing on the draft and next year. That'd be nice for a change.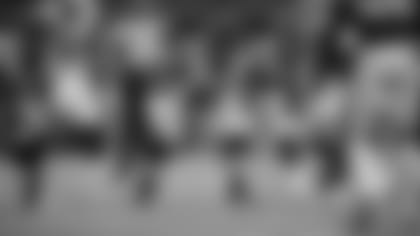 Doug from Ridgefield, CT
Beek, on Wednesday you answered someone's question regarding a "Falcons wish-list" and, although I stopped reading it the moment he mentioned a Falcons acquisition of Cam Newton, the thought of a wish-list intrigued me. I want to hear your rational wish-list for the Falcons offseason. Let's say the trajectory of this season continues and we get a top-5 pick. With the team in the NFL's last quarter of available cap space, what are the 5 most ideal moves that are actually feasible for the Dirty Birds come the off-season? Also ... anyone even mentioning Keanu's name in a negative context makes me sick to my stomach.
Matt: It's no secret that the Falcons are going to be forced to make some difficult personnel decisions in the offseason. It'll be a combination of possibly not re-signing some players, letting some players walk in free agency, parting ways with some veteran players and restructuring some deals, too. How it all shakes out is anyone's guess at this point. Let's face it, they are financially committed to some players, too. The Falcons not only need them to stay healthy but outperform their contracts. The Falcons also need all of their current players playing on rookie deals to contribute in a big way, too. Last year's class – Chris Lindstrom, Kaleb McGary, Qadree Ollison, John Cominsky, Kendall Sheffield and Jordan Miller – all need to take the next step and deliver. The point is, the Falcons need starting-quality production from players who are on their rookie (cheaper) contracts and they need their superstars to live up to (and exceed) their (cap-heavy) contracts. The Falcons must hit home runs with their future drafts and it would help if they could find hidden gems in free agency, too. Remember, guys like Phillip Lindsay and Tony Romo went undrafted once. So I guess all of that (above) would comprise my wish list, without getting into specifics. And if the Falcons can also add a couple of impact players on defense through the draft, that would be an ideal scenario for the 2020 Falcons.
Marcus from Wildeshausen, Germany
Hi Beek, first of all, a little statement. I do not understand the many "fans" who say we need a new QB. Matt Ryan still delivers reliable numbers. Why should you replace it with a new one? Our problem is still the O-line and the defense. At these two points, something has to happen first. The second is a question. The article of Zack Moore linked by you is very frightening for me. In the list of top earners listed by him are a few names that have just not earned their money so far. How likely is it that some players voluntarily change their contract to get more cap space? Or is it more likely that we separate from one or two players from the top 10?
Matt: Hey, Marcus. As I noted above, I think the Falcons will have to make a lot of tough decisions this offseason. Will some players restructure their current deals to create space? It could happen. Could the team part ways with some other players because of their contracts? Absolutely. It happens all the time in the salary cap era. I expect a lot of changes and moves during the offseason, Marcus. MAILBAG
Do you have a question about the Falcons that you want answered? Ask a question here and it could be posted on AtlantaFalcons.com.
Go ahead, ask the Beek
Do you have a question about the Atlanta Falcons (or anything football-related) you'd like to ask Matt Tabeek? If so, hit the link. Please remember to include your home state (or country if you live outside the U.S.). Thanks for reading SFTB!
Bird Noises: Hammer time with Jessie Tuggle
Jessie Tuggle was not only one of the hardest hitters in the NFL for 14 seasons but he was one of the greatest players to suit up in a Falcons uniform. He explains how he went from being overlooked and undrafted to the Falcons Ring of Honor on the latest episode of Bird Noises with Matt Tabeek. Subscribe here.