The Falcons are coming off their bye week. They're rested and 3-1 since interim coach Raheem Morris took over on Oct. 12. Up next are their bitter rivals: The New Orleans Saints, who have won six straight games and are sitting atop the division with a 7-2 mark. Meanwhile, you've got plenty of questions and comments, so let's get to them now. Just remember that all opinions here are mine unless noted otherwise.
Aaron from Harrisonburg, VA
Have you heard what Drew Brees status is for Sunday? Will that affect the Falcons game plan if he doesn't play? Would they blitz Jameis Winston more than they would Drew Brees? I like their chances to upset New Orleans on Sunday because they're rested and have had 2 weeks to prepare. I think they will beat the Saints regardless of who plays quarterback for New Orleans.
Matt: As I noted above, Aaron, the Saints have six straight and have also swept the Buccaneers this season. They're a very good football team. Yes, Drew Brees appears to be out for this game and the timetable for his return appears to be at least a few weeks. But the last thing I would do if I were you – or any Falcons fan – is assume this will be a breeze without Brees.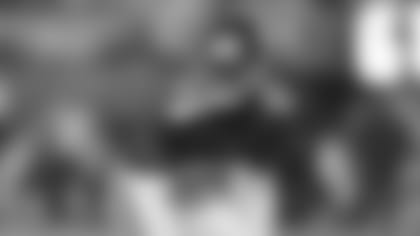 Jose from Chittenango, NY
Hey Beek! Thanks for everything you do for the Falcons nation! It's my first time writing in. I read your stuff all the time. My question was about the DBs. I think we need all the help he can get. DeAndre Baker had all his charges dropped and was released from the Giants. He did have a good showing as a rookie, and I think we can use his young talent. I think Isaiah Oliver isn't the answer. What you think? Thanks for taking my question! #Dirtybirds!
Matt: I always enjoy hearing from readers in Upstate New York. In case some of you missed the news, the armed robbery charges against DeAndre Baker were dropped recently because the attorney representing three of the four men who were allegedly robbed by ex-Giants cornerback at gunpoint has been arrested on extortion charges. The Giants, meanwhile, reportedly aren't interested at all in bringing back Baker, a former first-round pick. And it's worth noting that Baker could still face discipline from the league. I don't know what the future holds for Baker, what kind of locker room guy he is or if he'd be a fit here in Atlanta. The Falcons are playing well right now and I don't think they'd do anything to disrupt that or roll the dice on someone like that, especially with a new general manager about to come in and reshape the roster. If Baker does get a second chance, I hope he makes the best of it.
Harris from Atlanta, GA
Hey, Beek! Love your insights; keep on rolling. What do you think the chances of us hiring a GM in the near future? We can get the organization straight, get our scouts out there in preparation for the draft and eyeballing players, and get things as ready as possible for our new head coach?? Or do you think we're gonna do it the other way and hire a coach first and then a GM? I prefer the former to the latter. Love to see Louis Riddick get a serious look!! I think he'd be great as our next GM. Thoughts???
Matt: I think the Falcons are looking a lot of candidates – some might be names you've heard, and some might be names you've never heard of before – and they're going to do their homework on everyone. From what I understand, Harris, the Falcons aren't concerned with the order; they just want to get the right people in place. There is no rush. The only goal is to get it right. Of course, when it comes to head coaches, Raheem Morris is 3-1 right now and is clearly in the mix, as he should be. If the Falcons were to look at other candidates, they would have to first get permission from teams because that would be tampering – and the penalties for that are severe (loss of draft picks, etc.). I wish I had more for you, but there's not much else I can tell you at this point.
Joshua from Seguin, TX
Oh my gosh, Beek! Breeze without Brees!? I cringed a little bit, but I couldn't agree more. Sean Payton is a great coach and they proved last year that they can win without Drew under center. Is Fowler expected to miss Sunday's game? I'm not sure how the Saints O-line has been but if we are down Fowler how successful will we be getting to the QB! Thanks, Beek! Love your writing!
Matt: Thanks, Joshua. You can bet on Sean Payton having the 7-2 Saints ready to go for the Falcons on Sunday and anyone who things that team would roll over against their bitter rivals is nuts. There's a reason they went out and signed Jameis Winston – because they saw how important it was last season when Teddy Bridgewater had to step in for five games (and promptly went 5-0). Right now all we know about Dante Fowler is that he's on the reserve/COVID-19 list right now. The Falcons defense has played better as of late; Jeff Ulbrich has done a really nice job with this unit. The first injury report will be out Wednesday. Stay tuned.
Rob from Canton, GA
Hi Beek: Enjoy reading your articles every week. Some make sense and some don't. Got one question about next year season 2021. I know our salary cap is in trouble again next year. What do you think the team will do to free up some cap?
Matt: Ha! Thanks, Rob. I think. Just like every other season (and like every other team), the Falcons will have some tough decisions to make with their own players who are set to become unrestricted free agents at the end of the season. They also have a lot of money tied up in a handful of players. I could speculate and give you a bunch of scenarios, but it will really come down to the new general manager and how he wants to build this team moving forward. Since we have no idea of what that is yet, it would be a fruitless conversation. The Falcons will have to get creative, though, and they also might have to take some hits. It's shaping up to be a very interesting offseason here in Flowery Branch, though. MAILBAG
Do you have a question about the Falcons that you want answered? Ask a question here and it could be posted on AtlantaFalcons.com.
Go ahead, ask the Beek
Do you have a question about the Atlanta Falcons (or anything football-related) you'd like to ask Matt Tabeek? If so, hit the link. Please remember to include your home state (or country if you live outside the U.S.). Thanks for reading SFTB!