Can free agency get here any sooner? How about the draft?
On second thought, I don't mind tapping the brakes some on the draft if for one reason – I still have a ton of studying to do. But I will say this much: Every so often Falcons fans will ask me about some obscure prospect that I haven't seen much of or read about – and I love it; it keeps me on my toes. So keep those questions about free agent, prospect and, of course, the Falcons coming. Just remember that all opinions here are mine unless otherwise noted.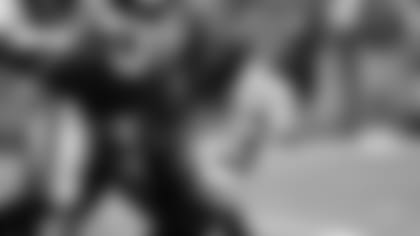 Frank from Tucker, GA
Beek ... I know you have clarified your stance on Matt Ryan. I agree with you that he is an above-average QB, but is he the best solution for the Falcons? The league is changing and going to a more mobile QB, what is your take on the Falcons drafting or through free agency and acquiring a more mobile QB? This would help the offensive line.
Matt: First of all, the Falcons are not parting ways with Matt Ryan anytime soon. But let's pretend for a minute that was option was on the table and consider your point about mobile quarterbacks. Now let's look at the most sacked quarterbacks in 2019.
Kyler Murray – 48
Russell Wilson – 48
Matt Ryan – 48
Jameis Winston – 47
Kyle Allen – 46
Deshaun Watson – 44
How many of the quarterbacks above would you consider to be mobile quarterbacks? Murray, Wilson and Watson for sure. And I love all three of those players – but they were sacked 140 times combined in 2019! Is it due to the protection up front? In some cases, absolutely. Is it because of the scheme (and quarterbacks sit in the pocket longer because the routes take longer to develop)? Sometimes that's the case. Is it on the quarterbacks themselves (either because they've scrambled into a sack or because of their lack of mobility)? Absolutely. My point is you can't pin it on just one thing, Frank, like a lack of mobility. Would you consider Lamar Jackson and Dak Prescott mobile quarterbacks? For sure. Well, they were sacked 23 times each in 2019. Now, would you consider Drew Brees a mobile quarterback? Not in the traditional sense. Well, Brees was sacked just 12 times. Hope that helps answer your question.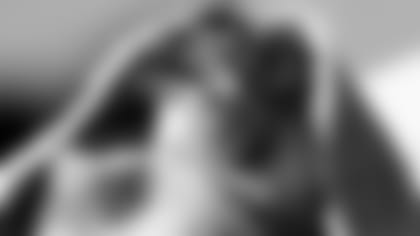 Thomas from Atlanta, GA
Why is it "beek" instead of beak?
Matt: Finally. Some hard-hitting questions from Dirty Bird Nation. Well, Thomas, it's a play on words. My last name is Tabeek, and a lot of people call me "Beek" or "Beeker" (not to mention there are a lot of Matts walking around this building). And since I'm here answering questions about your beloved Falcons, which are birds – and all birds have beaks – we decided to call this Falcons Q&A forum Straight from the Beek. It only seemed fitting. Hope that makes sense. BTW, don't you love that photo above? All I can think of is a baby falcon lookin' like Baby Yoda ... and it's fantastic.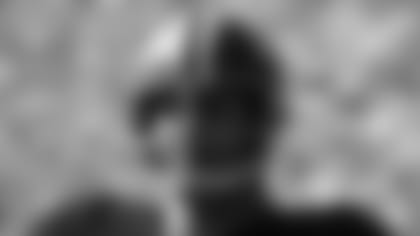 Beek, I saw in one of your recent articles about the Tommy Nobis bid for the Hall of Fame that he had gold stripes on his helmet. Did all of the Falcons have gold stripes on their helmets at that time, or was that just to signify that Tommy was a captain, or something like that? If it was on all the helmets, was gold one of our original official colors?
Matt: That's a great question, and one that I wondered about when I first saw those some of those pictures from the Falcons' early years. So, here's the story behind the gold stripes. From 1966 to 1970, the Falcons added two thin gold stripes – alongside the black-and-white stripes running down the middle – to their helmets. The reason why was because when the Falcons first unveiled their uniforms, they looked almost identical to the University of Georgia at the time – and the fine folks at Georgia Tech were not exactly thrilled that the NFL team in town looked just like the rival Dawgs. Both the Falcons and the Bulldogs were donning red helmets, black jerseys and white pants at the time, so it's easy to see why Georgia Tech might've been rubbed the wrong way. I guess it didn't matter too much because in 1971 the Falcons went to red jerseys and ditched the gold stripes.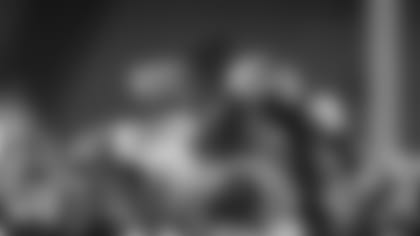 For what it's worth, the Falcons unveiled throwback uniforms in 2009 to honor the inaugural 1966 team – they featured red helmets with the retro logo (and gold stripes alongside the black-and-white stripes down the middle), black jerseys and white pants. They wore them twice and won both games, too.
Magnus from Iceland
What players should the Falcons aim to keep that are hitting the free agency? And what players should we take a swing at that are becoming free agents? All my best from Iceland.
Magnus - The President of Atlanta Falcons Fan Club in Iceland
Matt: Always great to hear from you and the fans from Iceland, Magnus. Well, the list of Falcons set to hit free agency when the new year begins on March 18 is a lengthy one. Here are the soon-to-be unrestricted free agents:
And here are the soon-to-be restricted free agents:
Exclusive rights free agents:
Look, when it comes to free agency, so much of what a team can – or cannot – do depends on the market and available funds under the salary cap. I think the Falcons have a pretty good idea of who they are going to keep, who they are going to try to keep, who they might try and pursue (if they become free) and who they will probably move on from at this point – and, for the record, they are NOT consulting the Beek when it comes to ANY of these decisions. That said, there are at least 10 guys on this list who I would love to see back, including (in no specific order):
Austin Hooper
Younghoe Koo
De'Vondre Campbell
Blidi Wreh-Wilson
Tyeler Davison
Kenjon Barner
Adrian Clayborn
Jack Crawford
Vic Beasley
Does that last name surprise you? It shouldn't. In the Falcons' final eight games – when the unit turned things around and the team finished 6-2 down the stretch – Beasley registered 6.5 sacks, had six tackles for a loss, seven QB hits, two forced fumbles and 23 combined tackles. That's pretty good production, especially when you spread that out over 16 games. Now, no one is overlooking the first eight games or giving anyone a free pass, but … productive defensive ends are hard to come by and, well, I'll take that kind of production for the right price. What will happen with Beasley – or any of those aforementioned players – is anyone's guess at this point. Stay tuned.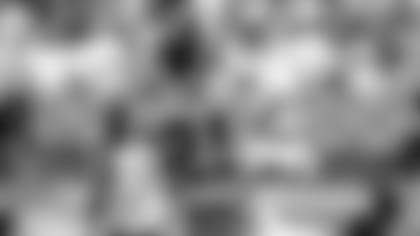 Angel from Mexico City, Mexico
Hello, Beek. Here again greeting you and although 10 days have passed, wishing that this year comes loaded with successes and positive things for you. I am of the fans who find the idea of ​​a change in the uniform interesting and, of course, I talk about something similar to what the Falcons used in the 1980's, of course with some variant and without losing the black. and in case it is not an already fixed change they would consider it when they wear a retro uniform this season would be amazing. I trust the team and I will always do it. Falcons for a lifetime.
Matt: Angel, thanks so much – and happy new year to you as well! I'm a huge fan of the Falcons' uniforms during the Steve Bartkowski era as well as Deion Sanders's rookie season (above). In general, less is more when it comes my taste in uniforms. I don't like the pinstripes and thin lines at all. I guess that's why I'm also a fan of the Falcons' throwback uniforms – much cleaner look. Thanks for all your support down there in Mexico City, Angel!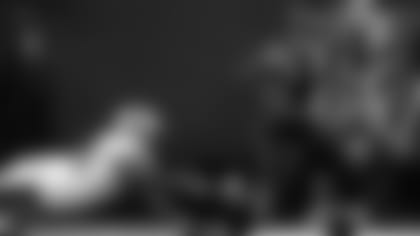 Brett from St. Cloud, MN
Do you ever see us going back to our black uniforms? Not the 1990's uniforms. The early- and mid-2000's uniforms. Thanks, and have a great weekend!
Matt: If the Falcons ever decided to change or overhaul their current uniforms, I'd say that they would have to look at bringing back some sort of all-black option as part of it. If you read this space, you'd know that a ton of fans still long for that all-black look.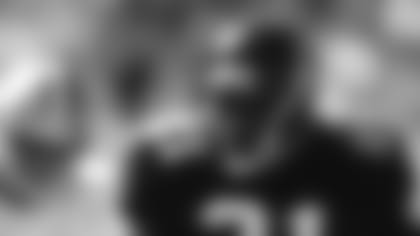 Matt from Staten Island, NY
Hey Matt! Don't you think it's time for new uniforms? … I'm sure that's the last thing on the organization's mind but what if the fan base starts a petition for it?! We all want some new merchandise & I'm sure the Falcons wouldn't mind us spending money on new gear!
Matt: Look, if you feel strong about it to the point where you'd like to start a petition – and think it would gain some steam – then go for it. And to answer your question, yes, I would be down for some new uniforms and a new look. MAILBAG
Do you have a question about the Falcons that you want answered? Ask a question here and it could be posted on AtlantaFalcons.com.
Go ahead, ask the Beek
Do you have a question about the Atlanta Falcons (or anything football-related) you'd like to ask Matt Tabeek? If so, hit the link. Please remember to include your home state (or country if you live outside the U.S.). Thanks for reading SFTB!
Can Falcons carry momentum into 2020?
The Falcons capped 2019 with a 6-2 run and a four-game winning streak, but will it spill into the 2020 season? Matt Tabeek and Dave Archer break down the season-ending win over the Bucs and some of the positives heading into the offseason on the latest episode of Falcons Audible presented by AT&T.