Matt Ryan has taken off running before. The Falcons quarterback has 32 first downs and 11 touchdowns to show for those efforts.
Even with some positive production on the ground, #MattyWheels won't ever be mistaken for Steve Young or Russell Wilson.
Ryan remains a work in progress, even at 36 years old, always trying to get a little better.
New Falcons head coach Arthur Smith would like him to accelerate the miles per hour.
Like, for real. The Falcons have him doing some speed work. And, no, that doesn't mean the Falcons will use Ryan like the Ravens unleash Lamar Jackson. The results might not be as good with Ryan trying to burn rubber. There is an upside, however, to getting Ryan to move a little faster.
Smith had some fun with his answer to improving Ryan's speed, but it couldn't hurt Ryan's ability to execute this new offensive scheme.
"In all seriousness, it's about he and I getting on the same page," Smith said. "He has a lot of reps in the NFL with the things we're asking him to do. We're trying to push things and see if there's a better way to do it. You have to have the right guy to do it, so it's not just fixed. That's a credit to Matt.
"But, yeah, we would like him to get a little faster."
Ryan spoke to the press right after Smith's session and was asked about getting just a little bit faster.
"I'm trying," Ryan said, getting a laugh from the media on hand. "I'm really trying. I'm doing my best."
Ryan has been working hard this offseason to find great shape and do whatever it takes to help the Falcons win.
"I think you can always improve," Ryan said. "You're constantly training to get your body in the best physical shape you can get, making sure your weight and body composition where you want it. Those are things we can control with hard work and effort and discipline. You're constantly working on that stuff. Honestly, I'm feeling as good as I ever have. I feel as athletic and well-conditioned as I've ever been. I feel really good."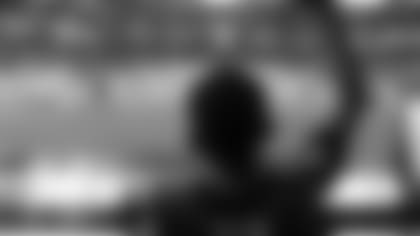 2021 AT&T Atlanta Falcons Training Camp: Dirty Birds Open Practice
WHEN: August 7th
WHERE: Mercedes-Benz Stadium
TIME: 2:00 PM ET
The 2021 AT&T Atlanta Falcons Training Camp: Dirty Birds Open Practice entertainment, including cheerleaders, drumline and Atlanta Falcons Legends, will kick-off when gates open and fans are encouraged to arrive early to enjoy Mercedes-Benz Stadium's award-winning food & beverage experience offering fan-first prices.
Tickets for the open practice at Mercedes-Benz Stadium will be $5 each and all proceeds will go to the Emory Healthcare's research and discovery programs.
Due to the current NFL protocols around COVID-19, there will not be opportunities for player autographs.
Stay tuned here for more information!