The countdown to the regular season continues and we are now 89 days away from the home opener against the Seattle Seahawks on Sept. 13. Yes, a lot can and will happen between now and then, but in the meantime, you've got plenty of questions about this teams and expectations. So, let's get to them now. Just remember that all opinions here mine unless noted otherwise.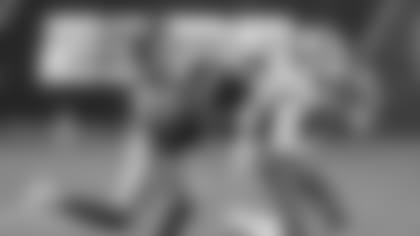 Wes from Myrtle Beach, SC
Hey Beek, love what you do, and your responses are spot on. You certainly are not afraid to chop the haters up. Carry on, fine sir! I'm baffled every time someone mentions Matt Ryan in a negative light. I was curious if there's been any chatter about picking up a veteran corner to add depth, start, or to just expedite the young players' learning curve. Also, what chance do you personally give us of winning the Super Bowl? It's my belief everyone, including our fans, is sleeping on this team. The second half of last year showcased what the possible truly is. We embarrassed the Saints and 49ers. Fingers crossed that this is the year.
Matt: Hey, Wes. I haven't heard any chatter lately about adding a veteran cornerback, but it's something I'd like to see happen, especially if the Falcons could land a starting-caliber player. I think you're always looking to upgrade every single position or at least bring in competition. You never know what will happen throughout the course of a season, either. That said, I like the group the Falcons are assembling, but they are young and inexperienced. I'm really anxious to see A.J. Terrell in action. The Falcons need him to pan out and develop into a starting-caliber corner who can hold his own out there. If he isn't or doesn't, it could get … interesting. I'm going to slam the brakes on Super Bowl talk – for now. Yes, what happened during the second half of the season was impressive, but the Falcons are a different team than the 2019 version. You know what other teams are different? The Bucs, Panthers, Saints, Seahawks, Cowboys, Bears, Packers, Vikings, Lions, Broncos, Raiders, Chargers and Chiefs – all of the teams Atlanta will face in 2020. That's why I'm not a big believer in momentum from one season to the next. I do believe in talent and chemistry, though. And the Falcons do have a nice core of players who are both talented and experienced. That matters. Are the Falcons capable of winning 10-12 games, getting into the playoffs and making a run? I think so. But a lot has to happen over the next 89 or so days – and then they've got to go get it done on the field. Let's see what happens in the coming months, and also make sure there's actually going to be a season, first. Thanks for reading and writing in, Wes.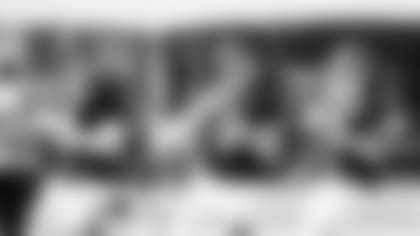 Gary from Virginia Beach, VA
Matt, I'm puzzled by all the negativity about our quarterbacks. We have a potential Hall of Famer QB starting, an experienced backup in Matt Schaub, and two guys I think have real potential being developed in Kurt Benkert and Danny Etling. So, the only question I have is, what about the health and availability of Kurt and Danny?
Matt: I agree with you, Gary. On the list of concerns and must-do before the season kicks off on Sept. 13, quarterback is not one of them right now. As I like to say, "There are bigger fish to fry." Could the Falcons still bring someone in to compete for the No. 2 job? Possibly, but I doubt it. Could Kurt Benkert end up pushing Matt Schaub for the backup role? Absolutely (and it wouldn't surprise me in the least), but I think it is Schaub's job to lose for now. Could Danny Etling show great improvement, go neck-and-neck with Benkert and make things interesting by having a great camp and preseason (assuming we have one)? Again, anything is possible. As it stands right now, Gary, that's the pecking order: Matt Ryan, Schaub, Benkert and Etling. Based on everything I've heard, everyone is healthy (including Benkert) and ready to go once training camp begins.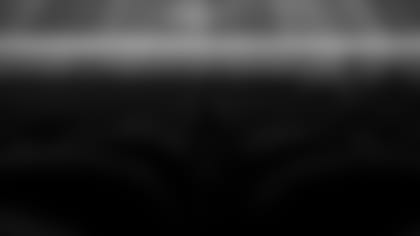 Bruce from Atlanta, GA
I'm a season-ticket holder. So, will we be able to go to games and sit in our seats? If so, are there going to be restrictions? If not, are they going to apply our money to next year?
Matt: Hi, Bruce. Here is everything I know and how I understand things. A lot of smart and experienced people are studying and preparing for a lot of different scenarios when it comes to the COVID-19 pandemic and its impact the 2020 season. I know and have experienced firsthand the seriousness of this virus and right now I am confident that the leadership in this organization will do the right thing – and put the safety and well-being of every single fan, employee, player and coach first. Beyond that, I don't have any specifics for you at this time, Bruce. This thing changes from day to day, week to week. There have been positive signs, including the opening of team facilities under strict guidelines. I've wondered the same questions you've asked myself and I think, in time, a lot of them will be answered. I hope that helps.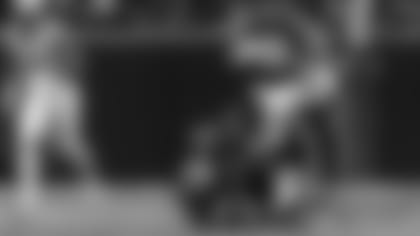 George from Somerset, England
Beek, I love what you do here, and I am super glad you are okay from your corona case. Now, I was in absolute despair when I watched the team on a losing streak last year but, through all that there was one man that caught my attention and that was Calvin Ridley. What an amazing season, even next to Julio Jones. He is persistent and just an extraordinary wide receiver. Do you think he will continue to prove himself or see more catches throughout this enthralling season to come? Can't wait to see his video against the Bucs.
Matt: Thank you, George. It's my hope that people don't let their guards down with this virus; last time I checked there still wasn't a vaccine. I expect Calvin Ridley to continue to develop and put up even bigger numbers – provided he can stay healthy and on the field (knock on wood). During his rookie season, Ridley started five games and played in all 16. He ended up 64 catches for 821 yards and 10 touchdowns. Last year he started 10 games and played in 13 of 16 games. He made 63 catches for 866 yards and scored seven touchdowns. So that's two very similar seasons, numbers-wise. If he can play all 16 games and continue to improve, there's no reason to think he can't eclipse the 1,000-yard mark and score double-digit touchdowns.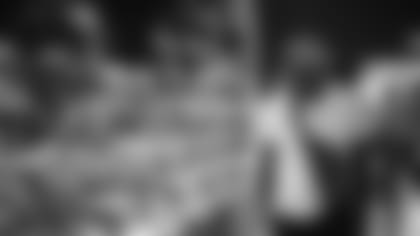 Eddie from Andover, OH
Hi Beek!! Do you think Matt Ryan and Julio Jones will be Hall of Famers? I was looking at Julio's stats and if he gets two 2,000-yard seasons he will pass Terrell Owens and will be behind Larry Fitzgerald.
Matt: i, Eddie. Yes, I do believe that Matt Ryan and Julio Jones will one day be in the Hall of Fame. Both are playing at a high level right now and neither is showing any signs of slowing down. I think that as long as the Falcons continue to field a competitive team and both stay injury-free, that they will continue to play in the league and put up strong numbers. Numbers are great, but we all know that the one thing that really helps make a case for Canton is hardware – as in Lombardi Trophies and rings. If Ryan and Jones can win a ring together, the Hall of Fame is a done deal. Jones has never eclipsed 2,000 yards in a season, but he's come close before. In 2015, he caught 136 balls for 1,871 yards and scored eight touchdowns. In 2018, he hauled in 113 passes for 1,677 yards and scored eight times. Jones, who has 12,125 yards for his career, still has a way to go to catch the No. 1 receiver all-time in yards, Jerry Rice. Rice finished his career with 22,896 receiving yards. Second on the list is Larry Fitzgerald with 17,083. Personally, I'd like to see this offense more balanced and less pass happy. Couple that with a stingy defense and, well, I think you've got a playoff-caliber team. MAILBAG
Do you have a question about the Falcons that you want answered? Ask a question here and it could be posted on AtlantaFalcons.com.
Go ahead, ask the Beek
Do you have a question about the Atlanta Falcons (or anything football-related) you'd like to ask Matt Tabeek? If so, hit the link. Please remember to include your home state (or country if you live outside the U.S.). Thanks for reading SFTB!