Welcome to Straight from the Beek! The 2020 virtual draft is in the books and I don't think any of us will forget it anytime soon. From a fan's perspective it must've been fascinating to get an inside look at how all of the general managers, coaches and owners communicated from inside their homes – or wherever they decided to set up their makeshift war rooms. At least there weren't any major technical glitches and the league got through it unscathed.
Personally, I'll never forget these last few weeks. As most of you know by now, I tested positive for COVID-19 days before the draft. While there was a really tough four-day span for me, I think the worst is behind me. I bring it up because many of you who read this space sent me well wishes and get-well-soon notes into the SFTB inbox. I have 1,043 unread submissions at the moment – and I promise to get through them all in the coming days. I just want you all to know that your words have carried me, inspired me and touched me. Thank you so much. Please do what you can to stay safe, be well and don't let your guards down.
Now, let's dig into your questions. Just remember that all opinions here are mine unless otherwise noted.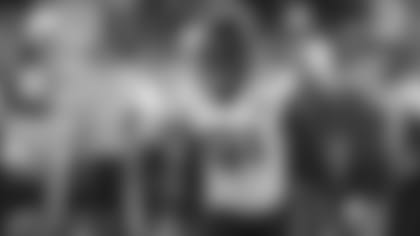 Jack from Charleston, SC
Hey Beek! Love the content and try to read all you put out. Hope you are recovering from contracting the 'Rona. I have one question for you. Now that the draft is over, it looks like we tackled/tried to tackle all of our weaknesses, and it looks like we did that except, noticeably, a pass rusher. It still seems that is a big weak spot in our defense. Fowler can't do it all on his own. I saw in your last article that DQ has told you on multiple occasions that acquiring players also happens during spring training and preseason. What about trading for Jaguars Yannick Ngakoue? He wants out, has 1 year left on his contract, and would instantly improve our pass rush. Something Takk McKinley + 2021 4th and 7th rounder might do the trick. Plus we'd get rid of Takk on his last year. What you think?
Matt: Thanks, Jack. Appreciate that. I definitely think the Falcons will add some pass rushers before it's all said and done. There's a lot that will transpire throughout the league in the coming weeks and months as rosters take shape and teams make decisions on how to build their teams. Cap numbers, injuries and culture all play a role in it. There will be some good players that will hit the streets as well as players that could be moved – someone like Yannick Ngakoue is a possibility, I'd think. There's a reason he wants out, right? What's going to make him happier on a potential new team? Is he a good fit culturally? Is there cap space for a long-term deal with him? Those are a just few of the questions that teams will possibly ponder and have to answer. I think Takk McKinley has a lot to prove this season and I'm rooting for him. It's a tremendous opportunity for him as he enters the final year of his current contract. If he can stay healthy and on the field, I'm expecting good things from him in 2020, Jack.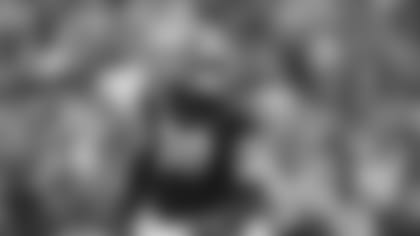 Michael from Roswell, GA
Beek, I always enjoy your articles great job. I have to wonder why the No. 1 college defense in the country is ignored by Quinn and TD. J.R. Reed was an outstanding 3-year starter and so was Tae Crowder but TD decided to take the same position players from the 65th- and 98th-ranked defenses in the country, which further proves to me they do not like UGA. But they sure do love Clemson and how has that worked out for us? Terrell might end up being decent, but I doubt it. He has way too many penalties and Brady and Brees are going to light him up. C- pick. I don't think Henderson could have been any better either. With Koetter's offense scoring only 20 a game we'll be lucky to win 6 games. Why does Quinn hate UGA so much? Hell, they could have had the Lou Groza Award winner. You can answer thru my email.
Matt: Thanks, Michael. There's no question that Georgia fielded an outstanding defense in 2019. But the draft is about staying true to your board (each players is assigned a grade) and then when it's time to make a pick, deciding to take the best available (even if it's a need or not) or taking the highest-rated player who feels an immediate need. Does a program, the level of competition, coaching and the scheme he played in factor into his grade? Absolutely. But no one is picking a player based solely on that. You know as well as I do that many of the players who end up on SEC rosters receive offers from many of the same schools. The Falcons are looking for the best players who fit into what they want to do – and who will make them better. Period.
Matthew from Cumming, GA
I have been a die-hard Falcons fan for over 55 years. Why won't the Falcons pick any Georgia Bulldogs football players for the NFL Draft? It's just really sad that they won't even consider anybody from Georgia. They have more than enough players to fill their needs. Just sad, absolutely sad. Please change this and draft some Georgia Bulldogs players for the Falcons. Very much needed. Thanks.
Matt: Here we go again. Please re-read my response above, Matthew. Do you honestly think the Falcons would pass over a player they have rated high on their draft board because he played football at Georgia? The Falcons scouting department places a grade on every single draft-eligible prospect. Those players are ranked and then put on their draft board. As I noted above, it all depends on who is available when it comes time to pick. There very well may be Georgia players available, but if they have a lower grade or don't fit (for whatever the reason), the Falcons are going to pass.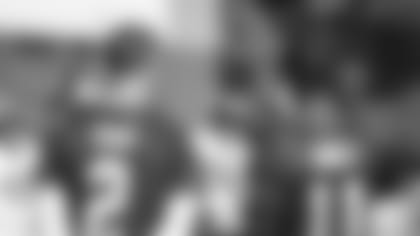 Skylor from Corpus Christi, TX
How are you doing Beek? Falcons fan here from Texas currently stationed at the naval base in Norfolk. I'm a little concerned especially for the players we needed to take a big step this year with everything going on do you think they're getting the training and everything else needed to take the next step and do you think all this pandemic stuff is going to hurt the teams when it comes to training camp.
Matt: I'm getting a little better every day, Skylor. Hope you're staying safe and well. I wouldn't worry about that stuff and here's why. Every team is operating on the same playing field – under the same rules and guidelines when it comes to this new normal and dealing with the pandemic. When the time comes, I'm confident the coaches will do all they can to ensure continued development, especially with the younger players. Every team wants to hit the ground running, but there's no question this pandemic will be a factor moving forward.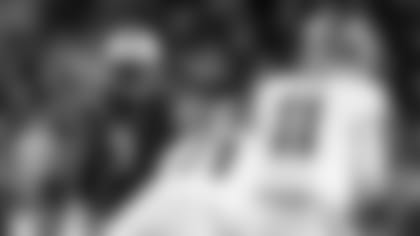 Aaron from Harrisonburg, VA
How are you doing, Beek? Feeling better yet? Is your family healthy and doing OK. Regarding our Falcons, who was your favorite pick in the draft? I really liked the pickup of Marlon Davidson and Jaylinn Hawkins. Both guys could be great for many years. I would pick Davidson if I only get one selection – he will look good next to Grady Jarrett on our D Line. Rise Up!
Matt: Getting better, Aaron. Thank you! There was no question that the Falcons needed a cornerback and I was happy to see them land a top-tier one in A.J. Terrell. But, without question, I'm giddy about the addition of Marlon Davidson. I love his attitude, his confidence and the way he plays. I think he's a great addition to the Falcons defensive front. If there's one play that captures what Davidson is all about, it's this one below: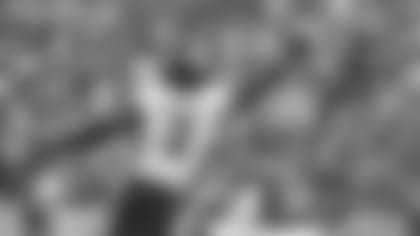 Mike from Calgary, Canada
Beek, was all geared up to complain about the Falcons' head-scratching first-round pick when I saw your latest article. You couldn't be more on point: some things are bigger than football – wishing you a safe and speedy recovery and good health for your entire family. Rise up and come back better than ever!
Matt: Thanks so much, Mike! Appreciate that. So … what did you think about the Falcons' first-round pick after all? Did you happen to read my column on A.J. Terrell? I think a lot of people are basing their opinion on that last game he played vs. looking at his overall body of work. There's a reason why he's a first-round pick – he's very good. Let me know what you think.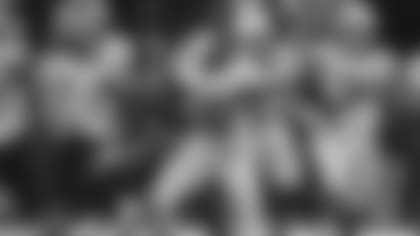 Jeremy from Calhoun, GA
Hey Beek! Now that the draft is over and the Falcons focused on those needs we hoped they would, I just want to say I really really, really LOVE the UDFA signing of Jared Pinkney. I had him listed as a top five tight end in this draft and I just think that he will be an immediate upgrade to the depth of our roster! I also watched the WR from Tennessee State we signed and, wow, can I say Devin Hester 2.0?! I personally give our draft a B+ and believe we really have upgraded on our team for sure on the first two days of the draft. Love Marlon Davidson!! I really look for us to add a couple of veterans over the summer. I'm keeping my eyes on guys like Clay Matthews coming in if he is affordable and possibly Vontaze Burfict! Can't wait to see your opinion brother! Get well soon!
Matt: I try not to get too excited about the undrafted free agents until camp starts and we start seeing them play against the regular starters with the pads on. That's some pretty high praise for receiver Chris Rowland though. I think it's going to be hard for any receiver to stand out when you look at the Falcons group. Where I do think a guy like Rowland can make an impact is on special teams, as you noted. As for me, the first thing I looked at when I went through the list of 20 undrafted free agents was the number of defensive linemen and ends. There are three that I'll be looking up later on and that Austin Edwards of Ferris State, Bryson Young of Oregon and defensive tackle Sailosi Latu from San Jose State. This team needs more pass rushers and guys who can get to the quarterback. You can't have enough of them on your roster.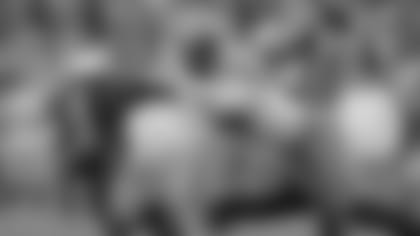 Richard from Lawrenceville, GA
Beek, hope you're doing better. What pick was your favorite, least favorite and who did you honestly think the Falcons would pick when they were on the clock at 16 (after some of the names associated with the Falcons were gone)?
Matt: Great question. The more I look at the A.J. Terrell pick, the more I like it. But, for now, I'm going to go with Marlon Davidson. I think this team needs more war daddies. If he can continue to walk it like he talks it, I think this defense will be better up front. I love the idea of him lining up next to Grady Jarrett. I also like his versatility. Least favorite? I think Sterling Hofrichter could end up being a nice weapon for the Falcons (and his highlights at Syracuse are impressive), but I'll go with the punter. As far as who I thought the Falcons would take once Simmons, Brown, Okudah, Henderson and Kinlaw were off the board … I thought there was a good chance they might take K'Lavon Chaisson, the versatile edge rusher out of LSU. I did have the Falcons taking Kinlaw in mock drafts more than once. When they took A.J. Terrell, I wasn't totally surprised because they needed a cornerback and I had the former Clemson star going in the first round of last mock draft, too.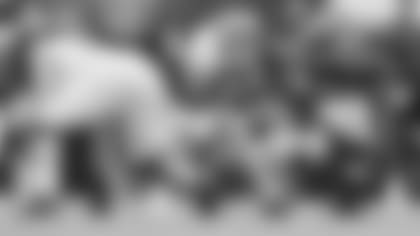 Tommy from Atlanta, GA
Beek, get better, man. What draft pick will end up surprising us the most in the years to come? Pick one and give us hope, man. Thanks for all you do.
Matt: Thanks, Tommy. I think the one guy who is going to be a rock on this team for years to come might very well be Matt Hennessy, the interior lineman from Temple. The fact that he can play center and left guard is huge. And the more I read about him (because, I'll be honest here, I didn't watch a whole lot of Temple football before this weekend), the more I understand the pick. We all know the Falcons need some fresh legs and depth up front. He does a lot of things really well – he has great hands, has good balance in pass protection, reaches gaps well on run plays, can take on combination blocks and knows how to reach that second level. Granted it's going to be a big transition from Temple to the NFL, but it looks like Hennessy has all of the tools to have a nice career at this level. MAILBAG
Do you have a question about the Falcons that you want answered? Ask a question here and it could be posted on AtlantaFalcons.com.
Go ahead, ask the Beek
Do you have a question about the Atlanta Falcons (or anything football-related) you'd like to ask Matt Tabeek? If so, hit the link. Please remember to include your home state (or country if you live outside the U.S.). Thanks for reading SFTB!