Welcome to Straight from the Beek! The Falcons are getting ready to head to Indianapolis to take on the Colts in the first of three straight AFC South games. Can they keep their momentum going following a tough, physical and huge win over the Eagles on Sunday night? We're about to find out. Meanwhile, you've got plenty of questions, so let's get to them now. Just remember that all opinions here are mine unless otherwise noted.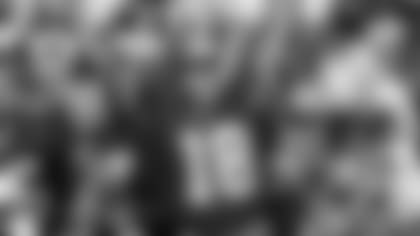 Richard from Worcestershire, United Kingdom
Hey Beek. Long-time fan from the UK introduced to the Falcons by Mick Luckhurst and British TV in the '80s. My question is, what is happening with Deadrin Senat? Seemed to be a decent player last year to suddenly not even getting suited up. Will the front office be looking for a trade opportunity? Keep up the great work!
Matt: Hey, Richard! I always get a kick out of hearing from fans from overseas and around the world. And just for you, I'm dropping a picture of former Falcons kicker Mick Luckhurst (above) as celebrates kicking a 49-yard field goal against the Saints in 1983. In case you didn't know, Luckhurst was one of the first British-born players to play in NFL and he played for the Falcons from 1981-87. To your question, Deadrin Senat had an up-and-down rookie season. The Falcons have also made some significant moves in the offseason when it comes to the defensive line. They bolstered that front with the additions of Tyeler Davison and Allen Bailey, both proven players in this league. They also brought back Adrian Clayborn and drafted John Cominsky. Add those guys to a rotation that already includes Grady Jarrett and Jack Crawford and, well, it's easier to see why Senat hasn't contributed as much. You can only dress so many players on gameday, too. Speaking of the UK and Falcons players with connections, have you had a chance to listen to the debut of my BIRD NOISES podcast with Jack Crawford? I'm sure you know he grew up in Kilburn before moving to the States in 2005. We also talk about growing up in the UK, British music vs. American music, life in London, saveloy and chips and more. You should check it out (see below).
Matt: Once again, using my (ahem) "infant wisdom," I'll take your question, Larry, because they always make me pause and, well, laugh. Larry, nothing against large or odd-shaped olfactory appendages (and I honestly don't know anything about them, other than what I just found on Google), but that has nothing to do with why they call me the Beek, sir. My last name is Tabeek and, well, when trying to come up with a name for this Q&A forum here with the Atlanta Falcons, a play on the word beak as a way to personalize it seemed like a no-brainer. There are some who actually believe that's the only reason I have this job. Others think I simply don't know how to spell the word beak … it all makes me laugh. But not as much as your questions, Larry. Keep 'em coming, bud!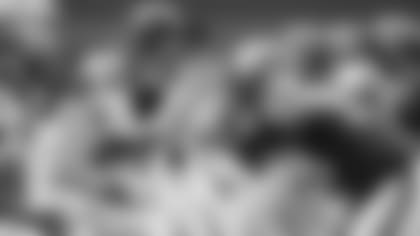 Jesse from Farmerville, LA
It seems like what I said before the season is right so far. The added talent on defense is showing up, we rank No. 9 right now. Love the pressure they are getting, but Beek my one concern is the O-line. If they gel, we will win a lot of games. Is Kaleb McGary OK?
Matt: Well, the defense looked a lot better against the Eagles, that is for sure. And that was one physical game, on both sides of the ball of the ball. I asked Jack Crawford about the Eagles game in my podcast BIRD NOISES and he said it was extremely physical in the trenches and that Philly's line was really big. He said, "Philly is no joke." That was a good win. And it was a strong showing by the Falcons' offensive line, especially against an Eagles team that was bringing tons of pressure consistently. Will they win a lot of games? Well, that will depend on the defense pressuring quarterbacks, forcing turnovers, protecting the football on offense, protecting Matt Ryan and … of course, health. It will also depend on the offensive line coming together. They've had some hiccups, namely Kaleb McGary and Chris Lindstrom's injuries. Lindstrom will be out for some time and McGary was limited in practice on Thursday. If he can get back up to full speed and that knee is OK, I think he'll only continue to get better, Jesse. And once they get Lindstrom back, it'll be a nice shot in the arm for that group. Stay tuned. The NFC South landscape has changed dramatically in the past two weeks, and you should check out what I wrote about it here.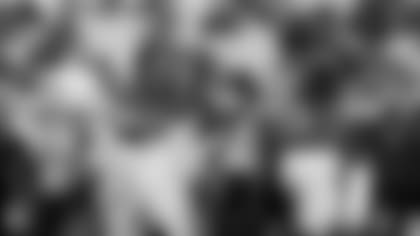 Harry from Macon, GA
Why was Austin Larkin cut instead of another player? He was strong in the preseason! A lot of us think he should have made the 53-man lineup.
Matt: Hey, Harry. I was kind of surprised at that one, too. I thought Austin Larkin definitely stood out in the preseason as well. I think he's a good, young player. I'm sure he'll catch on with another team or maybe even end up back here. You never know. But as I noted above, it's not always easy to crack the starting lineup, at least at this point. I'm always curious when people say that they would've released another player instead but don't actually name a player. Remember, some of those recent moves were made out of necessity.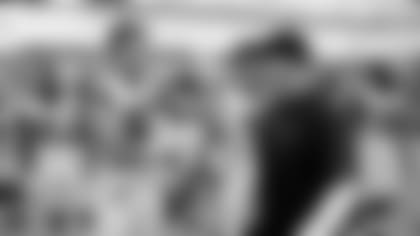 Matt from Barberton, OH
Is John Cominsky going to see more playing time soon? Please advise. Thank you for your time, Beek. Have a great day!
Matt: Hey, Matt. John Cominsky has been one of my favorite players to watch this past preseason and when he does get in, I try to keep an eye on him. He's one of those all-out effort guys and he's always running to the ball. The only thing that's missing is, well, experience (and everything that comes along with it). Against the Eagles, Cominsky played seven snaps on defense (made one tackle) and two on special teams. In week 1 against the Vikings, he didn't play any snaps on defense and played five on special teams. I have no idea how many he'll get against the Colts, but I'll be watching. MAILBAG
Do you have a question about the Falcons that you want answered? Ask a question here and it could be posted on AtlantaFalcons.com.
Do you have a question about the Atlanta Falcons (or anything football-related) you'd like to ask Matthew Tabeek? If so, submit it here. Please remember to include your home state (or country if you live outside the U.S.). Thanks for reading SFTB!