FLOWERY BRANCH, Ga. – Ryan Nielsen's first practice as Falcons defensive coordinator won't happen for months.
That's about the only disappointment the new defensive signal caller could identify during a Monday morning sit-down with atlantafalcons.com, where he detailed his coaching philosophy and why this Falcons opportunity was just right for him.
During that conversation, it also became crystal clear that there's one characteristic Nielsen values above all else.
"It's about passion," Nielsen said. "It's passion for football. Passion for the game. Passion for the Atlanta Falcons. That's just who I am. Football, it's in me. It's what I want to do. It's what I've always wanted to do, but the passion of the game, the energy the excitement and not just the games but practice, just watching a couple players in the weight room or whatever, just walking by, not even knowing them. That's awesome. I love that stuff."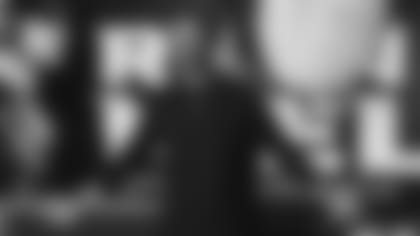 That's why he took this job over others. He learned during the interview process that he and head coach Arthur Smith are liked minded, that they want to play football the same way.
"Our philosophies are very similar in terms of game planning and how we want our players to play and things like that," Nielsen said. "That was intriguing. There are a couple of other coaches on staff that I had worked with before that we along the same lines. You want to align yourself with people who have similar philosophies and the direction we're going here in Atlanta is the right direction. I firmly believe it. I've seen how hard the guys play up close. It's something that I wanted to be a part of."
Nielsen faced Arthur Smith and his offense a few times when he was in New Orleans as defensive line coach and co-defensive coordinator and has great respect for the scheme and how it's run. Nielsen had kind words for quarterback Desmond Ridder, who he called an "up-and-comer." His highest praise, however, was reserved for the ground game and the Falcons front.
"They can run the ball. That's the biggest thing," Nielsen said. "When they line up, get under center and the defensive knows they're going to run and still can't stop it. That can happen around here, and it does. That's exciting."
Nielsen said he wants the Falcons defense to play fast, smart and tough. There's another layer, however, that matters most.
He wants to the Falcons defense to execute well in all environments, to be fundamentally sound and tough at the point of attack. Defensive philosophy can only take you so far. A play only works if it's executed well.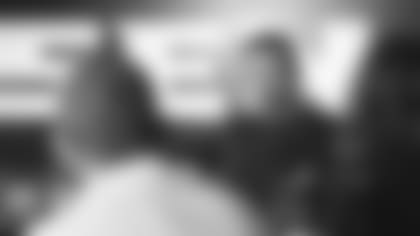 "The big thing in the National Football League and in all of football is execution," Nielsen said. "We want to execute the defense. We want to be physical, tough, sound. Those things, those win football games. We've got some playmakers here and we're going to add to those guys. Playmakers make plays and you win football games. We will go through this philosophy with the defensive staff and everything comes from Coach Smith. He and I think very alike on how we play. It's important how we play, soundly. That's the important thing."
That's why Nielsen puts such a premium on player development. He has a reputation for doing that well, with plenty of star linemen having improved significantly under Nielsen's watch.
"We're in the business of always improving our talent," Nielsen said. "That's what we do. That includes development. It really doesn't matter how the players get here. Whether it's a high draft pick, an undrafted free agent, a free agent from another team, once we have them, they're ours. It's our job to improve the guys we have and improve the guys we bring in and make the best defense we can in Atlanta."