Editor's Note: The 'Falcons Breakdown' series analyzes the state of every position group in Atlanta. We'll take a look back at the group's overall production in 2022, who we think will stay in 2023 and who could be on the chopping block. We'll also pinpoint the position's biggest question of the offseason.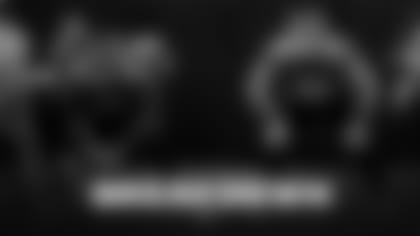 The Falcons' offense took a crucial hit when Kyle Pitts suffered a knee injury in Week 11 that caused him to miss the remainder of the 2022 season. There is no one way to replace a player of Pitts' caliber, but MyCole Pruitt and Parker Hesse both stepped up in that effort and delivered in the last six games of the year.
Pruitt emerged as a reliable go-to in the passing game, reeling in four touchdowns on the season, and finished with 16 receptions for 150 yards through 13 games. However, his stats don't tell the full story of just how impactful he was on the Falcons' offense.
"I think he's a very smart and instinctive player -- he has played some meaningful snaps for us," head coach Arthur Smith said in a Jan. 2 press conference. "He had a pretty bad injury last year, so that was part of the reason he hadn't signed with anybody yet. He's taking advantage of the opportunity here and obviously, we've got a lot of trust in him and clearly, Desmond [Ridder] does too."
In addition, Pitts, Pruitt, and Hesse all proved to be efficient when it came to run and pass blocking, which played a critical role in Atlanta's rushing success this season.
"[There are] things we asked Parker Hesse to do that nobody will ever notice," Smith said after the Falcons' Week 18 win over the Buccaneers. "Guy just does his job. [You] see why he was a captain at Iowa -- a defensive end, by the way. Just a thankless professional that doesn't get enough credit. MyCole Pruitt, Kyle Pitts, those guys had a big part in it as well. The backs, everything is coordinated, the quarterbacks. So pretty pleased. Something you want to build off and evolve. But very pleased with the run unit."
The tight ends room fared well, even in Pitts' absence. Here's a look at how this unit performed throughout the 2022 season.
Kyle Pitts: 10 games | 28 receptions for 356 yards | two touchdowns | 12.71 Yds/Rec | zero fumbles
MyCole Pruitt: 13 games | 16 receptions for 150 yards | four touchdowns | 9.38 Yds/Rec | zero fumbles
Parker Hesse: 17 games | nine receptions for 89 yards | zero touchdowns | 9.89 Yds/Rec | zero fumbles
Feleipe Franks: 11 games | zero receptions | zero touchdowns | zero fumbles
Anthony Firsker: 11 games | nine receptions for 100 yards | zero touchdowns | 11.11 Yds/Rec | zero fumbles
Who stays: Kyle Pitts, MyCole Pruitt, Parker Hesse, Feleipe Franks
On the chopping block: Anthony Firsker
Biggest offseason question: Will the Falcons re-sign Pruitt and Hesse for the 2023 season?
Pitts and Franks are set to return in 2023 due to their contractual terms. Pruitt, Hesse, and Firsker will all be free agents this offseason, per Spotrac, yet, they each have experience playing under Arthur Smith when he coached for the Titans. Hesse played in all 17 games, while Pruitt was elevated from the practice squad earlier in the season and remained on the active roster for the last 13. They both have vast knowledge of Smith's scheme and have performed well in it. Having this unit back in the 2023 season could be beneficial for the Falcons' offense.