Editor's Note:The Falcons Rookie Review is a series of stories that analyze the rookie seasons of members of the Falcons 2022 Draft class. We take a look back at their 2022 production, as well as a look ahead to what 2023 could hold for each individual. Drake London's up next.
The Falcons did their homework on Drake London heading into the NFL Draft. They loved what they saw on tape, watching a tenacious, versatile talent who wants to take your lunch money. He was a catch-and-run artist at USC, someone who could also beat you deep and make 50-50 balls more like 80-20.
They also loved what they heard about a guy who works hard, cares about his craft and is so competitive he can't help but work hard to be the best.
They were confident an ankle injured at school wouldn't be a long-term thing, and truly believed he could compete at the NFL level.
All that's why the Falcons made London the first receiver taken in the 2023 NFL Draft.
"With somebody like Drake, there are a lot of characteristics that we liked," head coach Arthur Smith said in late November. "The skillset, we thought, was unique. That doesn't mean there weren't other really good receivers there. He was just a good fit for us, and you're starting to see that. He's got a bright future if he can stay on this path."
London stayed on the right path during his rookie season, getting better and better as the campaign progressed. Let's take a closer look at what London accomplished in 2022 and what comes next.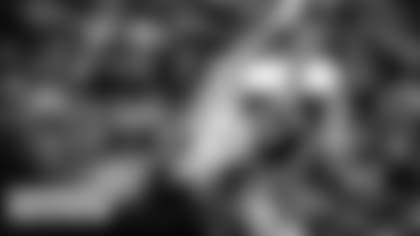 A look back: The No. 8 overall pick set a franchise record for receptions as a rookie. He led the team with 866 yards, with a significant sum coming in the four games after Desmond Ridder was named the starter.
London showed an ability to make tough catches in traffic. He made deep throws and proved to be tough as nails blocking in the run game. His transition to the NFL was virtually seamless, albeit with a few rough patches, but he proved the Falcons right for drafting him so high.
He showed the ability to be a major player in an explosive passing game, which could come with season-long consistency at quarterback.
What Drake learned in 2022: London was supremely confident he could compete at the NFL level. He had the athleticism and drive to show well even against top competition.
London found out this season that NFL success takes more than hard work and physical skill. The mental side of the game is so key, especially against top defensive backfields.
I wouldn't say this season has been easy by any stretch, but I think I have fit in well at this level because of all the detail work, because of the coaching staff and my teammates," London said in mid-December. "I don't think people understand – the people in this building have helped me a lot. It's big to have those big brothers out here teaching you and showing you the way."
London worked hard to understand the Falcons offense scheme and his role in it, no matter where he lined up. He became the go-to guy in the pattern, before and after Kyle Pitts got hurt, and gained trust by continuing to make plays in the slot and out wide.
"We move him around and his ability to grasp space obviously is one of the things that attracted us to him and his ability to make the tough catch," offensive coordinator Dave Ragone said in December. "Right? It's hard to get guys wide, wide open in the National Football League. You want guys who are fearless, who understand space, and you can trust, and he's shown in times and critical situations those [traits] and you hope he continues and we hope we're able to put him in situations to make plays."
Areas for improvement: Fumbles were London's biggest issue in 2022. He lost three of them this past season. He got flat stripped by Khalil Mack against the Chargers. He lost possession on a fourth-quarter comeback attempt (on fourth down) in New Orleans. Marlon Humphrey threw a haymaker and punched the ball out in Baltimore. London took each incident seriously – he went so far as to cut his sleeves off in-game after the Ravens turnover – and should become more ball secure in the future.
Outside of that, London will take a deep dive into his rookie year and find ways to get better and more efficient creating separation in the pattern. If he can do that, there's little doubt he'll see stats jump significant in his second professional season.
"I want to be a complete player in this league, someone who can do whatever is needed to help the team win," London said in mid-December. "It's about constantly getting better."