Editor's Note: The Falcons Rookie Review is a series of stories analyzing the rookie seasons of members of the Falcons 2022 Draft class. We take a look back at their 2022 production, as well as a look ahead to what 2023 could hold for each individual.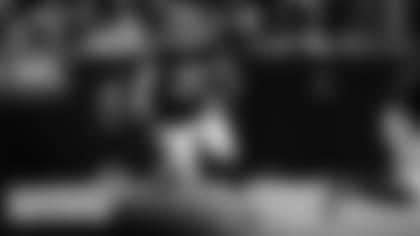 When Tyler Allgeier was drafted in the fifth-round out of Brigham Young University, Arthur Smith had a lot of confidence in the player he was bringing to Atlanta: a stout, agile running back with good spatial awareness and body control.
Allgeier displayed all those traits when he was thrust heavily into the Falcons' running back rotation early in the season. And though Cordarrelle Patterson remained the Falcons' primary running back, Allgeier always took the same approach with every offensive snap.
"You always got to have the mindset of being a starter," Allgeier said after the Falcons' Week 18 win against the Buccaneers. "It's always just progression, like I said, just progressing every day and being coachable."
Allgeier concluded his rookie season with the most rushing yards (1,035) by a rookie running back in franchise history, but reaching this feat didn't come as a surprise to players and coaches who watched him sharpen every detail of his game week-in-and-week-out.
"Tyler's a workhorse, and his balance is wild," quarterback Desmond Ridder said in his Week 17 postgame press conference. "For him to be able to get the ball and then make one guy miss and then get hit by two or three guys but still be up is something I haven't seen before. Credit to him and credit to the guys up front doing their job and moving their guys. He's a heck of a ballplayer."
Amongst all rookie rushers in the league, Allgeier finished third in rushing yards behind Jacksonville Jaguars running back Travis Etienne and Seattle Seahawks running back Kenneth Walker, according to Statmuse.
Allgeier's production this season positions Atlanta as a quality rushing unit in the NFL.
Here's a deeper look into Allgeier's first season in Atlanta:
A look back: The one goal Allgeier consistently mentioned this season was striving to be an all-around running back in the NFL, which consists of being an effective pass-blocker, a go-to in the passing game, and an efficient runner who can convert on every down. Allgeier displayed each of those features in his first year. He rushed for 1,035 yards on 210 carries, averaging 4.9 yards a carry, three touchdowns, and zero fumbles.
On the receiving end, Allgeier caught 16 receptions for 139 yards, averaging 8.7 yards a catch, and one touchdown. Allgeier also led the Falcons in rushing, while being a vital component in helping Atlanta establish the second-best rushing offense in the NFL, per Team Rankings.
What Allgeier learned in 2022: Patience as a runner. Allgeier rushed for 443 yards through his first nine games. In the last seven, he rushed for 592 yards. Learning how to read defenses, knowing which running gaps to hit, and simply being hard to tackle is what made Allgeier so efficient in the second half of the season.
Areas for improvement: Progression as a pass-blocker, but that only comes with time and experience. Nonetheless, Allgeier had a great season and showed why he has the potential to emerge as the Falcons' feature back.