NOTE: The Falcons editorial team, Scott Bair, Tori McElhaney, and Ashton Edmunds will analyze each position group during the 'Falcons Breakdown' series, which evaluates every position and what to look for in the 2023 season:
Arthur Smith was encouraged by what he saw in Desmond Ridder during his first four NFL starts but said, "there is a lot of work to be done" during the offseason when deciding who will be the starting quarterback in the 2023 season.
Marcus Mariota's future in Atlanta has not been determined yet, Smith said. Mariota signed a two-year, $18.75 million contract with the Falcons in March 2022, with $6.75 million guaranteed. If Atlanta decides to part ways with Mariota before the start of the 2023 season, $12 million in cap space would be saved.
"We'll assess," Smith said. "We obviously have up until the league year. There will be conversations. There's nothing to update now. It's like with a lot of our guys that are under contract, decisions have to be made, but [no decision] has been made right now."
Mariota started the 2022 season at the helm before Ridder took over in Week 15. During that transition period, Mariota was placed injured reserve and Logan Woodside was brought in as a backup for Ridder.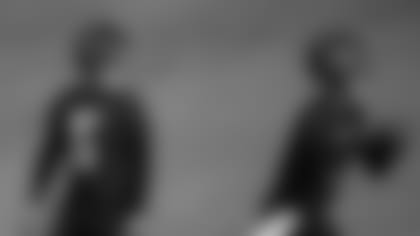 With the Falcons currently projected to have the second-most cap space in the NFL in 2023, Atlanta may look towards free agency to bring in a veteran quarterback to add depth to a position group that is relatively young.
Lamar Jackson, Daniel Jones, Ryan Tannehill and Jimmy Garoppolo are a few quarterbacks who will be free agents this offseason. Derek Carr could be a trade target or another free-agent option if the Raiders release him. The 2023 NFL Draft is also another avenue for Atlanta to acquire a quarterback.
No matter what, there is a need for depth in the quarterback room.
Marcus Mariota: 184-for-300, 2,219 yards, 15 touchdowns, nine interceptions, 7.4 YPA, 88.2 passer rating
Desmond Ridder: 73-for-115, 708 yards, two touchdowns, zero interceptions, 6.2 YPA, 86.4 passer rating
Logan Woodside: 0-for-0, zero yards, zero touchdowns, zero interceptions
Who stays: Desmond Ridder, Logan Woodside
On the chopping block: Marcus Mariota
Biggest offseason question: The looming question that's been mentioned multiple times is, has Ridder shown enough to be named the Falcons' starting quarterback after just four games? Ridder has shown promise through his decision-making, accuracy, and command over the offense. And, as stated previously, Smith was encouraged by what he saw in the young signal caller. The answer to this question, though, may come as early as March when the 2023 league year starts, or as late as August when training camp kicks off.