Editor's Note: The 'Falcons Breakdown' series analyzes the state of every position group in Atlanta. We'll take a look back at the group's overall production in 2022, who we think will stay in 2023 and who could be on the chopping block. We'll also pinpoint the position's biggest question of the offseason.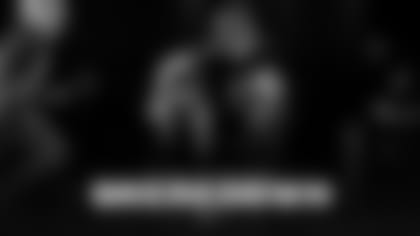 The Falcons' offense saw significant growth across the offensive line and in their rushing attack compared to the 2021 season, but the production from the wide receivers unit remained an area of concern. There were no receivers that surpassed 900 receiving yards for the second season in a row, and only 10 out of the Falcons' 38 total touchdowns this season came from the position group.
Not having a dynamic passing attack was a primary factor for the Falcons relying heavily on the run game. Receivers played a major role in that.
Drake London had an efficient rookie season. He showed growth and consistency throughout the course of the year, with a late-season surge that helped him lead all Falcons receivers with 866 yards. No other wideout eclipsed 600.
London's contractual terms makes him the only receiver certain to return in 2023, which lend to the possibility that this position group may look completely different at the start of next season. The Falcons may leverage free agency to acquire a notable wide receiver to compliment London's production.
Let's take a look at the state of the wide receivers room:
Drake London: 17 games | 72 receptions for 866 yards | four touchdowns | 12.03 Yds/Rec | three fumbles | broke the franchise record for most receptions by a rookie wide receiver in their first season
Olamide Zaccheaus: 17 games | 40 receptions for 533 yards | three touchdowns | 13.33 Yds/Rec | zero fumbles
Damiere Byrd: 14 games | 13 receptions for 268 yards | two touchdowns | 20.62 Yds/Rec | zero fumbles
KhaDarel Hodge: 16 games | 13 receptions for 202 yards | one touchdown | 15.54 Yds/Rec | zero fumbles
Frank Darby: 5 games | one reception for 15 yards | zero touchdowns | 15.0 Yds/Rec | zero fumbles
Who stays: Drake London, KhaDarel Hodge
On the chopping block: Frank Darby, Damiere Byrd, Olamide Zaccheaus
Biggest offseason question: Who will the Falcons look to bring back from the 2022 team? London is a definite; Zaccheaus, Hodge, and Byrd will all be unrestricted free agents. Lastly, Darby will have to earn a roster spot.
What may separate Hodge are his contributions to the special teams unit. That could play a factor in him returning to Atlanta next season.
"He's made a name for himself as a special teams player," special teams coordinator Marquice Williams said in a Dec. 21 press conference. "If you look back where he played initially [with] the Los Angeles Rams, and then he [also] really made an impact when he was with the Cleveland Browns as a special teams player. I've always admired his career from afar and it's a blessing to have him on our team."
Zaccheaus was the second-leading receiver this season with 533 yards and proved to be a reliable player throughout his career in Atlanta. Bringing him back as a third or fourth receiver might be an option. Byrd made some explosive plays this year, but only had 13 receptions for 268 yards. Both players are speedy receivers who can make multiple guys miss when in open field, however, Atlanta has more cap space this offseason and may look to bring in another agile receiver to deliver greater production in this position group.