Editor's Note:The Falcons Rookie Review is a series of stories that analyze the rookie seasons of members of the Falcons 2022 Draft class. We take a look back at their 2022 production, as well as a look ahead to what 2023 could hold for each individual. Drake London's up next.
If you want to get technical, the Falcons traded Matt Ryan for DeAngelo Malone. While it's true that the draft pick acquired for the longtime franchise quarterback was used on the edge rusher from Cedar Grove High (and Western Kentucky), it shouldn't be looked at as a one-for-one. That would involve heaps of additional pressure that shouldn't be placed on Malone's shoulders. The Falcons needed salary-cap relief they now have largely attained via that trade and others like it.
That's why Malone is free to progress at his own rate without the burden of getting a return on the trade. Cap space was the biggest get. Can Malone make that trade a complete coup? It's possible.
The Falcons see real potential in Malone, a tenacious edge rusher and special teams player. He didn't play a ton in 2022, but that shouldn't impact his evaluation. Right now, it should be called incomplete. Focus should be on the team's long-term vision for him, which requires time to execute. Let's take a closer look at what Malone has done to this point and what's next in the team's grand plan for him: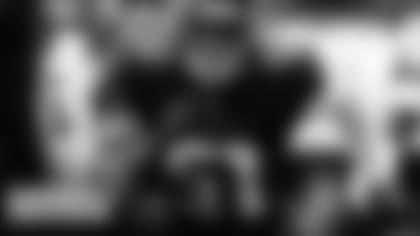 A look back: Malone played 15 games as a rookie, with 29 tackles, a sack, four tackles for a loss, two quarterback hits and seven total quarterback pressures over the course of 216 defensive snaps. He played an additional 216 on special teams and was a crucial contributor who gave the unit maximum effort.
That didn't go unnoticed.
"DeAngelo, you go watch in a game and he's running down on kickoff knocking the hell out of people because he's just a tough, physical, competitive player," general manager Terry Fontenot said in a postseason press conference. "Coaches are going to play the best players, and we're not going to play players just because they're young and talented. The best players are going to get jerseys, but what you love about this class is even when their number hasn't gotten called on offense or defense, they're doing everything else that they need to do to get on the field."
What DeAngelo learned in 2022: Rushing the passer sometimes requires finding a good rhythm. It can also require constant work, setting a tackle up on one play to take advantage of him the next. That's harder to do while playing in brief spurts. That was Malone's role, with Lorenzo Carter, Ade Ogundeji and Arnold Ebiketie taking the majority of the defensive work.
Malone didn't earn additional time, but that's not shocking for a relatively undersized player who came from a smaller school in a mid-major conference. We knew from the second Malone was drafted that he would need both physical and technical development he received from top-tier outside linebackers coach Ted Monachino and the Falcons defensive staff.
Areas for improvement: It's both cliché and true that NFL players can make a real jump between Years 1 and 2. That's because a player has a chance to train over a complete offseason. The spring prior to a rookie season is spent on pre-draft prep, without time to really concentrate on getting better. Malone has that this offseason, which will provide an opportunity to put on some weight – he played 2022 at about 240 – without losing his trademark agility. If he can get bigger and stronger, Malone's tenacity should lead to greater production. The Falcons are expected to add edge rushers this offseason, possibility in free agency and the draft. Malone could be impactful as a sub-package edge rusher in 2023, with the prospect of earning more down the line. There's potential is Malone and it will be interesting to see how he develops.