Editor's Note:The Falcons Rookie Review is a series of stories analyzing the rookie seasons of members of the Falcons 2022 Draft class. We take a look back at their 2022 production, as well as a look ahead to what 2023 could hold for each individual.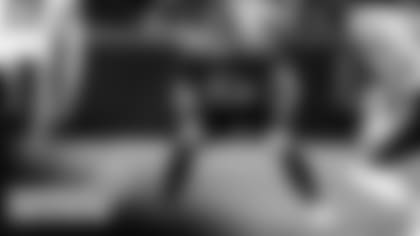 The Falcons were drawn to many traits in Troy Andersen's game. The Montana State product was a high-level player on both sides of the ball while in college, playing quarterback, running back, and linebacker. His innate football knowledge, quality character, and natural leadership traits were all positives for Atlanta.
His transition from Montana State to the NFL was productive, but that didn't come as a surprise to inside linebackers coach Frank Bush, who played an essential role in bringing him to Atlanta.
"The kid is doing a tremendous job. Obviously, he's a big, talented individual, but his smarts and instincts are starting to show up," inside linebackers coach Frank Bush said in a Dec. 21 press conference. "He's hitting people and knocking them on the ground better than he did earlier in the season. I think he's just more comfortable being a pro athlete right now, so I'm happy with where he is."
Andersen saw significant playing time at inside linebacker throughout his rookie year and was a key contributor to the special teams unit. Bush, former defensive coordinator Dean Pees and head coach Arthur Smith have all spoken about the consistent progress Andersen has made and why that afforded him more reps on the field.
"He's made a lot of progress as the season's gone on," Smith said in a Dec. 20 press conference. "He's gotten more comfortable. He's a smart, instinctive player, and a heavy-handed guy."
The key takeaway is that he's shown his potential to be a quality inside linebacker in the NFL. Here's a deeper look into Andersen's first season with the Falcons:
A look back: Andersen's consistency throughout the course of his rookie year ultimately led him to assume the starting inside linebacker role in Week 15 alongside Rashaan Evans. The Montana native finished with 69 total tackles, one forced fumble, three quarterback hits and one blocked punt.
Andersen concluded the season with the fifth-most tackles for the Falcons and the sixth-most tackles by a rookie linebacker, according to Statemuse.
What Andersen learned in 2022: How offenses attack him and the defense. Andersen didn't officially make the transition to linebacker until his junior year at Montana State and, since then, he's made immense progress at the position. Playing quarterback and running back in college also played a factor in his ability to read an offense and understand how a running back attacks a linebacker. All those features were vital to his upward trajectory in his first NFL season.
Areas for improvement: Better in coverage. Andersen played 226 coverage snaps and graded out at 34.0 overall in coverage by PFF. The speed and physicality is naturally there. An offseason program building upon everything he did well his rookie season, in addition to homing in on his footwork and studying man coverage, will be key as he looks to take that next step in year two.