Editor's Note: The 'Falcons Breakdown' series analyzes the state of every position group on the depth chart. We'll take a look back at the group's overall production in 2022, who we think will stay in 2023 and who could be on the chopping block. We'll also pinpoint the position's biggest question of the offseason.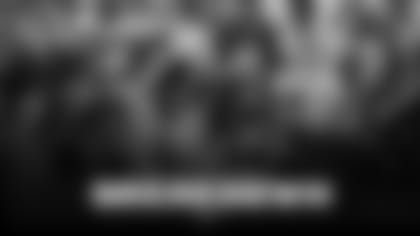 Over the previous two seasons, the Falcons' defense finished with only 39 total sacks. That's the worst sack total in the NFL over that span. In 2022 alone, Atlanta finished with 21 total sacks as a team, with edge rushers accounting for 9.5 of those.
There wasn't much consistency or major production from the position group, so acquiring more pass rush talent will be a focal point for Atlanta this offseason. On a positive note, the Falcons are projected to have the second-most cap space in 2023 and a top-10 draft pick, which will provide great opportunity to bring in much-needed talent.
Edge rushers Lorenzo Carter and Ade Ogundeji were the primary starters with a combined total of 607 pass rush snaps, per PFF. Rookies Arnold Ebiketie and DeAngelo Malone both played a combined total of 399 pass rush snaps and showed growth as the season progressed. Yet, there needs to be more efficiency from this unit as a whole.
"We know that's an area of improvement. It's not just because we took two young edge guys that magically, you had Lawrence Taylor [in] year 1," Arthur Smith said in a postseason press conference. "So, there are a lot of things as we build, strategically, and other pieces that you add along with it, and the development of these young guys. That's how, to me, we need to take another step, but there's a lot of moving parts to it."
Although edge rushers play a significant role in the pass rush, there are other positions on defense where more depth is needed in order for the pass rush to be effective.
"Yes, edge rushers, it's always a premium position," general manager Terry Fontenot said in a postseason press conference. We have some players that we're excited about that need to take the next step, and we believe they will, but we're always going to prioritize that position. Yet, when you improve, if you have a stout defensive tackle that stops the run on first- and second-down, then you get more pass-rush opportunities. When you have the secondary, tight coverage, you're forcing the quarterback to hold the ball longer. When you're playing with leads, offensively you're playing with leads, then the guys can pin their ears back. It's a complementary game. You're not just going to add one player to a certain position and then all of a sudden, the sack numbers go up. It's about improving the total team."
Let's take a look inside the outside linebackers room and how they performed this season:
Lorenzo Carter: 17 games | 54 tackles | four sacks | one interception | one fumble recovery | two pass deflections | 33 quarterback pressures | eight quarterback hits | two touchdowns
Ade Ogundeji: 16 games | 38 tackles | two sacks | six quarterback pressures
Arnold Ebiketie: 15 games | 28 tackles | 2.5 sacks | two pass deflections | one forced fumble | 28 quarterback pressures | nine quarterback hits
DeAngelo Malone: 15 games | 23 tackles | one sack | seven quarterback pressures | one quarterback hit
Who stays: Ade Ogundeji, Arnold Ebiketie, DeAngelo Malone
On the chopping block: Lorenzo Carter
Biggest offseason question: How will the Falcons approach strengthening the pass rush?
Lorenzo Carter is the only player in this position group who is not under contract next season. With limited cap space in 2022, the Falcons brought in Carter on a one-year deal last offseason. Ade Ogundeji, Arnold Ebiketie, and DeAngelo Malone are all set to return in 2023 based on their current deals.
There will be top pass rush talent entering the 2023 draft. That includes Alabama's Will Anderson Jr. and Clemson's Myles Murphy, who are great options, if available, when the Falcons are on the clock at No. 8 overall.
Free agency will also feature top talent, including Robert Quinn and Brandon Graham, who are set to hit the market in 2023, per Spotrac. This will be a vital offseason for the Falcons to obtain key acquisitions on the defensive front as free agency and the draft nears.