LAS VEGAS – During a cold and rainy Monday morning at UNLV's Fertitta Football Complex, newly hired Falcons defensive coordinator Ryan Nielsen stood on the sidelines next to head coach Arthur Smith and offensive coordinator Dave Ragone watching the first East-West Shrine Bowl practice take place.
Nielsen joined the Falcons coaching staff on Friday having previously coached with the New Orleans Saints for several years in various positions. The Los Angeles native shares a lot of commonalities with other Falcons coaches and personnel, which played a vital role in this acquisition.
In 2016, Nielsen served as defensive line coach and run game coordinator at North Carolina State University, where Falcons current offensive line coach Dwayne Ledford also served as the offensive line coach for the Wolfpack during that time.
Following his stint with N.C. State, Nielsen joined the New Orleans Saints as defensive line coach in 2017, where Falcons general Manager Terry Fontenot served as the director of pro scouting during that period.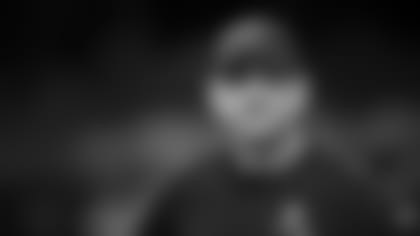 When asked about why he landed on Ryan Nielsen as defensive coordinator, Arthur Smith said "a lot of it is about fit and what we're looking for."
"Ryan is a guy I have a tremendous amount of respect for," Smith said on Monday. "I've gotten to know him over the last couple of years, [and] we have a lot of familiarity. Dwayne Ledford worked with him at N.C. State, [football analyst] Shawn Flaherty has, Terry has in New Orleans so we got a good feel for who he is day-to-day as a person. And then professionally, he's been a pretty good adversary. I've got a lot of respect and I love the plan he has and the way we want to implement things, continue to develop our own guys and what we're going to do this offseason, so it was a really right fit for us and he's a heck of a coach."
As a defensive line coach, Nielsen was a key contributor in the development of Saints defensive end Cameron Jordan and Bengals defensive end Trey Hendrickson, who were both previously selected to play to the Pro Bowl within the last two years. Nielsen has demonstrated the ability to develop elite level players on the defensive front.
"Ryan is a big-picture guy," Smith said. "I was impressed. Everybody's got great ideas and plans, but how are you going to implement that, and I really liked his plan as we continue to build this staff. We're excited about it. Excited about the future and what we're building."
The Falcons currently have vacancies at defensive line coach, outside linebackers coach and secondary coach. And Smith mentioned that he values the input from his coaching staff when thinking about backfilling these positions.
"Ultimately, I have to feel good about anybody that's on our staff," Smith said. "Offense, defense, special teams. It's the Atlanta Falcons. It's our staff, so I'll take suggestions but at the end of the day, I'll make that call."