Let's get one thing straight before we dive into this 2022 offseason checklist for the Falcons: There's a lot to cover. This list has been consolidated to include just 10 topics, but there very easily could be - and probably should be - more.
There are so many individual futures up in the air this offseason, and we could write numerous individual stories going over each in detail. (And you know what? We probably will. It's a long offseason). But think of this specific checklist as your primer for the offseason. It's a list of thoughts and ideas about what we know has to be in the minds of both general manager Terry Fontenot and head coach Arthur Smith this offseason.
In no particularly order based on importance, let's take a look at these 10 items that no-doubt are on the Falcons actual offseason to-do list.
1. Develop a pass rush... by any means necessary
Dean Pees said it best in his final press conference of the season: The Falcons obviously need to fix their pass rush. He said the Falcons have to go about doing so in two ways. They have to acquire talent (via the Draft and free agency) as well as developing their own (like Ade Ogundeji). The Falcons will be rebuilding their outside linebacker position in 2022. Dante Fowler, Steven Means and Brandon Copeland are all free agents this year. Only Ogundeji remains.
This will be really interesting because the Falcons have the opportunity to write a new story when it comes to pass rush. The organization hasn't had a significant pass rush in years, and misses in the Draft in years past has only exasperated the issue. The time to rewrite the pass rush narrative starts now.
2. Find a cornerback
AJ Terrell has been everything he was advertised to be when coming out of Clemson, and one could argue, he's been so much more.
Drafted in the first round two years ago, Terrell may be overlooked nationally, but his presence within this defense means everything to the Falcons. For the last two seasons, Terrell's performance speaks for itself. Now, the conversation revolves less around Terrell. The Falcons know what he can do and trusts him to do it. The conversation now lies in finding the right person to play opposite him in 2022.
There are a number of mock drafts floating around with the Falcons taking LSU's Derek Stingley Jr. with the No. 8 pick in this year's draft. Are the Falcons willing to go all-in on another first round cornerback? It worked out the last time around...
3. Make decisions on viable free agents
Here are the main names you should keep in mind: Cordarrelle Patterson, Foye Oluokun and Russell Gage.
Patterson was the spark plug of this offensive unit in 2021. Oluokun was the league's leader in tackles and an important part of Pees' defensive scheme. Without Calvin Ridley, Gage assumed the WR1 role. There are arguments for and against resigning each.
General manager Terry Fontenot said during his and Arthur Smith's end of season press conference that the best form of free agency is resigning players who are already in your building. With Patterson's, Oluokun's and Gage's market value increasing in 2022, do the Falcons have the means to resign any of them?
4. Figure out the future of the nickel position
This is an interesting predicament the Falcons find themselves in when it comes to the nickel. They thought they had their guy in Isaiah Oliver, that is until he suffered a season-ending knee injury four weeks into the season. From then on, the Falcons struggled to find a nickel that could play the role the way Oliver did. Pees said at the end of the year that having to rotate multiple players in at nickel is not how he wants the position to be played. He wants one guy, and that guy would have been Oliver if he wouldn't have gotten hurt.
If that's the case, do the Falcons resign Oliver, who's also a free agent in 2022? If he's healthy, there's a pretty strong argument to do so.
5. Secure the wide receiver core
Ridley's future with the Falcons is still very much in question. There have been no reports coming out of either camp regarding his future in Atlanta. But regardless of how that situation ultimately shakes out, the Falcons have a number of decisions to make regarding this position group as a whole.
What do the Falcons do with Ridley? What about Gage? Tajae Sharpe and Christian Blake are free agents, and Olamide Zaccheaus is, too (though it's important to note he's a restricted free agent). How the Falcons move forward with any combination of this group will be important to keep an eye on.
And who knows, perhaps that second round draft pick the Falcons acquired from Tennessee in the Julio Jones trade can bring in another receiver to help fill in some holes.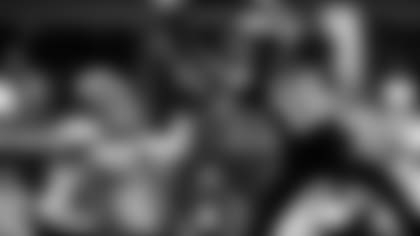 6. Build up the tight end room around Kyle Pitts
Lee Smith retired. Hayden Hurst will be a free agent. That leaves Pitts in the room if the Falcons decide to part ways with Hurst. There are a number of tight ends potentially hitting the open market this March. Would the Falcons look to go shopping in free agency to find reinforcements behind Pitts? That seems like a good idea. There's always the draft, too, but with so many needs elsewhere it may be more beneficial right now for Atlanta to use the draft to fill other needs.
We've seen that Arthur Smith as a play caller loves some multiple tight end sets. How different could those sets look in 2022?
7. Decide what changes need to be made across the offensive line
Something has to be tweaked, right? But what? And are the Falcons willing to use a 2022 Draft pick to tweak it?
There are so many questions surrounding this offensive line this offseason. In all actuality, the Falcons could keep this group of five together. They all return in 2022. Do the Falcons want to do that?
One would assume Jake Matthews' and Chris Lindstrom's spots are secure at left tackle and right guard. Perhaps Matt Hennessy at center, too, is relatively secure. He took over at the position full time this year and did well for himself, particularly in run blocking. He wasn't Alex Mack, but few centers in this league are.
Then there's Kaleb McGary at right tackle and Jalen Mayfield at left guard. Neither had solid seasons in 2021, with Mayfield particularly taking on the full brunt of a full NFL season.
What the Falcons decide to do with this group is going to be one of the most intriguing developments of the offseason.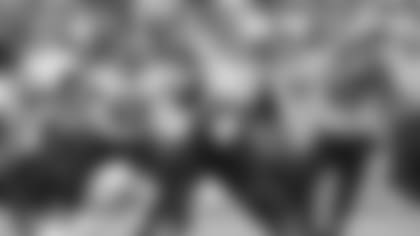 8. Begin the process of finding Matt Ryan's successor
This doesn't mean the Falcons have to draft someone in 2022. It also doesn't mean they have to go out in free agency and slap a paycheck in front of a veteran quarterback. If Ryan is their guy, they still have time to figure out what direction they want to go in when the sun sets on the Ryan era in Atlanta. Ryan has two years left on his contract. So, the Falcons still have time to figure out a plan for when that contract does end, but the wheels of that process needs to start turning now.
If Tom Brady does indeed retire, Ryan is without question the most experienced and productive quarterback in the division. That may mean a lot to the Falcons in conversations about their divisional opponents. So, trading away Ryan now without a succession plan in place seems like an unnecessary risk for the organization to take. However, they won't have Ryan forever, so starting to lay the groundwork of having someone in place come - say - 2024? That's where the Falcons find themselves right now.
9. Continue to acquire value-find free agents
The Falcons are in a better position in regards to the salary cap in 2022 than they were in 2021. The cap has increased league-wide, and that greatly benefits an organization like the Falcons. But they are not out of salary cap hell yet. There's still work to be done to field a competitive team in 2022.
Last offseason, the Falcons were not able to be big time movers and shakers in free agency. They had to really dig to find players that could add value to the starting lineup and come to Atlanta on cap friendly, one-year deals. In 2021, they found veteran players who fit that blueprint, guys like Lee Smith, Duron Harmon and Erik Harris. With the Falcons having so many holes to fill across its active roster in 2022, don't be surprised if the Falcons continue to look for mid-level veterans to come in and play a similar role this year, too. The Falcons still have to be a bit frugal this offseason, so this may continue to be an important strategy for another year.
10. Play around with Grady Jarrett's contract
Speaking of the cap, it wouldn't be a bad idea for the Falcons to consider restructuring a contract or two. With Ryan's contract already being reworked a number of times, perhaps the Falcons look to another locker room leader and producer to earn a bit more cushion towards the cap. That candidate could be Jarrett.
Though Jarrett's production was limited in 2021 that had little to do with him and everything to do with the lack of production from players around him. There's not much Jarrett can do when no one is taking the pressure off of him. Even in this conversation, though, Jarrett is still the center of this defense and keeping him in Atlanta, even at 29 years old, is a move the Falcons should be interested in making. Just like last offseason, an extension for Jarrett is on the table. He has one year left on his contract. Is Jarrett in the Falcons long-term plan for this defense? An extension would likely answer that question. Falcons Final Whistle | A Postgame Podcast
Break down the hottest topics surrounding the Atlanta Falcons and how they can impact the team's success with Atlanta Falcons Insiders Scott Bair, Tori McElhaney and Kris Rhim. Like and subscribe to join us for the lively debate on Falcons Final Whistle.
Welcome to Falcons Final Whistle – an Atlanta Falcons football postgame podcast during the season that shifts gears in the offseason to answer a pressing question about the team's future each week through free agency, the NFL Draft and the offseason program.