In one of his final press conferences of the season, Arthur Smith spent a couple minutes talking about what he had seen from Feleipe Franks.
Franks joined the Falcons after the 2021 Draft as an undrafted free agent. At the time, Matt Ryan was the only quarterback under contract in Atlanta. The Falcons were in the early stages of building up their quarterback depth. During the offseason, the Falcons added AJ McCarron, but a season-ending knee injury in the preseason added to Franks' responsibilities. After McCarron's injury, the Falcons brought in Josh Rosen. For a while, Rosen was Ryan's No. 2.
However, as the season went on, Franks' role on the team evolved into something many didn't expect. Along with his duties under center, Smith and the Falcons staff began experimenting with Franks. He played a little bit of tight end here and there. He also had a role on special teams in both kick and punt return. As the season progressed, so did the amount of times Franks was active on game day over Rosen.
Asked about this during the season, Smith said it wasn't necessarily that Franks had surpassed Rosen on the depth chart, per se. It was more a decision made out of packages the Falcons had for Franks and how they felt like he could assist them in more areas than just backup quarterback.
Nothing ever happened to Ryan to thrust Franks into the quarterback spotlight, but he would have been the Falcons first option off the bench if something ever did.
It was quite the journey for Franks in his first year in the league. Honestly, it's an evolution that's quite unlike anything many in the league (particularly quarterbacks) have experienced.
"Some guys wouldn't be willing to do what Feleipe's done, but he has, and that says a lot about him," Smith said. "... I think it's rare what he's done or attempted to do."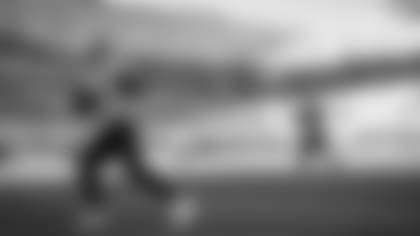 A look back
Snaps per offensive position: QB (7), Inline (3), Slot (2), Wide (2)
Snaps per special teams rep: Kick return (14), Punt coverage (2), Punt return (20)
What Franks learned in 2021: Perspective
Smith has commended Franks a number of times throughout the 2021 season just on his willingness to try different things on the field.
"He's been willing to do whatever he can to try to stick around and help this team," Smith said.
As the previous section displays, that means learning a few different positions. The hope, Smith said, is that by doing what the coaching staff was asking him to do, that it "enhances" your overall view of the game itself.
"I think the more understanding you have of the game, the better off (you are) at any position," Smith added.
When Franks was first taking reps at tight end, he spoke to the media about this challenge and how he did feel as though he was developing in his understanding of the scheme.
"It's helped me just widen my perspective (of the offense)," Franks said. "It's helped me have a bigger view of the field, what everybody is doing, what assignments everybody has."
Areas for improvement: Finding a niche
Is being a catch-all offensive/special teams player a role that can be sustainable throughout an entire career? That's the question surrounding Franks who will enter into his second year in the league in 2022. The Atlanta coaching staff obviously sees versatility in Franks that they would hope could lead to production in a few different areas. Otherwise, why work so hard to figure out where Franks best fits?
From the moment they picked him up, the Falcons have always liked Franks' size and measureables. But what's the end goal for Franks with the Falcons? What's the vision? Will Franks continue to be a role-player for the Falcons in 2022? Or would the Falcons want him specializing within one avenue? Those are the questions another year in Atlanta may answer.
"He's done a good job," Smith said. "Feleipe's also developed as a professional football player and he's one of the rare guys that played special teams for us. He's a big athlete. Doesn't take away from his preparation at quarterback. You know, it's a long journey for these guys."