Former Temple center Matt Hennessy, who the Falcons selected in the third round of the 2020 NFL Draft, is a player the team is very high on. He has the athleticism needed to play in Atlanta's offensive scheme and the versatility to compete for the open left guard spot next to Alex Mack.
As it turns out, the Falcons weren't the only team who rated Hennessy highly. According to a report by Manish Mehta of the New York Daily News, the Falcons' selection of Hennessy ruined a trade between the New York Jets and the Denver Broncos. The Jets, who held the No. 79 pick in the draft, had agreed to trade their third-round pick to the Broncos and move back to Denver's pick at No. 83.
The Broncos were targeting Hennessy with the 79th-overall pick, but Atlanta grabbed him one pick earlier, squashing any plans Denver had to grab the former Temple center. Thus, the Broncos stood pat and selected former LSU center Lloyd Cushenberry at No. 83 while the Jets grabbed former Florida defensive end Jabari Zuniga at 79.
Here are some other articles for Falcons fans to check out today:
NFL.com: NFL sets schedule release date
The NFL announced Monday night that the 2020 NFL schedule would be revealed Thursday night at 8 p.m. ET on the NFL Network. We've known for some time now exactly who the Falcons would be playing, but we'll find out Thursday when those games will take place and in what order.
Atlanta will also host all eight of its home games at Mercedes-Benz Stadium after the league's announcement Monday that it was cancelling its International Series for the 2020 season.
Thursday night will provide the first look at what prime time games will be taking place in 2020 and highlight all of the key matchups happening around the league. Atlantafalcons.com will also have extensive coverage of the Falcons' 2020 schedule beginning on Thursday night and continuing over the following days.
CBS Sports: Ranking 2020 strength of schedules
Sticking with some schedule-related pieces, CBS Sports writer Jared Dubin put out a ranking of the strength of schedules for each team in 2020. He explains that the ranking isn't based on last season's win totals, but rather the win total over-unders for the 2020 season assigned to each team by bookmakers at William Hill. Based on those projections, the Falcons have the toughest slate of opponents for the upcoming NFL season.
"At the other end of the spectrum, the Falcons play in the NFL's toughest division (the NFC South has a projected combined winning percentage of 0.547) and play against the best AFC division (the AFC West has a projected combined winning percentage of 0.531); and unlike the Panthers, who get to play against Washington and Arizona by virtue of having finished in fourth place last season, the Falcons have to play the Cowboys and Seahawks after coming in second a year ago," Dubin writes.
NFL.com: Ranking NFL's top 10 QB-WR duos
Falcons fans don't need a reminder that Matt Ryan and Julio Jones are exceptional, but NFL Media senior analyst Gil Brandt provided one anyway. The legendary former NFL scout ranked his top quarterback-receivers duos and the Falcons' pair was right there near the top of the list at No. 2.
"Don't overlook this pair coming off the Falcons' disappointing 2019," Brandt writes. "Atlanta is poised to become the first team in the common draft era to start 10 former first-round picks on offense, thanks to the acquisitions of running back Todd Gurley and tight end Hayden Hurst. Between their addition and the continued emergency of No. 2 receiver Calvin Ridley, Ryan and Jones should continue to perform at an all-world level as their prolific partnership -- Ryan is the only player in the NFL to top 4,000 passing yards in each of the nine seasons since Jones was drafted, and no one has more than Jones' 12,125 receiving yards in that span -- stretches into a 10th season."
Atlanta comes in at No. 2 behind the New Orleans pair of Drew Brees and Michael Thomas, but a strong argument could be made that the two should be flipped. Although Brees and Thomas are among the game's very best, Ryan and Jones have been at it for a while longer.
ESPN: Falcons build defense to slow NFC South offenses
The Falcons went to great lengths to sure up their defense in this year's draft in hopes of better containing the offenses in the NFC South. With the additions of Tom Brady in Tampa Bay and Teddy Bridgewater in Carolina, and the always-dangerous Saints, the Falcons understand they need to field a unit capable of slowing those teams down.
"Those are both very good players," One NFL defensive coordinator told ESPN's Vaughn McClure of Terrell and Davidson. "I wasn't hoping the Falcons would take those two guys, to be honest with you."
CBS Sports: Ranking every team's draft class
We won't know how each team fared in this year's NFL Draft for a few seasons, but that doesn't stop people from stacking each draft class against the others. CBSSports' Ryan Wilson ranked every team's draft class, and he had the Falcons at No. 23 with a B- grade.
"A.J. Terrell is an example of a player NFL evaluators liked more than draft media, probably because for all the good tape Terrell put out in 2019, his championship game performance against LSU is all most people remember. But he's a good cover corner who balled out at the combine to get back on folks' radar. Marlon Davidson is a versatile defensive lineman who can line up inside or out and Matt Hennessy is one of the most athletic interior offensive linemen in this class."
To read the rest of Wilson's rankings, click here.
AJC: Falcons conduct virtual offseason study program
During the coronavirus pandemic, the Falcons will be conducting their offseason program virtually. This is the new normal for NFL teams, and the Falcons are adjusting their approach to continue educating their players, even if it is from a distance. Atlanta will utilizing technology to have group and individual meetings with its players, which coach Dan Quinn explained after the draft.
"We share our screens," Quinn said. "We know video. We share our screens to do playbook diagrams. We also use other platforms like Zoom where if you had six or eight people and you wanted to see everybody's face to have a discussion on things, we do that.
"We include voice-overs; hey, I'll send you something tonight, these are the three things we'll talk about after you watch it that we can go through tomorrow. So, we're just trying as many ways as we can to go through it, and then we go through a lot of feedback."
D. Orlando Ledbetter of The Atlanta Journal-Constitution wrote more about the Falcons' virtual offseason, which you can read here.
AJC: Georgia Tech, Falcons exchanged info on Hennessy
A little conversation off to the side during Georgia Tech's Pro Day in early March may have led to the Falcons' selection of former Temple center Matt Hennessy in the draft.
The move, one for which the Falcons have received praise, came after Falcons general manager Thomas Dimitroff spoke with Georgia Tech coach Geoff Collins, according to a story by D. Orlando Ledbetter of The Atlanta Journal-Constitution. Collins served as the head coach at Temple in 2017 and 2018 before taking over the same role at Georgia Tech in 2019.
"I just think the world of him," Collins told Ledbetter. "His work ethic. His determination. His character. His attention to detail and also his athleticism to play wherever the opportunity unfolds there at the Falcons. I have full confidence that Matt can play anywhere that they need him."
In the short term, the Falcons envision Hennessy competing for the open left guard spot. While he may eventually take over for Alex Mack at center, Hennessy appears to have the versatility to offer an immediate upgrade at guard.
"I think No. 1, you see the urgency, where he can get out of his stance and get on to the next -- I saw him pull at center," Quinn said. "The other spot that helps, you saw him well was Senior Bowl where he had the ability to play multiple positions. He could play center and he could play guard."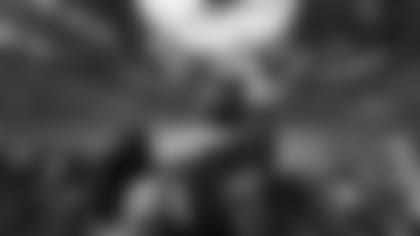 2020 Season Tickets
See the Falcons battle divisional foes along with the Bears, Lions, Broncos, Raiders and Seahawks at the best venue in sports.