Disclaimer: The views and opinions expressed here belong to Matthew Tabeek and not the Atlanta Falcons, unless noted otherwise.
There's no sense in rehashing all of the reports and speculation surrounding Houston Texans quarterback Deshaun Watson. At least not in this space (the Early Bird Report), where we discuss anything and everything being written or talked about when it comes to all things Falcons.
But … we most certainly will talk about Watson when his name is associated with the Falcons, even if it is a bit, well, farfetched. Case in point: When the Atlanta Sports Guy tweeted a picture of Watson wearing a Falcons jacket while walking in New York City.
I mean, the guy is from Gainesville, Ga., grew up a Falcons fan and was once a ball boy for the Falcons before heading off to college. Everyone knows that. Watch the video below (you have to click on the tweet to see it); Watson even says as much.
Still, fans get excited when they see and hear rumors. Their minds wander about "what if …" because that's what sports fans love to do. If you've got time to waste you can find a uniform edit of Watson wearing the colors of every other team in the NFL right now.
And yes, there are plenty of Photoshopped images of Watson donning the red and black. Here's just a sampling of what's out there:
So, let's get real for a minute when it comes to Watson and all of these trade rumors. Mark Lane, the managing editor of USA TODAY's The Texans Wire, recently broke it down and gave four really easy-to-understand reasons why trading Watson is impossible for the Texans.
Finding a team to take on his contract
Negotiating trade compensation
The no-trade clause
Destroys the Texans' prestige with free agents, draft prospects
You can read Lane's work and reasons in the link above, but it makes a lot of sense. Houston's new general manager Nick Caserio, for what it's worth, has stated that he has "zero interest" in trading Watson.
Still, if this saga continues to get uglier, both sides may be motivated to work out something with a team. And I think we all can agree that compensation would be massive. According to CBS Sports NFL Insider Jonathan Jones, compensation for Watson will be "at least three first-round picks and likely a second- and/or third-round pick for Houston to rightfully press the button on the trade."
Are there teams out there willing to pay that kind of price for a star quarterback in his prime? Maybe. Tyler Sullivan of CBS Sports compiled a list of five teams that could formulate what he calls "the best-of-the-best" offers for Watson. The Falcons are not on that list.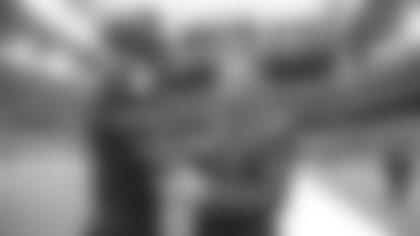 Look, when it comes to the Falcons, a trade for Watson simply makes no sense. Forget that Atlanta has Matt Ryan, the best quarterback to ever suit up in a Falcons uniform, on the roster and that they are financially committed to him. At least for another season, and maybe two or three.
If you want to know more on why the idea of the Falcons trading for Watson is just a dream, I suggest you read Michael Cunningham's blog post in The Atlanta Journal-Constitution. Cunningham goes through some scenarios, explains the dead-money hit Atlanta would take in moving Ryan before and after June 1, and why even if the Falcons pulled the trigger on Watson they'd have a young QB with a thin roster and no cap space.
As I noted in my most recent mock draft, the Falcons are in a good position sitting with the No. 4 overall pick. They have a quarterback they can win now with in Ryan and they could select their quarterback of the future and groom him. The Falcons could also trade down and add more picks. It's worth noting that a number of teams could be (and are) in the market for quarterbacks – and would offer a lot to get into the top five.
I'm not saying that's what will happen, but it's better to have options (and draft picks) when you're trying to break a three-year playoff drought, ya know?
Watson is a great player, no question about it. And seeing him play in a Falcons uniform is that kind of stuff that you read about in fairytales.
But the Falcons have a new regime in place with general manager Terry Fontenot and coach Arthur Smith. They have a vision on how they want to win and put the right infrastructure in place to have lasting success beyond the short term.
"We always want to be competitive," Fontenot said. "We're never going to sit here and say that we're not going to be competitive. That's what we want to do. But we also understand that we're going to do it the right way. We want to have sustained success."
And I'd have to believe that giving up the farm and having little or no cap space is not part of the new plan moving forward.
General Manager Terry Fontenot takes his first tour of Atlanta Falcons facilities in Flowery Branch with Rich McKay.