It's time to turn our attention toward training camp and all of the position battles that will ensue now that the 2020 NFL Draft is over.
And let's focus on the offense here.
While there weren't too many changes this season with the coaching staff, the Falcons did make some bold moves in free agency, signing running back Todd Gurley as well as making a trade for tight end Hayden Hurst on the first day of the new league year. Atlanta also added six new draft picks and signed 20 undrafted college free agents.
As of this moment, I'm not expecting a whole lot of turnover when it comes to the Falcons' offensive starters in 2020. Let's take a closer look at how the lineup could look on offense when the Falcons kick off the season:
OFFENSE
QB – Matt Ryan: Started in all 15 games he played in 2019, completing 408 of 616 pass attempts for 4,466 yards and 26 touchdowns.
RB – Todd Gurley: Started in all 15 games he played for the Los Angeles Rams last season, tallying 857 rushing yards and 12 rushing touchdowns on 223 carries and 207 receiving yards and two receiving touchdowns on 31 catches.
FB – Keith Smith: He saw action in 16 games with five starts. Smith also led the team with eight special teams tackles and two special teams forced fumbles.
WR – Julio Jones: Started in all 15 games he played. Jones made 99 receptions for 1,394 yards and six touchdowns.
WR – Calvin Ridley: He played in 13 games with 10 starts, totaling 63 receptions for a career-high 866 yards and seven touchdowns before spending the remainder of the season on injured reserve due to an abdominal injury.
TE – Hayden Hurst: Hurst played in 16 games with four starts with the Baltimore Ravens. He recorded 30 receptions for 349 yards and two touchdowns.
LT – Jake Matthews: Started in all 16 games last season. In six seasons, Matthews has started all 95 games that he has played in.
LG – Matt Hennessy (R): The Falcons started two rookies on the offensive line in 2019 and don't be surprised if the No. 78-overall pick wins the starting job. Hennessy also figures to be a backup option to Alex Mack at center.
C – Alex Mack: Mack started in all 16 games at center in 2019. A six-time Pro Bowler (2018, 2017, 2016, 2015, 2013 and 2010), Mack has started all 165 games in which he has played.
RG – Chris Lindstrom: A rookie in 2019, Lindstrom started in all five games he played in. He missed a majority of the season due to a foot injury he sustained in Week 1.
RT – Kaleb McGary: Started in all 16 games in 2019 as a rookie.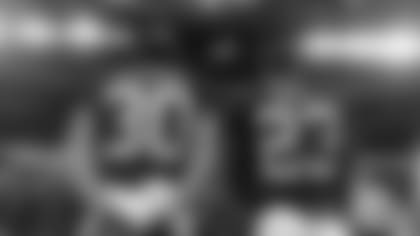 RB – Brian Hill: Saw action in 12 games with two starts in 2019. Rushed 78 times for 323 yards and two touchdowns. He recorded 10 receptions for 69 yards and one touchdown.
RB – Ito Smith: Smith played in seven games, rushed 22 times for 106 yards, including one touchdown. He made 11 catches for 87 yards before spending the remainder of the season on injured reserve due to a neck injury.
RB – Qadree Ollison: As a rookie he played in eight games and had 22 carries for 50 yards, including four touchdowns, and one reception for 7 yards. The four touchdowns are tied for third-most in franchise history by a rookie.
WR – Russell Gage: Gage made four starts and played in 16 games last season. He made 49 receptions for 446 yards and one touchdown.
WR – Laquon Treadwell: The former first-round pick played in 13 games with the Minnesota Vikings in 2019, making one start. He had nine receptions for 184 yards and a touchdown.
G – James Carpenter: Carpenter made 11 starts in 2019 before spending the remainder of the season on injured reserve due to a concussion.
G – Jamon Brown: Brown played in 10 games with nine starts in 2019. 2020 Falcons Tickets
See the Falcons battle divisional foes along with the Bears, Lions, Broncos, Raiders, & Seahawks at the best venue in sports.