Ridley being the top option is not uncharted territory. He was the primary receiver during his Alabama tenure and led the Falcons in every receiving category last season while Jones battled injury.
"I had some games without Jones," Ridley said. "I'm more than ready for that role. I just can't wait to make plays."
Ridley is taking his leading role in stride, ready for players now coming to him for insights.
"I'm one of the guys they will come to and ask for advice," said Ridley. "It's really easy to do it when you know what you're doing on the field."
Off the field, he is enjoying the love and support from the fans. Cheers from kids and adults alike echoed across the practice field every play he made through Tuesday's camp practice, a sign he's becoming a face of the franchise.
Coaches have taken a better-safe-than-sorry approach to Ridley's return from injury. He is slowly working his way back in and you can already see him as explosive as ever in drills.
That poses a problem: Ridley's super competitive. A slow return is not in his DNA.
"It's pretty tough right now for me," Ridley said. "I want to be at a certain point, and I'm not used to being held back. I'm ready to start working and getting to be where I need to be."
Getting the surgery done this offseason proved essential, so Ridley went to specialist Dr. Robert Anderson in Green Bay to get fixed up. He feels like his foot is completely healed, which is great news for Falcons fans.
"It was not good last year, but it is definitely fixed this year," Ridley said. "In the offseason I was really worried about myself, but the best thing I could have done was get the surgery."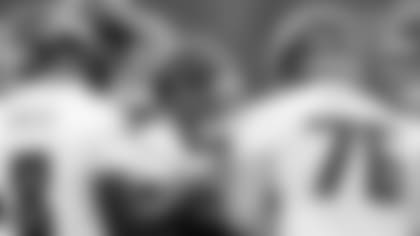 2022 Atlanta Falcons: First Look Open Practice
WHEN: July 29-30, August 1-10, 15, 24, 25
Rise Up Dirty Birds! Be the first to see your 2022 Atlanta Falcons take the field as they prepare for the upcoming season!