I don't know when (or if) training camp will begin this year, but in the past it's always been right around the last week in July. Looking at my calendar, Monday, July 27, is just 82 days away from now. I obviously don't know what's going to happen with this pandemic and what sort of progress will be made on finding a vaccine for COVID-19 in that short amount of time, but I'm pretty sure NFL fans everywhere are hoping that a season can begin without putting any sort of added risk to players, coaches and fans. In the meantime, you've got plenty of questions about the Falcons, draft picks, free agency and the season. And regardless of what happens, I plan on being here to answer your questions. So, let's get to them now. Just remember that all opinions here are mine unless noted otherwise.
Greg from Wilmington, NC
Hey Beek, what are your thoughts on Dirk Koetter actually getting the running game going to set up our passing game? I think that's what made us so explosive with Kyle Shanahan. It looks like that's what the team is building towards, but I don't think Koetter has ever been able to coach that kind of offense. It's kind of hard to change tactics so late in your career. Enjoy your column. Your thoughts?
Matt: Well, when you think about a productive and efficient run game, we all know that starts up front in the trenches. You have to be able to move and block people in order to run, Greg. The Falcons have struggled to protect the quarterback the last two seasons and, at the same time, they have not consistently run the ball well. My first thought goes back to a conversation I had with Falcons coach Dan Quinn before the draft and one of things I asked him was about the offensive line. Watch the video above, and pay close attention beginning at the 9:03 mark. Quinn knows success begins up front. Leading the league in passing – and the Falcons were among the top five there in 2019 – isn't going to win football games. I think the top five teams all missed the playoffs. The Falcons know they must do a better job of protecting Ryan and running the football. Will they in 2020? That remains to be seen, but listening to Quinn (above) you certainly get the sense of what kind of offense he wants.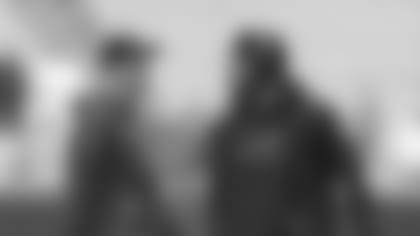 Katie from Sugar Hill, GA
Why wouldn't the FALCONS have a SERIOUS look at Cam Newton? In my opinion he is a whole lot better than what the FALCONS have as Backup! You can't take that away from him! Please STOP "devaluing" what this YOUNG MAN can bring to the FALCONS with the proper training and COACHING! As a PSL OWNER, it is very SCARY to think what would happen to this organization if Matt Ryan wasn't able to play! You can't possibly believe that one of these current Backups would be able to lead the team! Jalen Hurst was available during the DRAFT! We ALL know who scooped him up even though they have CARSON WENTZ! SMH! MOBILE QUARTERBACKS are here to stay!
Matt: Wow. Let's be clear here, Katie. I wrote that Cam Newton should be (and most likely wants to be) a starter somewhere. And again here. That is not devaluing him (your word, not mine). Why would Cam Newton want to be a backup if he can start somewhere, especially if a team would be willing to pay him like a starter? (Rhetorical question.) Now, if Newton decides that it's in his best interest to sit on the sidelines and go to a team with an entrenched starter, then that's different. I honestly don't know what his salary demands might be, either. People sometimes seem to forget about the salary cap and a team's ability to make room, in this case for a backup quarterback. As far as we know, the reason why Newton hasn't signed anywhere is because he's still looking at his options and, as far as we can tell, this pandemic is limiting what players can do when it comes to physicals and visits. Matt Ryan has proven to be extremely durable throughout his career. When he did miss a game last year, Matt Schaub stepped in and played well – he completed 39 of 52 passes (75 percent) for 460 yards, a touchdown and an interception. Newton completed 50 of 89 attempts (56.2 percent) for 572 yards, no touchdowns and an interception in his two starts last season. This hasn't been a discussion about mobile quarterbacks, either. If you want to make it one, then fine. But don't overlook the fact that the reason why Newton has missed time is because of injuries – to his ankle and shoulder. His physical style of play – which has separated him from so many other quarterbacks – has taken a toll on him physically.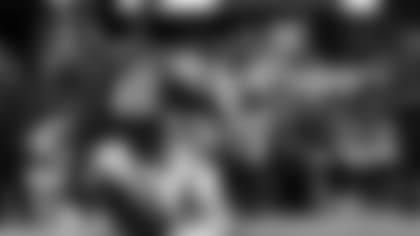 Gurmann from Atlanta, GA
What do you think is our chance to go to the playoffs? I think it is a 72 percent chance. What do you think?
Matt: Wow, that is very specific, Gurmann. So, you're thinking the Falcons will win about 11 (or so) games in 2020 – that would be a four-game improvement over last season's 7-9 finish. The first thing you have to assess is whether the Falcons are a better team than they were a year ago. And then you look at who they'll be playing. When it comes go strength of schedule, the Falcons have the toughest in the league in 2020. I also look at the division, teams the Falcons will face a combined six times. Did the Bucs, Saints and Panthers improve? Considering that the Falcons lost four games by 8 points or less (basically one score), I think they could certainly pull it off … but I'm not ready to predict that they'll win 11 games right now. Not yet. I do like some of the additions they've made, but I need to see them play in the preseason first.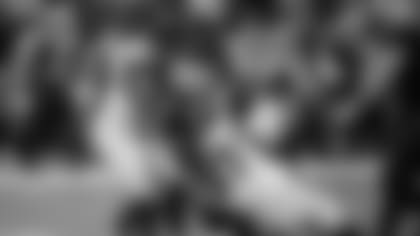 Bahram from Alpharetta, GA
Hi Beek, I am a longtime fan of the Falcons and you. What do you think of my opinion that in order to improve their pass rush, Falcons better to improve their interior rush first, as having stronger DTs are more important than having better pass rushers?
Matt: Well, I'd agree with you, Bahram. Each part of the defense – and you can look at it in terms of position groups or individual players/assignments – must do its job, in concert with one another. The better each part is, the more effective the defense will be. If the interior pass rush is better at collapsing the pocket, that will likely result in flushing the quarterback out of pocket – and that could lead to a number of different outcomes favoring the defense. It could lead to one of edge rushers getting a sack, an incomplete pass, an interception, a deflected ball or one of the interior linemen getting a sack. If there is no push at all inside, that means the quarterback will be able to step up in the pocket, avoid pressure on the outside and have time to deliver a pass – which isn't ideal, not with Tom Brady, Drew Brees or Teddy Bridgewater in your division. With players like Grady Jarrett, Tyeler Davison, John Cominsky, Allen Bailey and Marlon Davidson in the rotation, you'd think that the Falcons should be able to collapse some pockets in 2020. Time will tell.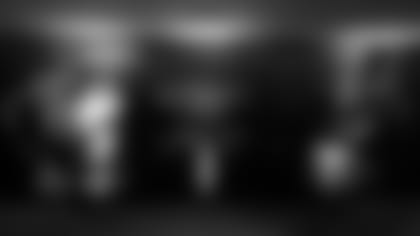 James from North Wales, UK
Hi Beek, big fan of the column! With international games being cancelled, I've seen a lot of fans happy about us getting a home game back this year. Personally, I'm gutted at losing the chance to watch us play in person over in the UK, assuming it would have been a London game of course. But I wondered what your take on international games was. Do you think this change will have an impact for the team this year, both on and off the field?
Matt: If I'm being honest here (and I always am), I think we can all agree that it's much easier to play a game in your home stadium, in front of your own fans than it is making a very long trip overseas and having to adjust to different time zones while playing in front of a neutral crowd. That all said, both teams have to make the trip and whichever team does a better job adjusting and preparing for those challenges should have some sort of advantage. But the trip itself, overall, is a tremendous experience. It's good for the fans who get to experience an NFL game for the first time, it's good for fans like you who hardly ever get to see your favorite team in person, it's good for the league's overall growth and popularity and it can be a great experience for the players and coaches – especially if they have never been to England or Mexico. I would hope the International Series will continue in the years to come because of that. In the end, though, I think true fans just want to see their favorite team win and move up in the standings, regardless of where the game is played. MAILBAG
Do you have a question about the Falcons that you want answered? Ask a question here and it could be posted on AtlantaFalcons.com.
Go ahead, ask the Beek
Do you have a question about the Atlanta Falcons (or anything football-related) you'd like to ask Matt Tabeek? If so, hit the link. Please remember to include your home state (or country if you live outside the U.S.). Thanks for reading SFTB!