We are less than 40 days away from kicking off the regular season, folks. There won't be any preseason games to go by, only practices and scrimmages. Right now, the Falcons players are going through strength and conditioning drills before ramping things up prior to that first game against the Seattle Seahawks at Mercedes-Benz Stadium on Sept. 13. In the meantime, you've got plenty of questions, so let's get to them now. Just remember that all opinions here are mine unless noted otherwise.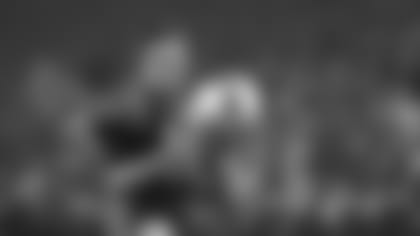 Chris from Thomaston, GA
How goes it Beek? ATL? My question is simply this ... How in the world have the Atlanta Falcons been overlooked this offseason while teams like the New Orleans "Aints" and the Tampa Bay "Suckaneers" getting all of this media attention? We have Matt Ryan, Julio Jones, Calvin Ridley, Todd Gurley III, Russell Gage, Hayden Hurst, Jared Pinkney (whom I think is going to be an absolute stud, great player), Laquon Treadwell, Ito Smith, Brian Hill, Qadree Ollison, Zaccheaus, I could go on and on! It should be absolutely unfair to have all of that talent with one team! Not to mention the defense in which I think will be what it has supposed to be since Dan Quinn came into office. I won't lie, I really like being overlooked so we can just come in and hit teams in the mouth starting game #1! ATL all day!
Matt: Chris, first of all, I absolutely love the passion! That's what being a fan is all about – putting it out there for everyone to see your pride, support of these players and this team. Let's be honest here for a minute about the national buzz, headlines and predictions. Look, the Saints have won the NFC South three years in a row and have gone 11-5, 13-3 and 13-3. Like it or not, the South goes through New Orleans. That's how it is and will be until someone knocks them off. The Buccaneers went 7-9 last year with Bruce Arians at the helm. They were in a lot of close ball games despite their quarterback – Jameis Winston, who is now a member of the New Orleans Saints – tossing 30 interceptions. That's a mind-boggling stat. So they went out and managed to land Tom Brady, and he brings instant credibility to that position, regardless of how many jokes fans want to crack about his age. Don't forget that Brady has played in nine Super Bowls, won six and was named Super Bowl MVP four times. It'll be a long time before anyone comes along and equals that. The Bucs also added Rob Gronkowski, improved their backfield some, bolstered the offensive line in the draft, too. Their defense was already decent. So, in a nutshell, that's why they're getting some respect and headlines, Chris. The Falcons are not getting as much because they've gone 7-9 in back-to-back seasons, falling short of expectations. In fact, they've gone 24-24 since Super Bowl LI, even with a lot of the talented players you mentioned above. That's why they're floating under the radar heading into 2020. Will the Falcons get over the hump, take back the division for the first time since 2016 and make a deep postseason push? Maybe. I think the Falcons' roster right now is more talented than last year's, but I also believe that we have to define success much differently in 2020.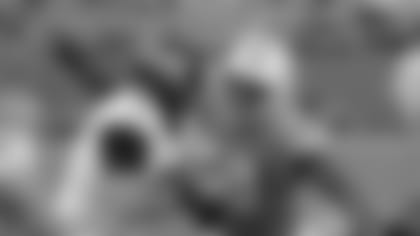 Chris from Mount Pleasant, SC
Hey Beek! Here we go again. It's the time of year I convince myself "this is the year." I love everything about our offense. Matty and Julio are simply top shelf. Ridley and Hurst could be special especially with Matty. I'm really excited about the O-line. Starters have some great parts and potential and we actually have depth. RBs are suspect unless Gurley is healthy, and if he is look out. On defense I'm more concerned. I love the safeties and depth there. Corners may need to grow but I do like the talent and I think Raheem can mold them into something. LBs are solid but depth concerns me, especially if Jones goes down. Love our DTs. GRADY!! What a beast. Edge is maybe my biggest concern. Takk feels like Beasley last year and Fowler's lack of size scares me. Where would you disagree, Beek?
Matt: Great to hear from you, Chris. I totally get where you're coming from when it comes to your confidence in the offense – the Falcons have some fantastic (and proven) players at the skill positions. The offensive line, however, is once again a question mark, especially at left guard. I think having Chris Lindstrom and Kaleb McGary together on that right side for a full season will help, too. That said, the other question marks are on the defensive side of the ball, as you pointed out. The Falcons went out and signed a former first-round pick in Darqueze Dennard on Monday, adding some much-needed depth and veteran leadership in the secondary. Dennard should push for a starting job and it'll be interesting to see who else emerges from the young, talented group, which includes Isaiah Oliver, A.J. Terrell, Kendall Sheffield, Blidi Wreh-Wilson and Jordan Miller. Linebacker depth is a concern but having Deion Jones in the lineup for 16 games automatically makes that group stronger. I like the defensive tackle rotation and depth, led by Grady Jarrett. But the most glaring weakness right now is at edge rusher, specifically the depth there. I'm not concerned about Dante Fowler's size – it served him well last year as he tallied 11.5 sacks. The Falcons do need a complete season from Takk McKinley, a player we think is set to breakout in 2020. Behind those two, however, there are question marks. What does Charles Harris (pictured above), a former first-round pick who the Falcons acquired in the offseason, have in the tank? He's a wild card here. If he can emerge and assert himself as regualr contributor, that would be huge. In three seasons in Miami, Harris registered 3.5 sacks total. If he can somehow double that number in Atlanta, that turn some heads and help this unit immensely. Remember, Adrian Clayborn and Vic Beasley are no longer on the team, and Steven Means is back from a season-ending injury. Allen Bailey and John Cominsky can line up on the edge but are more suited to play inside. Will the Falcons make one more move to bolster that position? Stay tuned.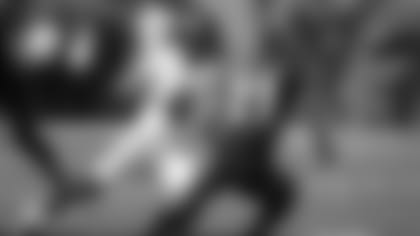 Kaeto from Richmond, VA
Who do you think will start at the outside corner and nickel corner spot?
Matt: Well, it's extremely early, Kaeto – the Falcons will begin their third day of strength and conditioning drills today in Flowery Branch and they've yet to put the pads on, mind you. But, if I had to make an early guess at who would be the outside corners and nickel right now, I'd have to go with the Darqueze Dennard and A.J. Terrell on the outside and Kendall Sheffield inside at nickel. Again, it's early. Ask me again after we've watched two or three scrimmages.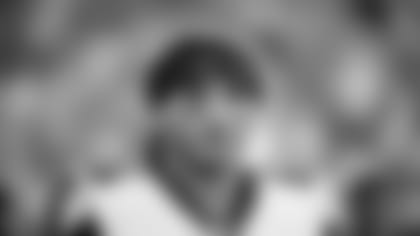 Jerry from Hinesville, GA
Hey Beek! Yesterday I asked a question about DEs and edge rusher depth. Hours later, we cut two DEs. What's up with that in your opinion? I think a big move is brewing. And no I will not "tap my brakes" on this one. I love to see your comments when you say that LOL.
Matt: Hey, Jerry. Yes, the Falcons parted ways with three players on Tuesday – defensive end Austin Larkin, defensive end Bryson Young and cornerback Rojesterman Farris. The total number of players on the active roster now is 77. I think you need to keep in mind that they also have six players currently on the reserve/COVID-19 list. Once any of those players are cleared to return, they'll be placed back on the active roster. Right now, I believe the plan is to go with 80 players heading into training camp. Since you enjoy numbers so much (and have your own theories and predictions behind them), I'll let you do the math, sir! Oh, in case anyone is wondering, the six players currently on the COVID list:
Safety Jamal Carter
Defensive tackle Tyeler Davison
Quarterback Danny Etling
Safety Jaylinn Hawkins
Linebacker Foye Oluokun
Fullback Keith Smith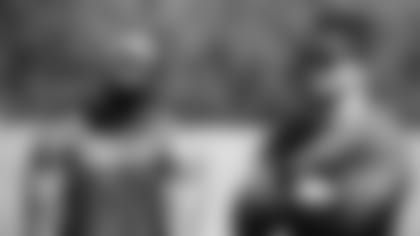 Jared from Phoenix, AZ
Hey Beek! Hope all is well, ma. I was just wondering if you have got an opportunity to be around any of the players at camp yet?!? What's the vibe like in camp and any early eye-catchers among rookies or FA signings? Let's stay healthy and go out and surprise some people! Kind regards!!!
Matt: Hey there, Jared. I've been back out to Flowery Branch a few times (mainly for my COVID-19 tests) and have only seen players from a distance. Since they're only going through strength and conditioning drills this week, there's not a whole lot to report on as far as actual football being played yet. That said, our digital team has been close enough to capture some great images and videos during those sessions. Any surprises? Well, I'm not sure if you've seen pictures of Takk McKinley yet, but the dude is sculpted and looks like he's in tremendous shape. There's an image of him standing next to Jacob Tuioti-Mariner (above) and, well, I'll let you make your own mind up. Did I mention the Falcons could really use a big year from Takk, who is in the final year of his current deal? As far as the vibe goes, it appears to be good. Let's wait and see how things go once the pads are on. Anyone can look good in shorts and T-shirts.