Now that the new Falcons uniforms are finally out there – at least visually; they'll be available for sale on April 14 – fans (still) have plenty to say about them, but the focus now is on the NFL Draft. And you've got plenty to say about what you think Atlanta should do, who the Falcons should target and what the team's needs are. Oh, and the draft rumors. Maybe we'll address them as well, too. Maybe. Just remember that all opinions here are mine unless noted otherwise.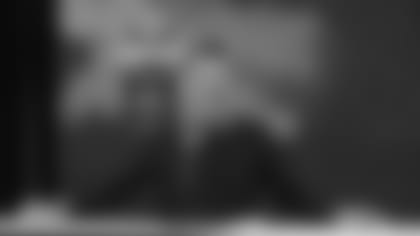 Brian from Decatur, GA
Beek, saw a very interesting tweet and wanted to get your take on it. Ian Rapaport made some draft predictions and mentioned Thomas Dimitroff being interested in quarterbacks. In the first round! What say you, Beek?
Matt: I listened to the Load Management podcast, Brian. You can listen to the entire episode here, but the remarks you're referring to begin around the 34:50 mark when Ian Rapoport of the NFL Network is asked to make some predictions and "what kind of craziness" could we see coming in this year's NFL Draft. After saying that he predicts there will be "fewer trades than normal," Rapoport said the following:
"You will see one team with an entrenched quarterback – Saints would be a possibility. Um, Patriots don't have an entrenched quarterback but would be a possibility. Falcons. Thomas Dimitroff was strangely interested in quarterbacks this year at the draft, showing up at the weigh-in. One of those teams, uh, jump up big for a quarterback. That's my guess. A team with a veteran, established starter coming all the way up for like Jordan Love in the teens or something like that. That is my guess."
Rapoport's comment about Dimitroff was in regard to the NFL combine. Look, there's nothing unusual for a general manager of an NFL team to look closely at every single first-round prospect, especially the quarterbacks. The weigh-in is especially helpful at the combine because you can see how a prospect is built and carries that weight, for example. There's nothing wrong with doing your you due diligence and, honestly, I like that Dimitroff was there taking notes and making observations when it comes to the quarterbacks – arguably the most important position on the field. What if down the road Dimitroff needs to sign a quarterback? At least he has another piece of data he can rely on if he ever needed to make a decision on a player. It wouldn't surprise me at all, by the way, if the Saints or Patriots end up drafting a quarterback early.
Jerry from Hinesville, GA
Beek! Thanks again for what you guys did for me. I won't say what, because I don't want you to get bombarded lol. Shannon called me Nostradamus in his e-mail, so I wanted to blow his mind again with my thoughts on how it's our destiny to win this year's Super Bowl with Gurley. How? Here it goes: Julio #11 asked Gurley to come help us win SB 55 … 11+5+5=21 (Gurley). SB 55 is in Tampa, which lost Winston #3 (Gurley) and got Brady #12 (1+2=3 … Gurley). The SB is in '21 (Gurley). After we signed Gurley, the Tampa airport put up a giant Flamingo in the main terminal. How tall? You guessed it, 21 feet tall (Gurley). Tampa Bay picks 14th we pick 16th. 14+16=30 (Gurley). Super Bowl … S is the 19th letter in the alphabet, B is the 2nd. 19+2=21 (Gurley). Win is a 3-letter word (Gurley). Boom! Now go pick Shannon up off the floor lol!
Matt: Jerry, you do know that I'm expecting these Todd Gurley-related predictions to continue throughout the regular season now, right? Haha, you're too much! Look, I think most Falcons fans will be thrilled if Gurley can replicate his production from a year ago. I asked Dan Quinn about some of the expectations for Gurley in the Falcons offense and they expect him to excel here. You can watch Quinn's response in the video above at the 10:40 mark.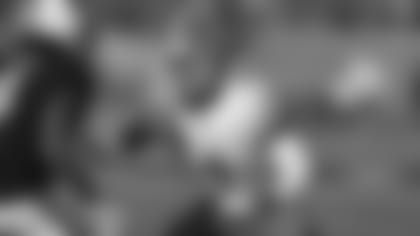 Scott from Dalton, GA
Hi Beek. I trust all is well. My biggest comment about the new uniforms (excuse the grammar). It ain't what's on the them, it's what's in them. I don't care if they dress in pink this year; just win. Through all these iterations you were the first to suggest a cornerback. Everyone (including me) raised eyebrows until I heard your argument. Brady, Bridgewater and you know who. He's the one that frightens me the most. If the corner from Florida is the second-best in all the draft then you have to take him. I'm not even sure I would trade down on the gamble that I could still get him. They can't play with that void. Have a good one, Beek.
Matt: Great point, and I agree. Great-looking uniforms don't look so great when you're consistently on the losing end of the scoreboard. The point of my mock draft is to play out different scenarios based on the 15 picks ahead of the Falcons. You try to play them out and prepare for every scenario – and that's exactly what the Falcons do leading up to the draft. I hope the Falcons take the best player available. I also hope that player also fits the scheme and fills a need, two things the Falcons consider heavily. I asked both Thomas Dimitroff and Dan Quinn if they believe they can get a player who hits the proverbial trifecta (and checks all three of those boxes) and they both said they believe so. That's encouraging to hear if I'm a Falcons fan. Who knows if they'll move up, stay put or trade down? They want to win in 2020 and I expect that they'll do whatever it takes to get the best player they can, Scott. And hopefully that player makes the team better and not just fills a hole.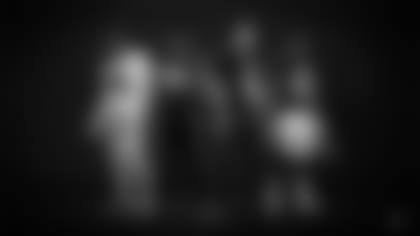 Marian from Braunschweig, Germany
Hi Beek, no question, just some greetings from Germany. I'm not 100 percent sure about the style of the numbers on the new uniforms. But overall, I really like the new jerseys. Especially the possibility to combine the different colors. I will definitely buy one of these. Have a nice day.
Matt: Marian! Great to hear from you and other Falcons from Europe, as always. Everyone seems to have their favorite and not-so-favorite combinations as well as certain qualities they like and dislike about them. That's always going to happen. We all have our own styles and preferences, right? Who knows, maybe the numerals will grow on you over time. So which one is your favorite? Dan Quinn certainly has his (as I do mine; I like the white jerseys).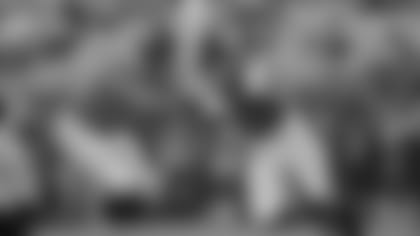 James from Stone Mountain, GA
Beek! Thanks for all of the insight. Given that we have lost some pieces on our D-line, I'm surprised that I haven't heard anything about Deadrin Senat or Austin Larkin. Seems Senat was inactive for most of last year but in losing Jack Crawford, why isn't there any talk about him stepping up? Further, I thought Larkin flashed during the preseason and thought once he went to Dallas that they would recognize what the Falcons didn't. He's back but no word about him being considered as a part of the D-line rotation. Any ideas on both of those players?
Matt: I've been asked about Deadrin Senat a number of times this offseason, the last being back on April 2. And here's what I said about players like Senat and Austin Larkin, who still have great opportunities to make an impact on this team and the 2020 season in front of them. The coaches know the players much better than you and I do. They watch and evaluate them not just in games, but on the practice field, in team meetings and, really, through all of their interactions with them. The players are also competing with others at their position for playing time as well – and the coaches will always play the players who give the team the best chance to win. So, you have to trust the coaches when it comes to playing time. It is about whether you or anyone else has seen enough of them. And, sometimes, players just aren't a good fit – could be the scheme, the team, the environment, the coaches or maybe something personal is going on. It could be a multitude of things. Sometimes players move on and excel and sometimes they don't. All you can hope is that they can continue to develop and improve over time.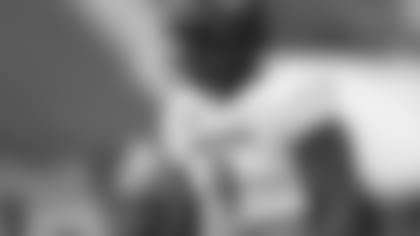 Mike from Waynesville, GA
Beek – man! You've come a long way. You're getting a little better at this gig every day! So, here's my 2 cents on our first-round pick. This Javon Kinlaw kid has all the size and measurables, but the other day I heard him talk. By no means a great orator, but what a thankful and humble attitude! It reminds me of Julio Jones, who I think is the best ever receiver and the most selfless athlete in all of sports! We've seen the diva athletes and what becomes of them. You know what they say about those who exalt themselves. I think Kinlaw's attitude is special also and he would warrant going up the ladder for. He and Grady could make everyone better on D! And the Beek says?
Matt: First, I'll thank you for the kind remarks. I am by no means a great orator, either, but I try to get better at it every day, Mike. And I, too, try to keep a thankful and humble attitude, and I'm hardly the best anything ever. Now to your points on Javon Kinlaw. I think if the Falcons were to land him in the first round and line him up alongside Grady Jarrett with Dante Fowler and Takk McKinley coming hot off the edges, well, that would a nasty-looking front four. I had him going to the Falcons in my NFL mock draft 7.0. There's no question that Kinlaw is a first-round talent. And he'll likely go in the top half of the draft. I'm thinking in the 10-16 range. I cut it off at 16 because I think it would be hard for the Falcons to pass on him. Dan Quinn has told me that he really likes the interior defensive line talent in this class, too. Then again, he also told me that they need to add more pass rushers. Here's the thing with Kinlaw – he's the best interior pass-rusher in this class. I like him, Mike. A lot.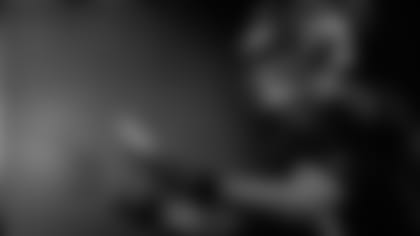 Nick from South Jordan, UT
Hey Beek! Hope everything is well with you and yours. I was skeptical when the Falcons decided to announce new uniforms. I have been a Falcons fan all my life, and the only uniforms I remember them wearing are the 2003-2019 uniforms (I'm only 20). When these new ones were revealed, they weren't what I was expecting. After looking at them for a minute, I decided I LOVE them. They are so sleek and modern and I love the all-black look. If there is ever a change to the helmet rule, I think a glossy red with a thick black line down the middle bordered by two thin white lines with the current logo would be stunning. Just a thought. Next thought – everyone lay off my quarterback. He is consistently one of the best in the league and is underrated. Quit whining and enjoy him while we have him.
Matt: I think everyone had (just about) the same reaction, Nick, in that they weren't anything like most expected so it took a minute (or so) to take them all in. But most people have embraced them and seem to really like all of the different combinations, too. Of course, the lass throwbacks and retro logo are back, which is great to see. And I agree on the red helmets. If there's a chance to wear them in the future (and the NFL relaxes the one-helmet rule), the Falcons should jump on that and bring back the Steve Bartkowski-era uniforms from the 1980's. And, yes, you're right about Matt Ryan … Falcons fans should embrace the franchise's all-time best quarterback while they can watch him.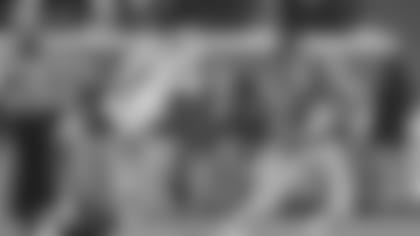 Terry from Wolfe City, TX
I have been looking at a lot of mock drafts since there isn't anything else to really do. I am really high on Javon Kinlaw and would really like to get him. I'm worried the Broncos will draft him at 15, so would it be smart to trade up even though it's just one spot to ensure we get him if he's still available? I also really like Patrick Queen and would also consider trading up in the second round to get him. I think these two moves would greatly benefit the defense. What are your thoughts on these two moves?
Matt: I like the idea of trading up only if the Falcons can land the player atop their draft board without giving up too much for him, Terry. If they don't think they can improve the team (as much) by staying put or trading back, then go for it. That's also why I'm hoping lots of offensive players (see quarterbacks) go early, too. As far as Patrick Queen goes, well, I don't think he'll be on the board in the second round. I think he's a first-round talent and expect him to be picked in the second half of the first round. If he's still on the board come Day 2, I'll be surprised and I think he won't last very long.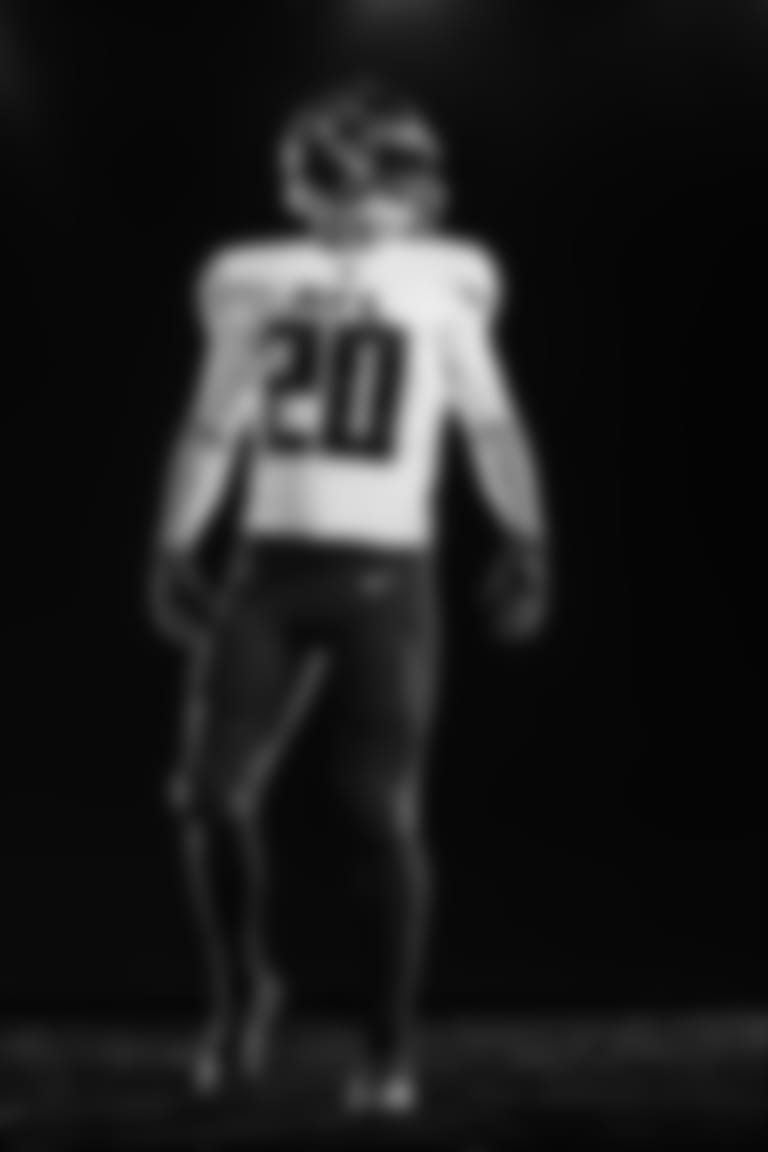 Tom from Rome, GA
I think the new uniforms are just okay, but there is something about them that nobody has mentioned that is driving me crazy. It's the utter lack of red on them! That was our main color! Now, it has just been relegated to the weird gradient jersey they'll probably only wear once or twice a year. What's the deal with that? It upsets me.
Matt: Hey, Tom. There's a combination with all-red pants. Did you happen to miss that one? Check it out above and let me know what you think. MAILBAG
Do you have a question about the Falcons that you want answered? Ask a question here and it could be posted on AtlantaFalcons.com.
Go ahead, ask the Beek
Do you have a question about the Atlanta Falcons (or anything football-related) you'd like to ask Matt Tabeek? If so, hit the link. Please remember to include your home state (or country if you live outside the U.S.). Thanks for reading SFTB!